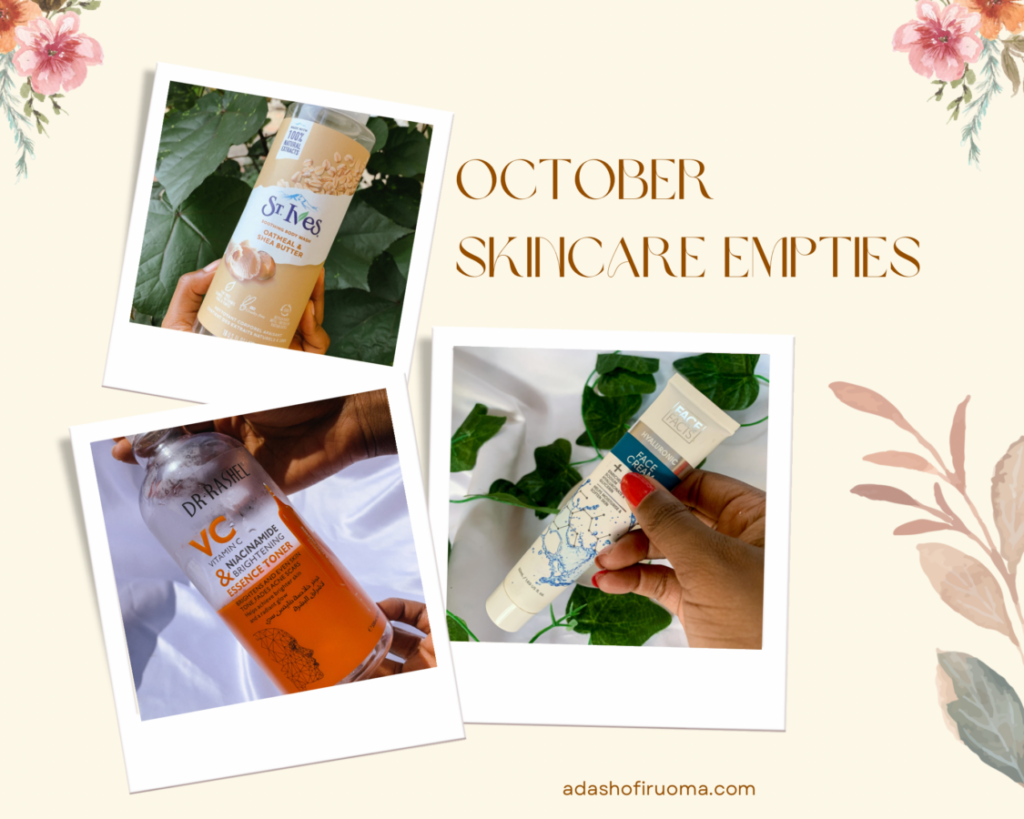 Hey, beauty!
October is almost over and as usual, the monthly skincare empties and reviews are ready for you. My school has finally resumed, and while I'm excited to move back into the routines, there is a lot to be done and daily doses of "God abeg" (God, please). 
There are 3 skincare products I have used up this past month and their detailed reviews are linked for your ease. Enjoy and please leave a comment as well.
What skincare products did you exhaust this month? I'm sharing three of mine in this October monthly skincare empties and their reviews. Are they worth your coins? Check them out!
Click To Tweet
Dr Rashel VC Vitamin C and Niacinamide Brightening Essence Toner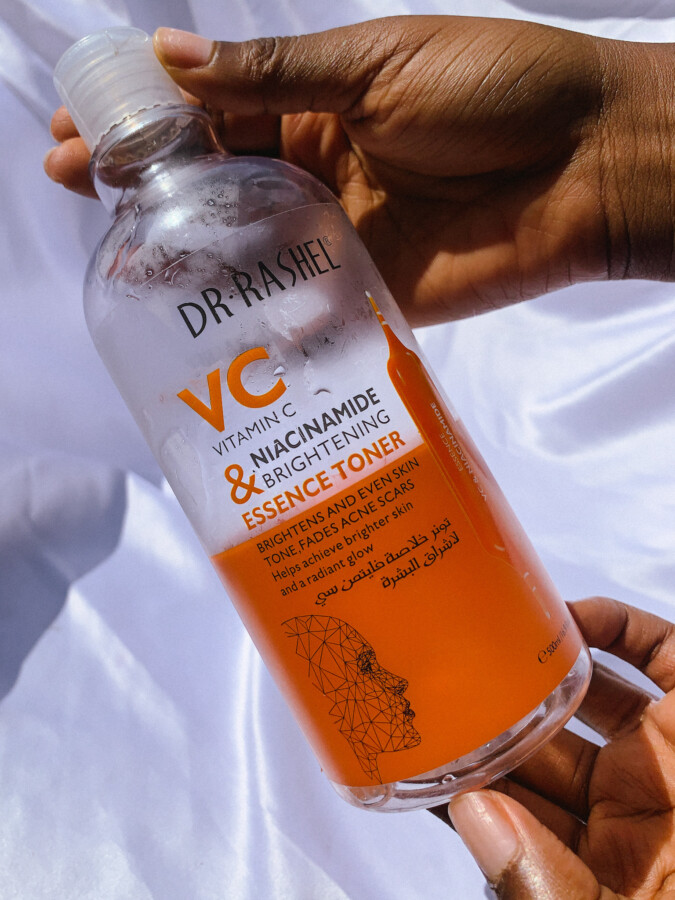 What is it?
An essence toner containing hyaluronic acid, niacinamide, and vitamin C. This toner hydrates the skin and leaves it feeling supple. It claims to be suitable for all skin types and I shared a detailed review of my experience and thoughts here.
Price
It ranges from 3000-4000 naira (~$5)
Shop
Beautybycheychi, Jumia
Verdict
I would definitely repurchase this, but I'm planning on trying the other variants from Dr Rashel (Aloe vera and Hyaluronic acid toners).
HELPFUL POST~ August Skincare Empties
St Ives Soothing Body Wash Oats meal & Shea butter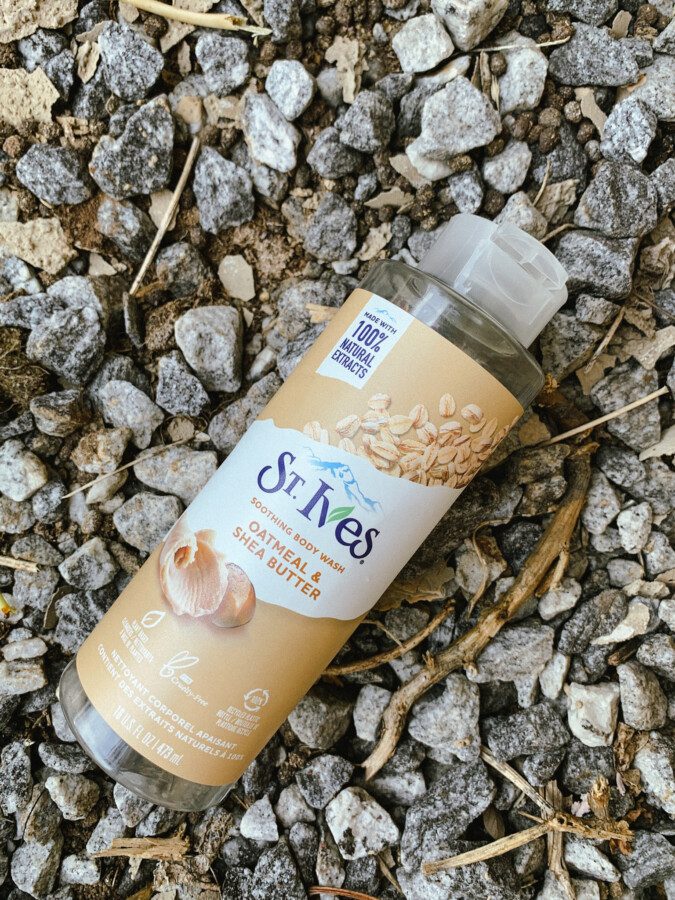 What is it?
A silky smooth body wash that leaves the body feeling moisturized and clean. The smell is a great bonus and my full review is here.
Price
I got this for almost 1000 naira (~$2)  at a supermarket as it was the smaller size.
Shop
Verdict
I had a pleasant experience with this body wash and you would see why in the review. The only reason I'm not repurchasing immediately is that I want to try more body washes from St Ives.
Face Facts Hyaluronic Face Cream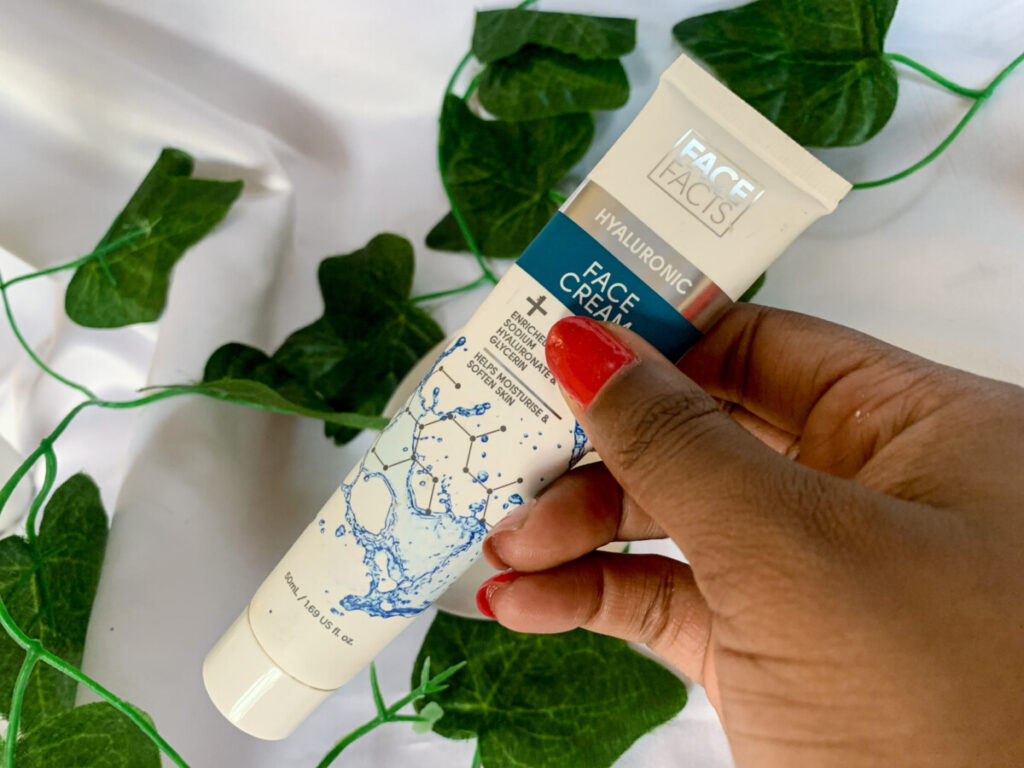 What is it?
A moisturizer whose star ingredient is hyaluronic acid. Its lightweight texture is an oily girl's dream. Full review and my experience here.
Price
1800 naira on Paxobeauty (their official distributor in Nigeria).
Shop
Get it on Paxobeauty (Use Iruoma10 for 10% off)
Verdict
By the time you read this, I have exhausted 2 tubes, and the only reason I didn't buy another was because of the moisturizer I was gifted. 
Have you tried any of these skincare products? 

Which would you like to try? Please share with me in the comments
CONNECT HERE: TIKTOK // BLOGLOVIN // PINTEREST //  TWITTER
3