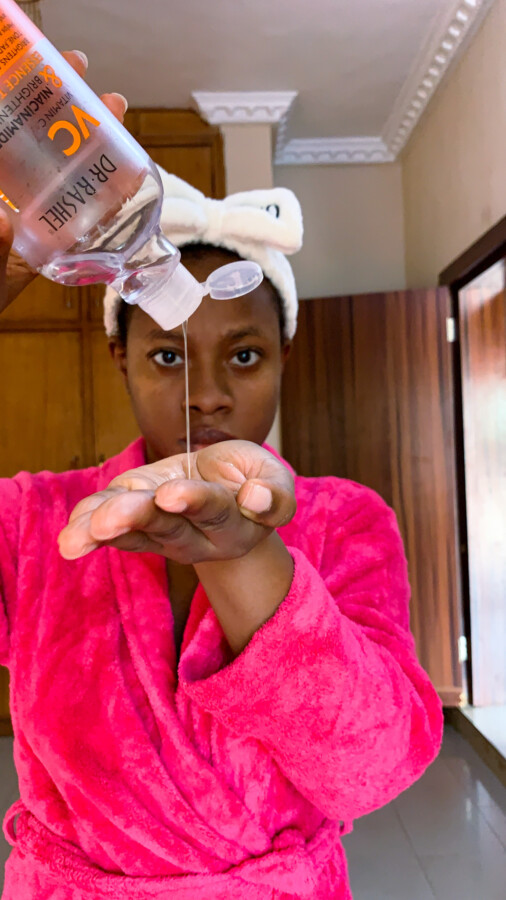 If you're looking for a toner that doesn't break the bank and would last a long time, the dr rashel vc vitamin c & niacinamide essence toner is a great choice!
What caught my attention was the price for the size and I decided to try it. It's part of my October monthly skincare empties after 4-5 months of use!
Is this toner worth it? Keep reading to find out.
Description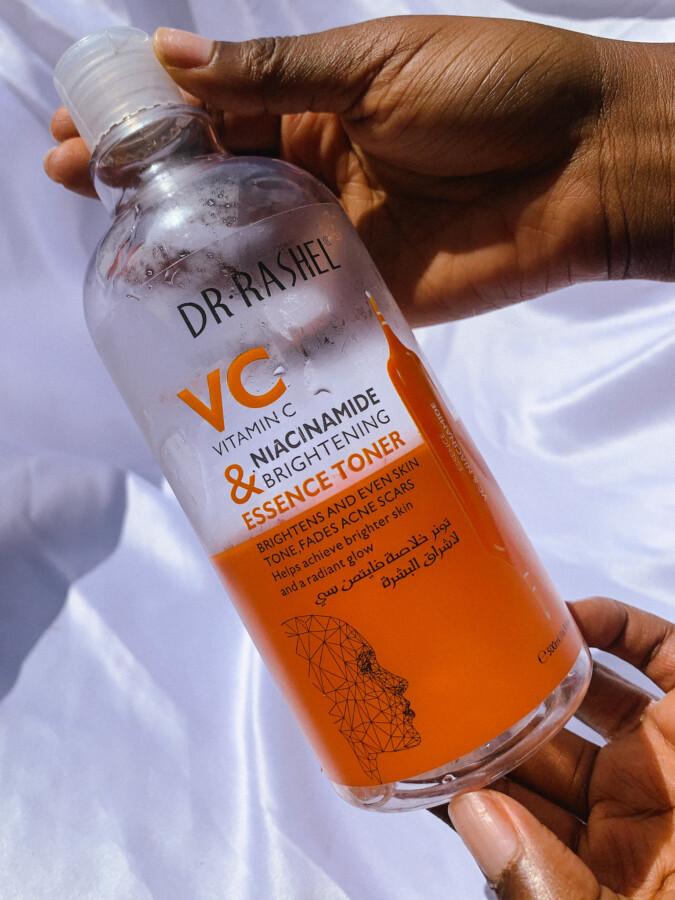 The dr rashel vit C& Niacinamide toner comes in a 500ml transparent plastic bottle. The name and ingredients come in black and orange markings which makes the bottle stand out. 
It has a flip cap cover with a pinhole to dispense the product. I love that it has a plastic cover between the bottle and the cap to prevent spillage when the bottle moves. Really thoughtful. 
For the product itself, its texture is slightly more viscous than the regular toner, and I guess that's why it's called an essence toner.
Claim/Ingredients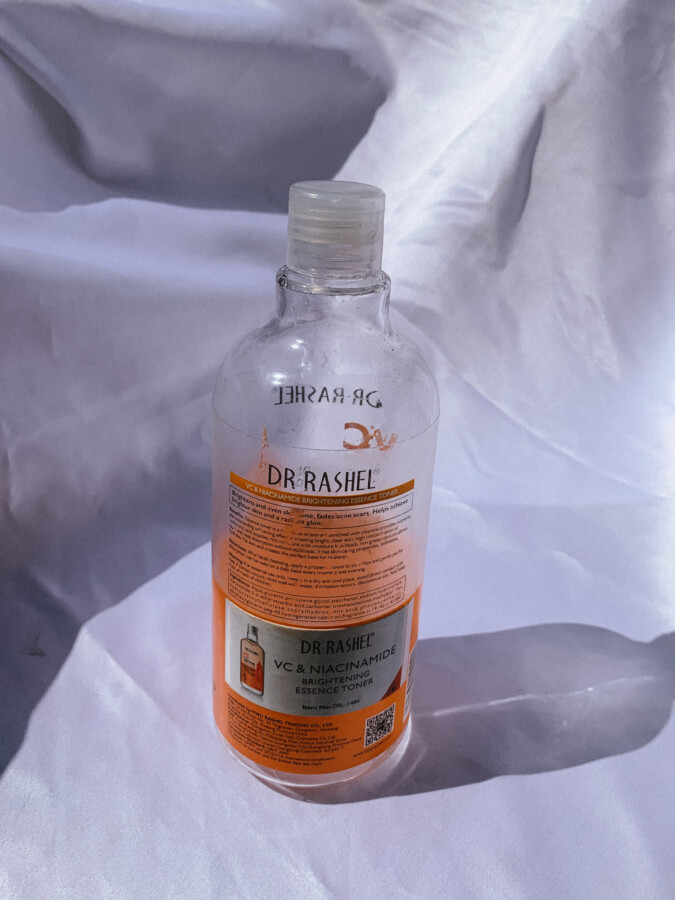 According to their website:
The essence water is "enriched with vitamins which provide nutrients and creates a bright, clear skin." It also claims to "exfoliate, hydrate the skin and is a perfect base for makeup"
Ingredients as seen on site: 
Aqua, glycerin, propylene glycol, panthenol, sodium hyaluronate, niacinamide, 3-o-ethyl ascorbic acid, carbomer, triethanolamine, methylparaben, hydroxyethylcellulose, caprylhydroxamic acid, phenoxyethanol, ethylhexylglycerin, peg-40 hydrogenate castor oil, fragrance, ci 19140, ci 45380

Imagine a skincare product large enough to last till you're tired! The dr rashel VC Vitamin C and Niacinamide Brightening Essence Toner is one such product. Read the review here.
Click To Tweet
My experience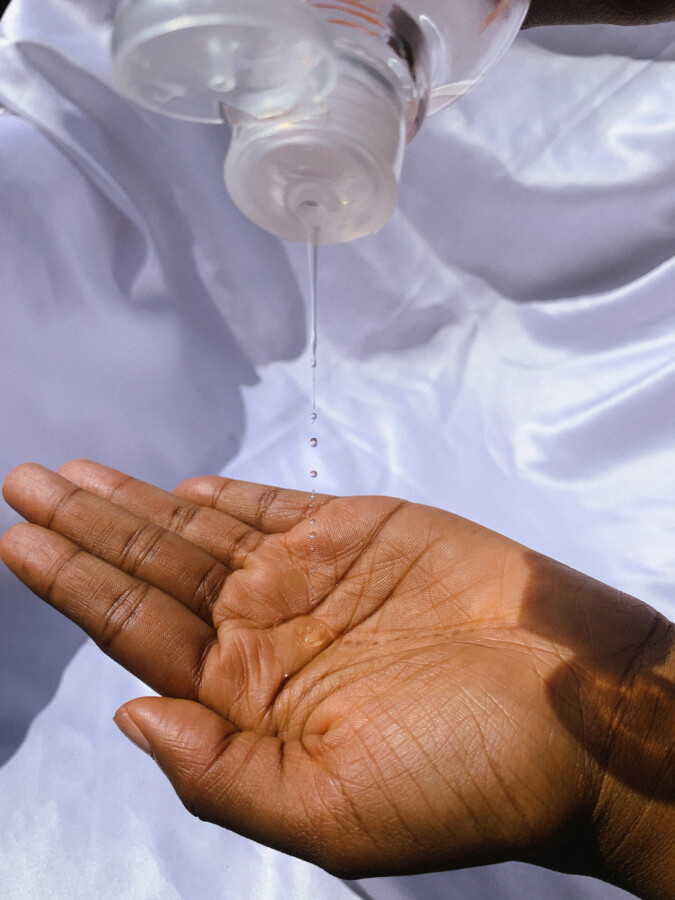 This toner is so hydrating! The difference you get when applying on dry skin is really remarkable. 
It is also not heavy on my skin, non-sticky, and just seeps into my face. 
I didn't get any brightening effect from the claims and I can't ascertain its exfoliating claims from my experience. My skin's overall look has improved since incorporating it into my routine, although I've also used it in conjunction with other products targeted to my skin concerns so I can't attribute my skin's texture to it alone. 
Overall, applying the dr rashel vc vitamin c and niacinamide brightening essence toner is easy. It instantly hydrates the skin and is easily absorbed into the skin leaving a supple and plump face.
HELPFUL POST >>> Your Best 5-Minute Daily Skincare Routine
How I used it
Immediately after cleansing, I put a few drops on my palm and apply them to my face 
I pat it in and let it air dry before continuing my routine.
Pros
Comes in a big bottle that lasts for a long time.
Cost-effective~ I got this for 3500 Naira ($5).
Really hydrating and makes the skin plump.
Great for all skin types.
Cons
Where to shop
I got mine from Jumia but I always recommend getting it from a verified store there. It's also currently retailing for 4000-5000 naira.
Another awesome beauty store to check out is @beautybycheychi.
Verdict
I would definitely repurchase because it's huge and cost-effective. Please note that if you want a toner with extra properties beyond hydrating, then this toner may not be for you. 
Have you tried this toner? What is your current toner
Would you like to try it? Please share with me in the comments
CONNECT HERE: TIKTOK // BLOGLOVIN // PINTEREST //  TWITTER
3