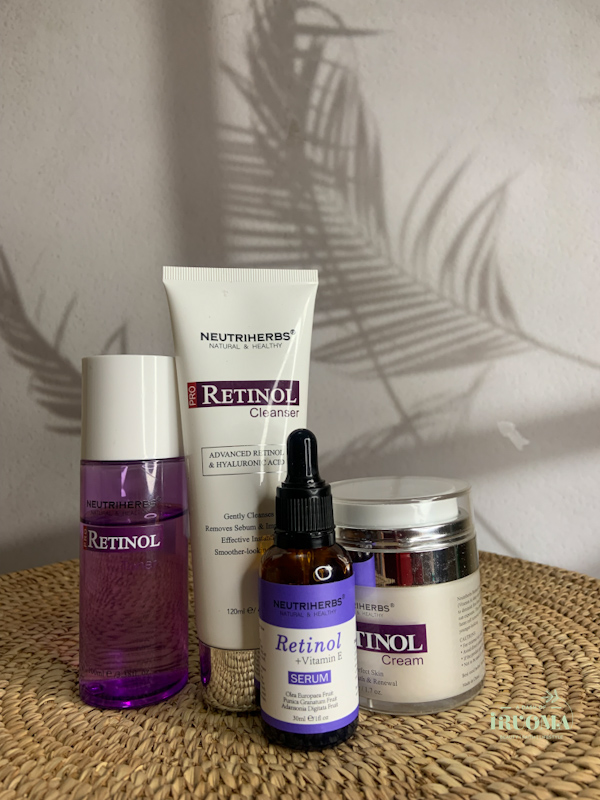 PS; For full disclosure, this is a sponsored post, and my affiliate disclaimer assures you that whichever brand you come across on my blog is trustworthy!
For the longest time, I had read raves about a retinol night routine. If you're a skincare enthusiast, then the retinol ingredient isn't new to you. Scroll through SkincareTok, and you'll find different takes and reviews about the variants of retinol, like tretinoin, adapalene, retinaldehyde, etc.
Frankly, it can be overwhelming, especially if you're just starting. That's where your favourite beauty doctor comes in! Yes, I'm referring to me, lol!
At the end of this post, there is a section for frequently asked questions about the use of retinol. It gives you a better understanding of this ingredient and makes it less ambiguous. 
Retinol is the most researched ingredient in skincare and for a good reason. It has been found to have various benefits for the skin. 
From reducing fine lines and wrinkles to improving skin tone and texture. The most exciting benefit of retinol is its stimulation of collagen production.
As we age, our skin's ability to generate collagen reduces, hence the sagging effect older skin has. In other words, retinol improves the overall appearance of the skin. Some people have termed it an anti-ageing ingredient due to its many researched benefits. 
Starting retinol for me involved asking questions, reading lots of reviews and moving beyond my fear of purging.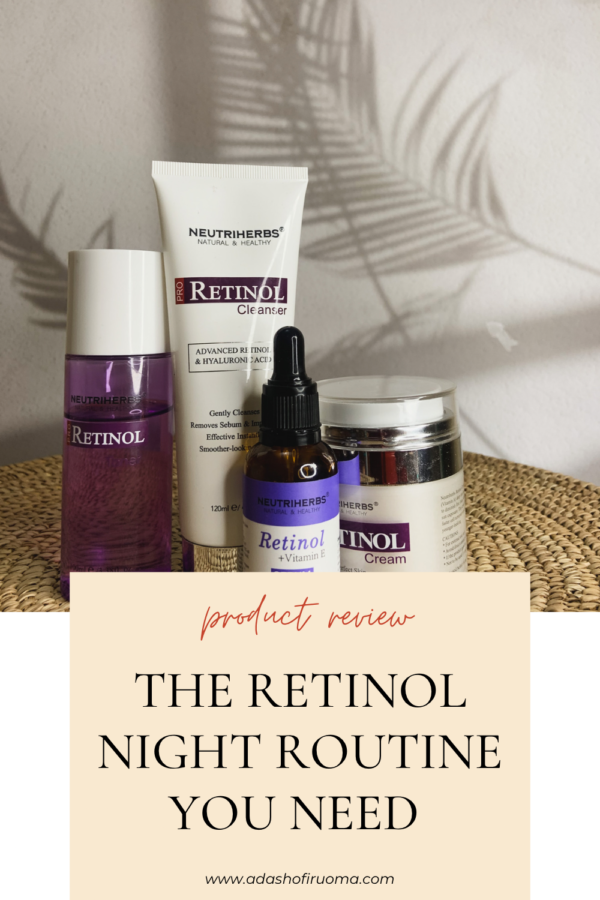 According to Dr Deanne Robinson in Healthline, purging refers to when the skin's cell turnover speeds up due to using an active ingredient. This leads to more skin shedding and, wait for it- excess sebum and a pimple or two (or more, yikes!)The long-term effect is to reveal clearer and younger skin.
Once I moved past the fear of introducing retinol into my skincare routine by weighing the benefits with the risk, the next step was finding the product.
I got my hands on the retinol range from Neutriherbs. Thankfully, it had the whole making of a retinol night routine with four skincare products which were:
Cleanser 
Toner 
Serum & 
Moisturiser.
While retinol is included in all these products, was it worth the hype for me?
Let's get a closer look!
PS: My retinol night routine was done for three weeks. It's typically advised to use an ingredient for up to 4 weeks to get the best results, but I wanted to share this as soon as possible.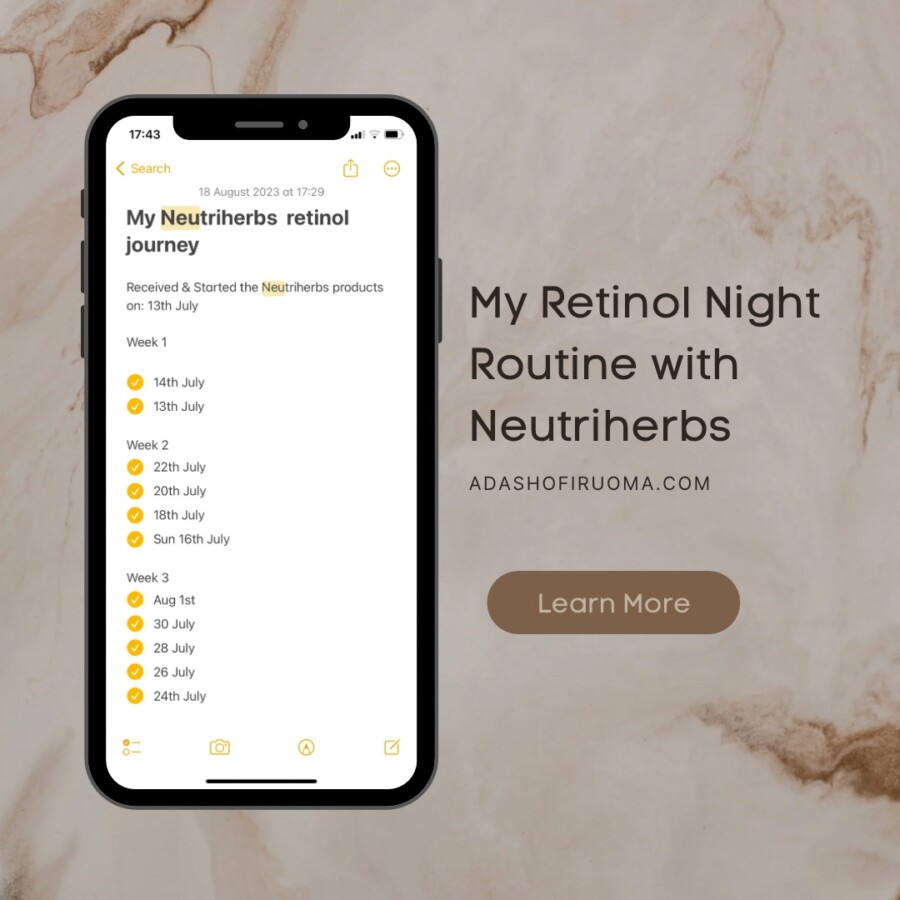 My Retinol Night Routine Steps
Neutriherbs Pro-Retinol Cleanser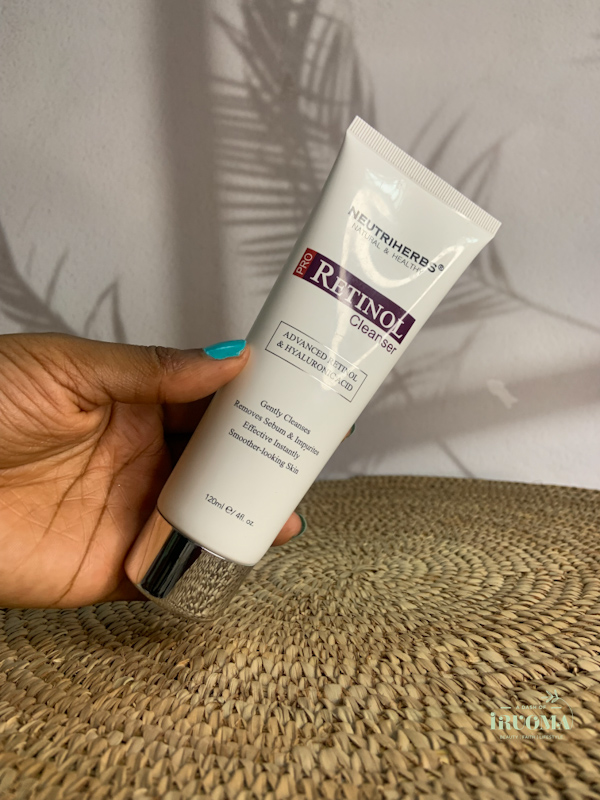 First impression
The retinol cleanser comes in a pristine white and purple tube with a silver cap. It claims to cleanse, remove impurities and excess sebum gently. 
The texture is almost creamy with a sticky feel and has a pearly white colour.
While it does not have a particular fragrance, I noticed a slight scent that I can't describe but is not overwhelming. The good thing about the texture of this cleanser is that a little goes a long way, so it's worth the cost.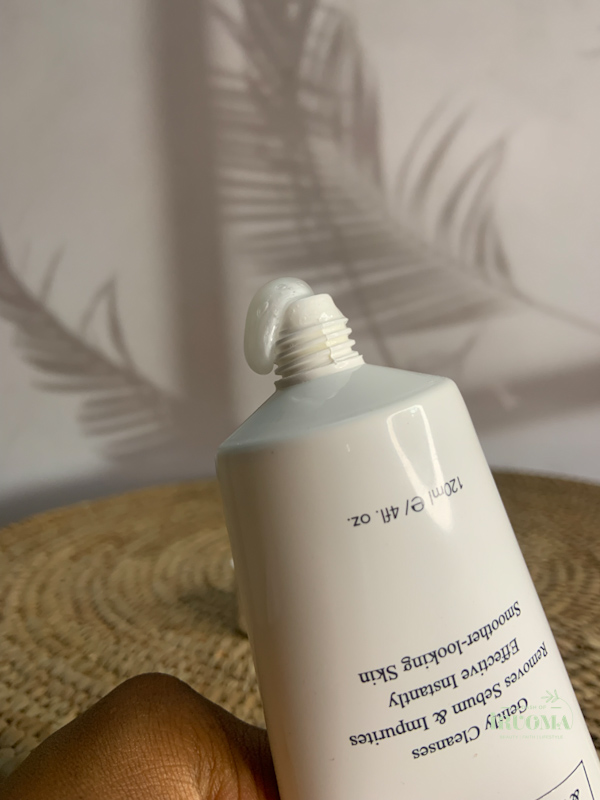 Ingredients list: 
Aqua, Glycerin, Sodium Lauroyl Isethionate, Sodium Cocoyl Glycinate, Cocamidopropyl Betaine, Lauric Acid, Glycol Distearate, Peg-150 Distearate, Sodium Lauroyl Glutamate, Acrylates Copolymer, Peg-120 Methyl Glucose Dioleate, Sodium Methyl Cocoyl Taurate, Decyl Glucoside, Retinyl Palmitate (Retinol), Sodium Hyaluronate (Hyaluronic Acid), Hydrolyzed Sodium Hyaluronate, Tocopherol (Vitamin E), Phenoxyethanol, Sodium Chloride, Chlorphenesin, Coconut Acid.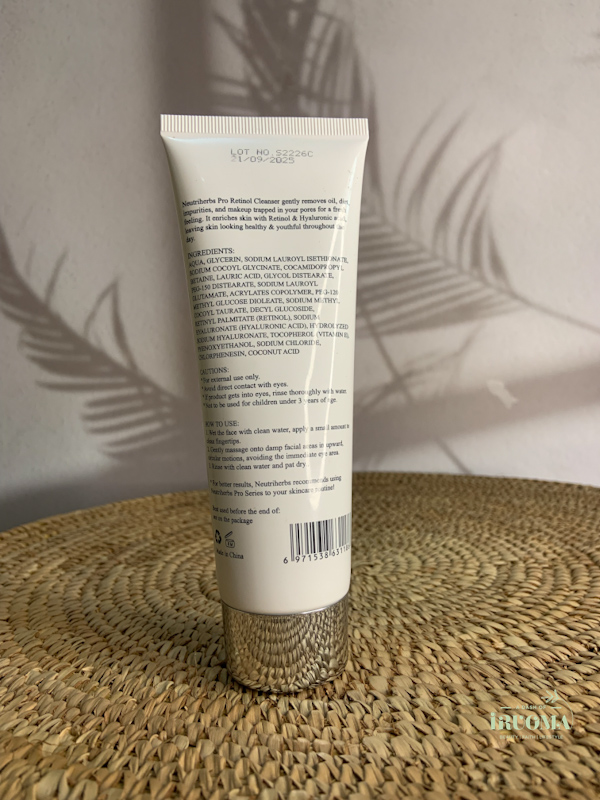 Claims:

According to their website, this cleanser  "is amazing at gently removing oil, dirt, impurities, and makeup trapped in your pores, leaving skin feeling fresh, clean and soft without over-drying. The Retinol cleanser works gently without stripping your skin of its natural oils as it was designed to be gentle and moisturizing."
My experience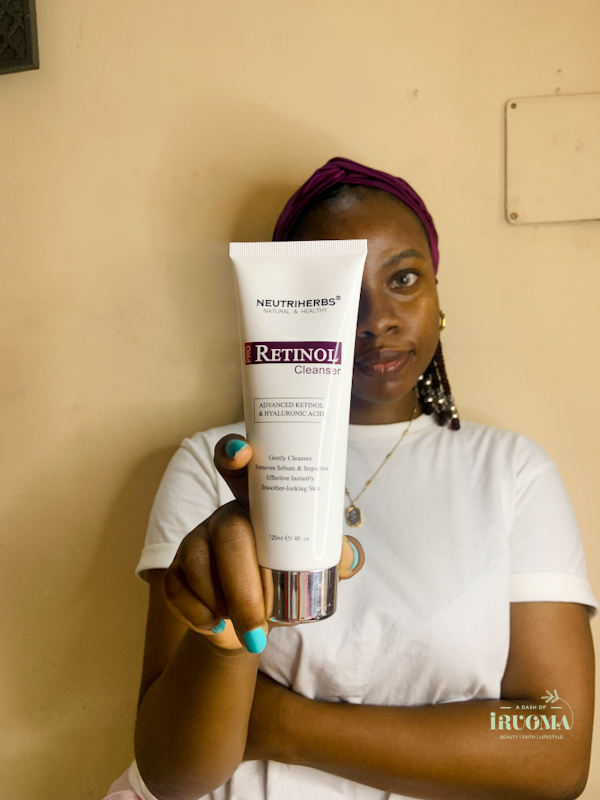 For my retinol night routine, I use this cleanser only at night. True to its claims, it is pretty gentle and moisturises my skin. It took a while for me to get used to the creamy feel of the product. It was also a relief to find that my skin didn't feel stripped after washing, as they claimed.
Even though there are no specifications for when the cleanser should be used, I used it during my night routine because retinol is part of the ingredients. It's also safe for daily use as the concentration of retinol in the cleanser is not high enough to cause any irritation.
How to Use the Retinol Cleanser
Apply directly to palms and straight to a wet face.
Rub in circular motions for 30-60 seconds.
Rinse off with cold or lukewarm water
You can use this cleanser every night, even on non-retinol nights
My verdict
This cleanser would be an 8/10 for me. It is gentle enough to be used daily, has a non-stripping effect and does an excellent job at cleansing.
Discover a retinol nighttime routine that is suitable for beginners and pros!
Click To Tweet
Neutriherbs Pro-Retinol Toner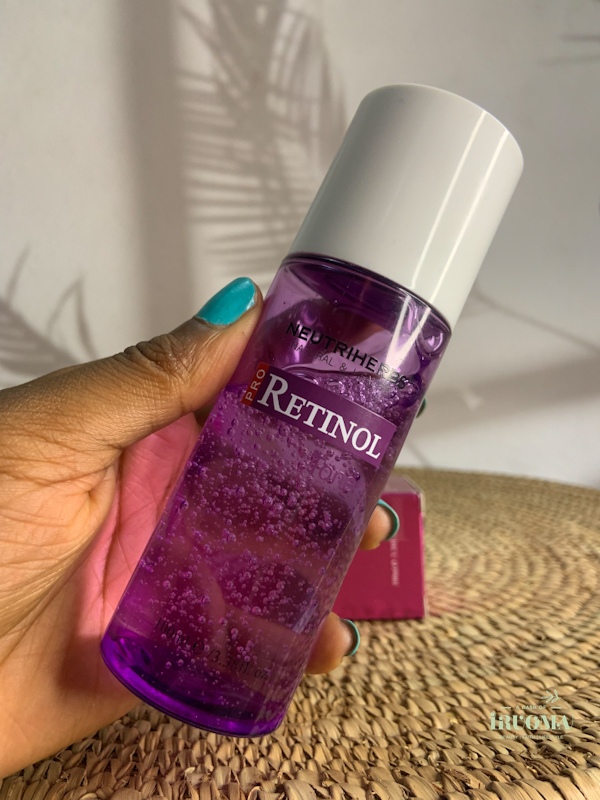 First impression
The first time I saw this toner on Instagram, I was sceptical. While I'm familiar with hydrating and exfoliating toners, I had never seen or tried one with retinol as its star ingredient. 
The first thing that hits me is consistency in packaging. The product comes in a transparent 100ml purple plastic container and a white cap.
I love the tiny stopper at the in-hole opening, which would prevent the spilling of the product.
The product is transparent, and its texture is thicker than regular toners but still lightweight. It also doesn't have a distinct fragrance.
Ingredients list: 
Aqua, Glycerin, Butylene Glycol, Betaine, Panthenol, Tranexamic Acid, Retinol, Hydroxypropyl Tetrahydropyrantriol, Oligopeptide-1, Arginine, Serine, Sodium Hyaluronate, Tocopheryl Acetate, Copernicia Cerifera (Carnauba) Wax, Acrylates/C10-30 Alkyl Acrylate Crosspolymer, Polyacrylate Crosspolymer-6, Propanediol, Sodium Cocoamphoacetate, Caprylyl Glycol, Hydroxyacetophenone, 1,2-Hexanediol, Bht, Xanthan Gum.

Claims:

From the ingredient list, it's good to see that it contains retinol and tranexamic acid, panthenol, hyaluronic acid and peptides. These ingredients, in a nutshell, help improve the skin's hydration, elasticity, target dark spots (tranexamic acid) and a better overall appearance. 

According to their website, the retinol toner " gives this natural hydrated glow, firms and makes skin instantly look plumper with less sign of ageing… It won't dry out your skin while making your face feel fresh, tight, luminous, clean and very soft after use."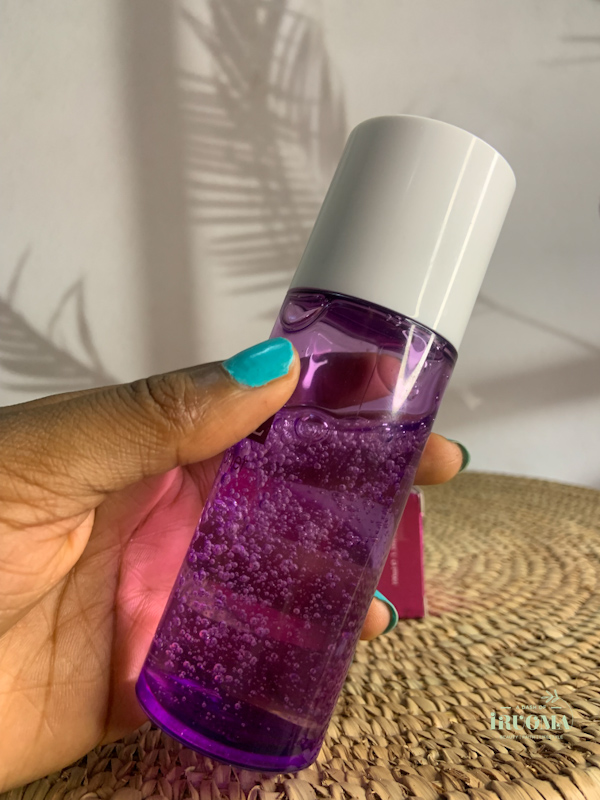 My experience
This toner has a hydrating feel that is true to its claims. My face would feel plump and soft after use, and there were no signs of irritation or stinging.  I cannot attest to the claim of fewer signs of ageing just from its use.
On the product's details, it is recommended to use a cotton pad, but I love to use my palms to apply toners directly to my face.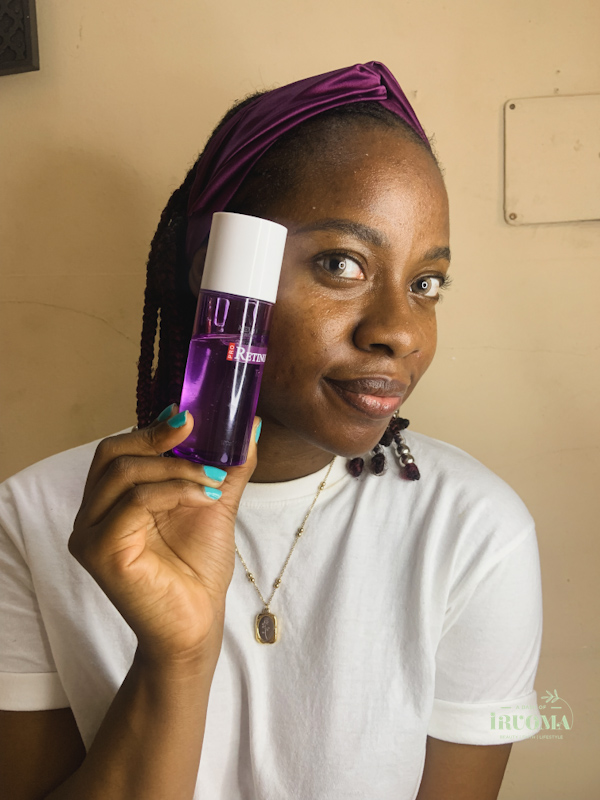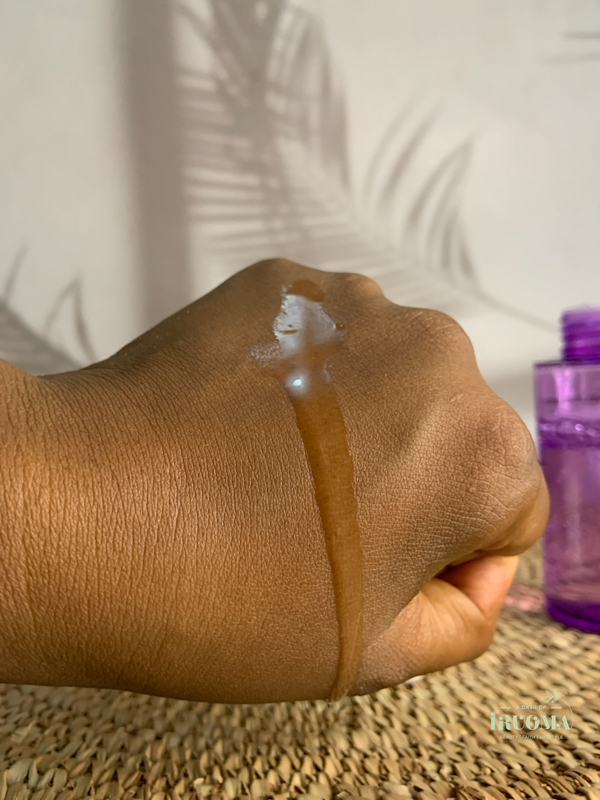 If you use a cotton pad, don't be scared when you notice dirt on the pad. That experience reduces as you continue to use the toner in your routine.
How to use
Apply the toner unto palms (or cotton pads)
Apply on the face in circular motions from the inside to the outside.
Allow face dry before applying the serum
My Verdict
I'll give this a 7/10. I think it's an excellent addition to my retinol night routine, but I could do without it. The score covers the thoughtful packaging, great texture, and hydrating feel it leaves on my skin.
Starting A Full Retinol Night Routine Featuring The Neutriherbs Retinol cleanser, toner, serum and moisturiser.
Click To Tweet
Neutriherbs Retinol Serum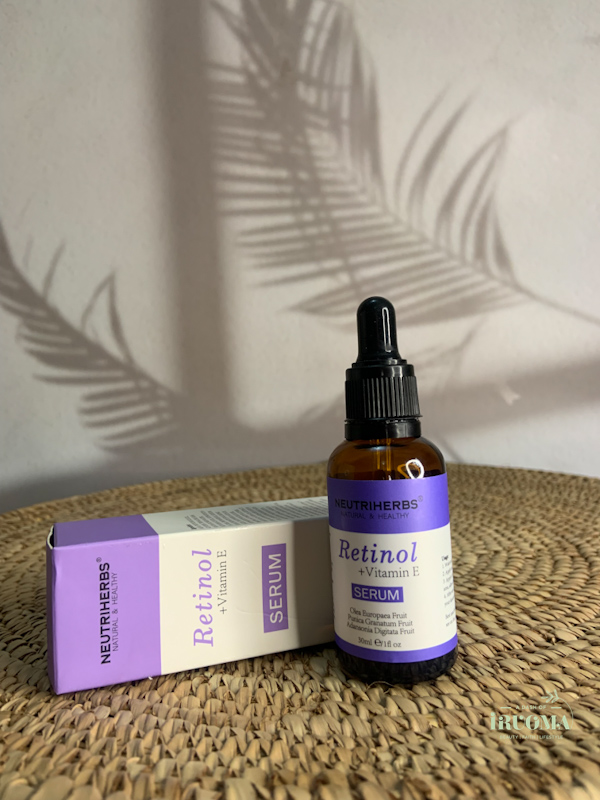 First impression
The retinol serum is where most of the retinol concentration is at. It comes in an opaque 30 ml bottle with a stopper. The serum bottle has a white and purple wrapper with the text in purple.
It contains vitamin E, which is an antioxidant. That means asides from the retinol in this serum, there is also a skin barrier support ingredient.
The serum has a slightly runny texture and no distinct fragrance too. There are also directions on the body which is always a win for me!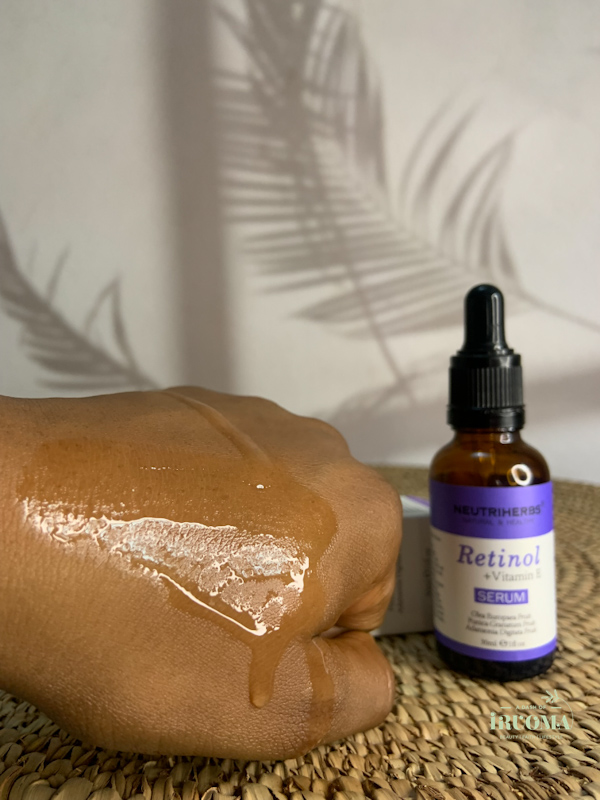 Ingredients list: 
Water (Aqua), Glycerin, Betaine, Punica Granatum Fruit Extract, Trehalose, Green Tea Extract, Olea Europaea Fruit Water, Hydrolyzed Adansonia Digitata Extract, Hydroxyethyl Urea, Tocopherol (Vitamin E),  Allantoin, Ammonium Acryloyldimethyltaurate/VP Copolymer, Carbomer, Triethanolamine, Ethylhexylglycerin, Sodium Hyaluronate (Hyaluronic Acid), Retinol (Vitamin A), Peg-40 Hydrogenated Castor Oil, Hydrolyzed Albumen, Phenoxyethanol, Parfum
Claims

According to the product's description, this serum " Unclogs and shrinks pores to clear up acne and prevent future breakouts". 
My Experience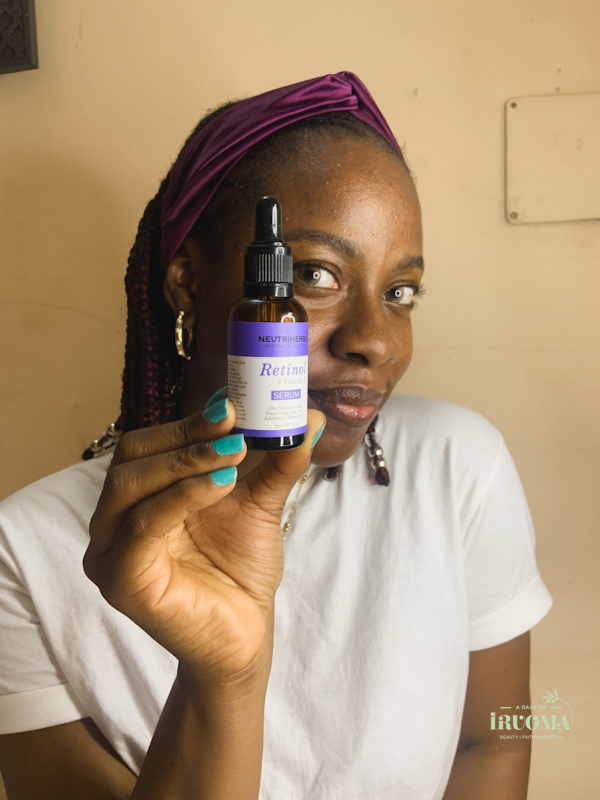 On application, it has a cool feel to it. This serum is also very lightweight, and I especially loved how my skin always felt in the morning after my retinol routine- almost as if it felt smoother. That would be true to its claims of unclogging the pores and making the skin feel firmer. 
The good thing about this serum is that it comes in a 0.05% concentration of retinol which is beginner friendly! 
I recommend this serum if you get any product from this retinol range!
How to use
*Please patch test before use.
Take 2-3 pumps.
Apply on the dry face (after the toner or cleanser). 
Wait till it dries before moving on to the final step.
My verdict
This is a 9/10 for me. The low concentration, lightweight texture and non-irritating features make it a recommended product, especially for beginners!
Finding a suitable retinol serum can be daunting. Is the Neutriherbs retinol serum worth a try? Find out here!
Click To Tweet
Neutriherbs Retinol Cream for Acne and Anti-aging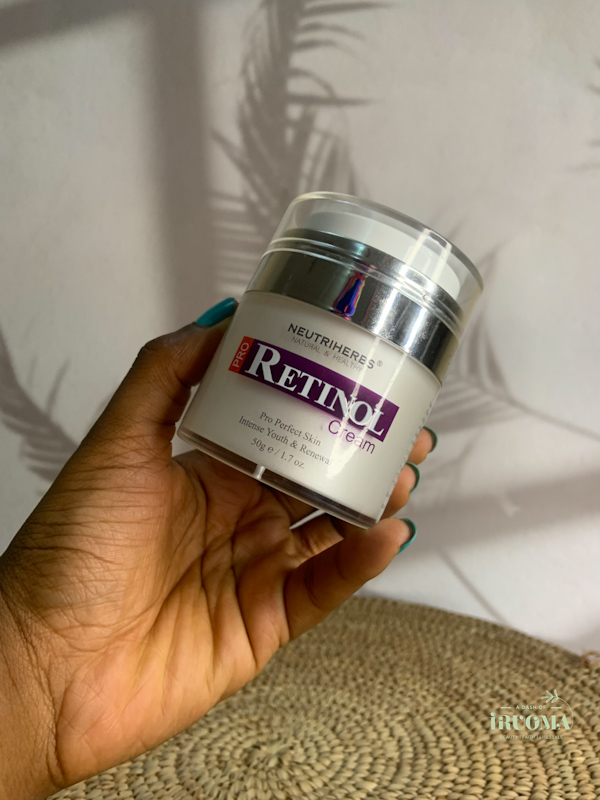 First impression
The retinol moisturiser is my favourite packaged product in this series. I say so because the ease of application is superb; it has a lush texture and gives my face a glow after use.
It comes in a 50 ml jar with a high-pressure pump. That allows you to squeeze out the product without getting your fingers in.
Like the serum, it also has some instructions for use on the back of the product.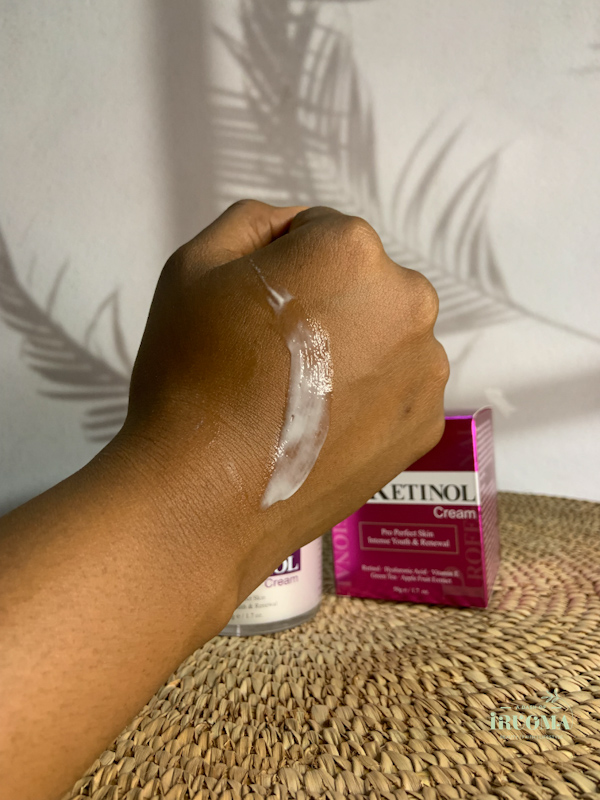 Ingredients list: 
WATER, GLYCERIN, PROPYLENE GLYCOL, SQUALANE, DIMETHICONE, PARAFFINUM LIQUIDUM, GREEN TEA EXTRACT, MALUS DOMESTICA (APPLE) FRUIT CELL CULTURE EXTRACT, CETEARYL ALCOHOL, OCIMUM SANCTUM LEAF EXTRACT, CETEARYL GLUCOSIDE, PEG-100 STEARATE, GLYCERYL STEARATE, HYDROGENATED COCO-GLYCERIDES, TOCOPHEROL(VITAMIN E), CARBOMER, TRIETHANOLAMINE, PANTHENOL(VITAMIN B5), HYALURONIC ACID, PHENOXYETHANOL, HYDROXYETHYLCELLULOSE, RETINOL, DISODIUM EDTA, DEXTRAN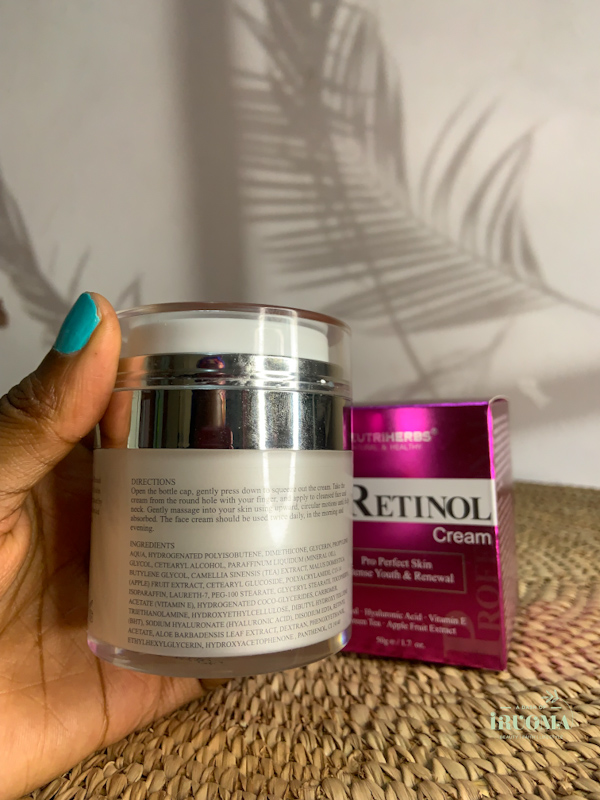 Claims

According to the website, the retinol cream " delivers the highest concentration of Retinol (Vitamin A) deep into the skin's surface quickly and effectively to help renew and rejuvenate your skin… It also supports natural collagen production and faster cell turnover to make skin feel smoother, healthy and young looking visible."
My Experience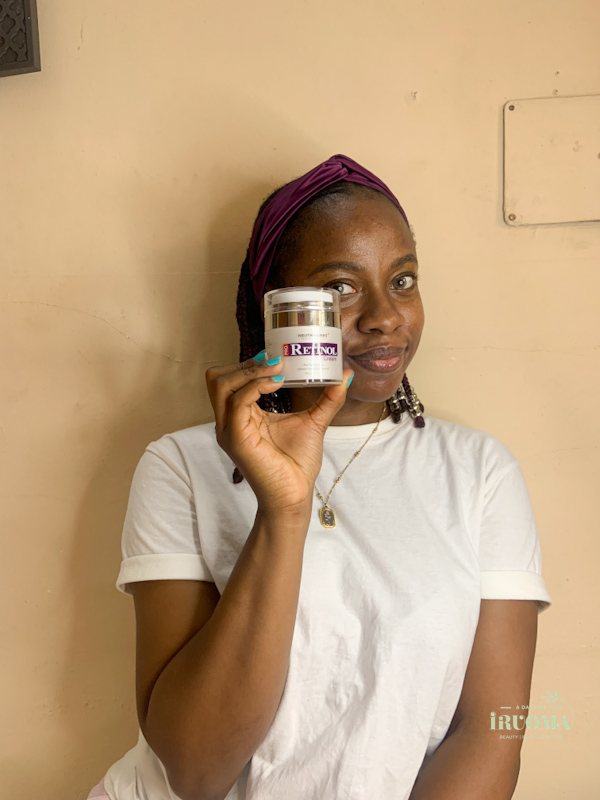 I loved the creamy texture of my skin. On the first night, my skin felt "overwhelmed" by the texture, but that got better as I continued to use it.
I experimented with this moisturiser on a different night to see if it made any difference. True to its claims, it absorbed into my skin and gave me this glazed doughnut finish. The best part was how supple my face felt in the morning after use.
How to use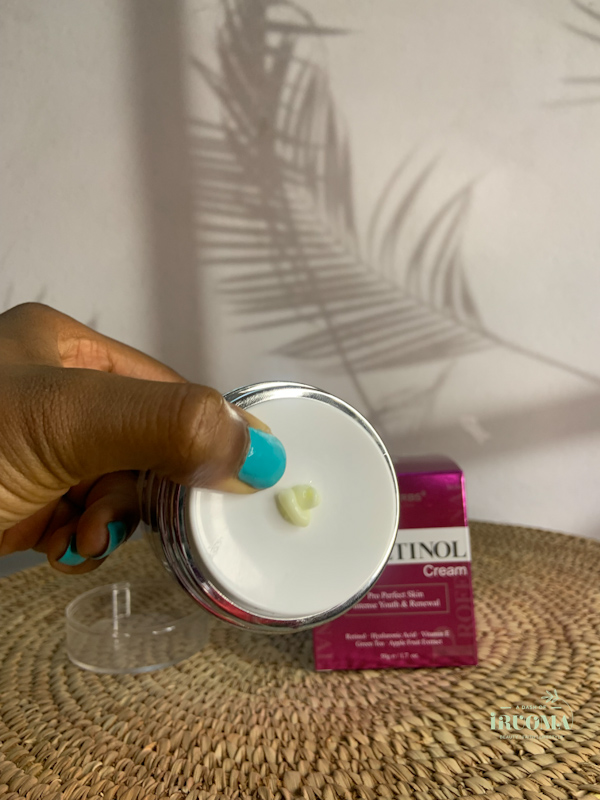 After the retinol serum, take a pump of the moisturiser
Rub in circular motions, and do not forget your neck and ears.
My Verdict
It's a 9.5/10 for me!
Three weeks later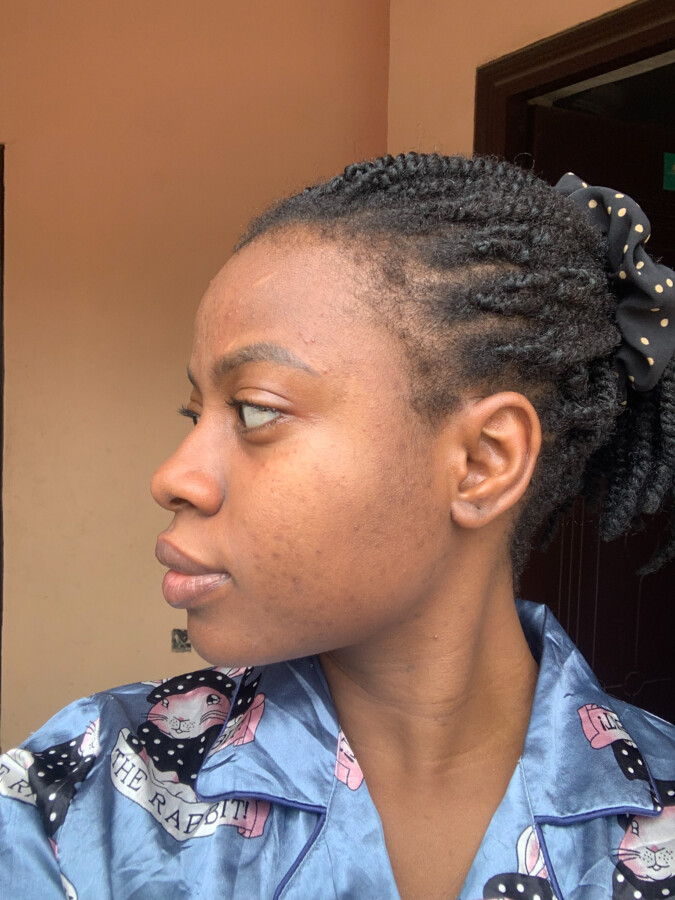 I took some pictures during my use to ascertain if there were any changes or not. One thing I noticed was my skin felt firmer and less textured. 
While there are arguments about retinol fading hyperpigmentation, some studies show that retinoids, in combination with hyperpigmentation fighters, are more effective.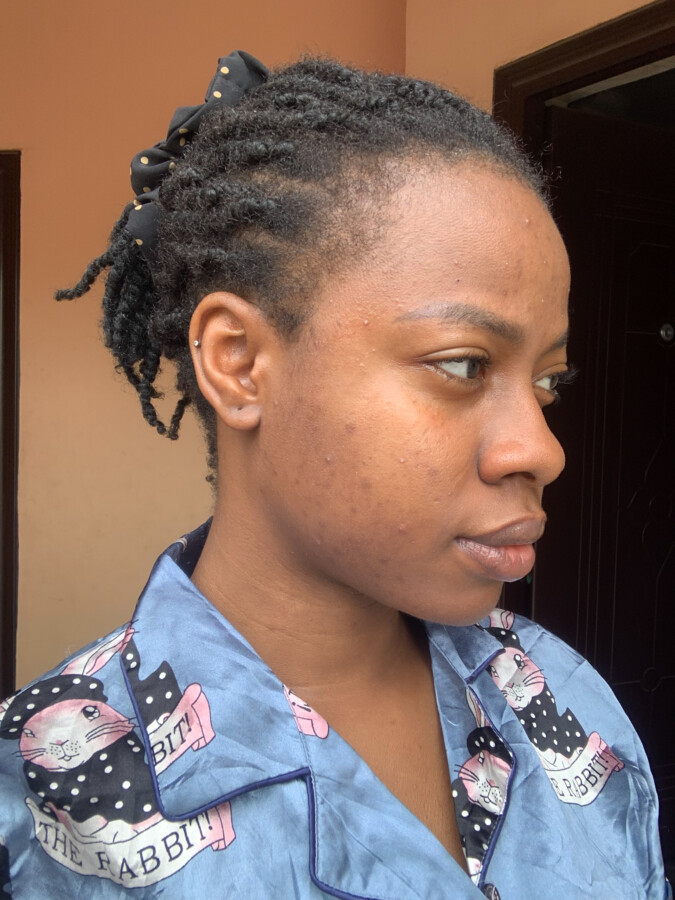 I also noticed some flakiness around my jawlines by the second week, and I had some new breakouts on my face. While that was annoying, it wasn't surprising considering the side effects of retinol. These effects calmed down by the following week.
Overall, this range gives a great start to anyone who feels overwhelmed about starting with retinol, and I look forward to how my skin looks with consistent use.
---
Frequently Asked Questions about Retinol
Why is retinol used at night?
Retinol makes the skin more sensitive to sunlight. Using it at night minimises the risk of irritation and sun damage. This is also one of the reasons you can not do without sunscreen when incorporating retinol into your skincare routine. 
How to introduce retinol into your skincare routine
It's essential to introduce retinol gradually into your skincare routine. Experts recommend once a week and working your way upward. This gives your skin time to adjust to the concentration of the ingredients and minimise irritation.
The Neutriherbs retinol serum has a low concentration, so start with two times a week with the instructions on the body and gradually increase the frequency of use. 
PS: If you have concerns or questions about incorporating retinol into your skincare routine, please consult an esthetician or dermatologist.
Where does retinol go in a skincare routine?
Retinol is typically used at night, after cleansing and toning (optional), but before moisturizing. This helps it work effectively without interactions with other active ingredients.
There is also this retinol "sandwich" method, which means applying a lightweight moisturiser before a retinol cream or serum and then finishing with your moisturiser. This is to minimize the chances of irritation from the retinol.
I haven't tried that for myself, but if you have sensitive skin, that would be something to try.
Side effects of using retinol
As I mentioned in my overall experience, retinol has some side effects. From "purging" to dryness and flakiness. It's nothing to be worried about with adequate moisturising and spf to help the skin barrier. 
It's just the nature of this ingredient, so it's best to be prepared.
In the long run, you'll be glad you incorporated it into your routine.
---
Do you have a retinol night routine?
Would you like to try this retinol range?
Share with me in the comments!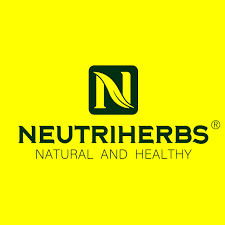 Neutriherbs is a skincare brand founded in 2011. They believe that "just like the inner body needs food and medicine to grow and stay healthy, the outer body (skin) needs unique treatments to keep it nourished and refreshed."
Check out their Instagram for all their product ranges.
READ MORE: One essential body care product ft Neutriherbs Body lotions 
3