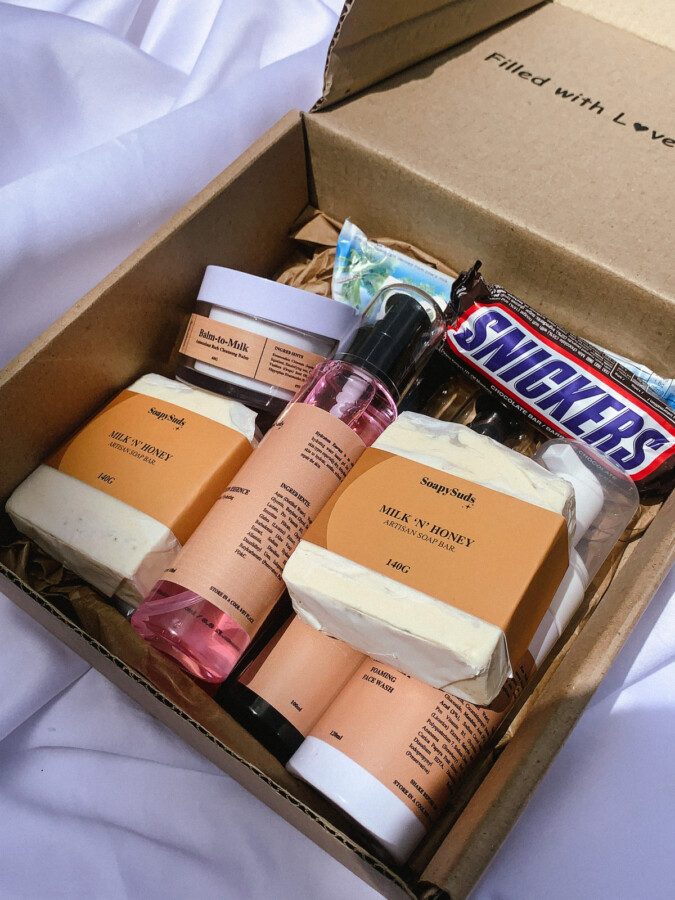 In 2022, one of my goals for A Dash of Iruoma was to try out more reputable Nigerian skincare brands. I realized that skincare in Nigeria is erroneously associated with skin bleaching. While that is a story for another day, it was my delight to see that some Nigerian skincare brands are doing a good job!
One Nigerian skincare brand to watch out for has to be Soapy Suds.
When I returned to IG from my unplanned hiatus in September, I started following more skincare creators and brands. This was helpful as I familiarized myself with the type of content that our audience resonated with and even what brands would like.
That was when I came across Soapy Suds. 
Soapy Suds is a Nigerian skincare brand that creates simple and effective skincare products for healthy skin and a radiant and more even complexion. 
I loved how engaging their Instagram stories were plus they engaged with my content in the sweetest way. One day, I pitched to them after a conversation with my sister. 
It was the best news when they agreed to send a pr package and thankfully it was around the launch of new products from their brand. While I've reviewed some of them on IG and TikTok, they deserve a spot on the blog for you!
Products from Soapy Suds
My pr package came with 6 products and a thoughtful gift of chocolates! 
The best part was how Ayo (the founder) ensured I got my package despite delays from the dispatch rider. She called intermittently just to be sure it arrived in good condition. That takes a lot of effort and it was so kind of her. Let's get into the products, shall we?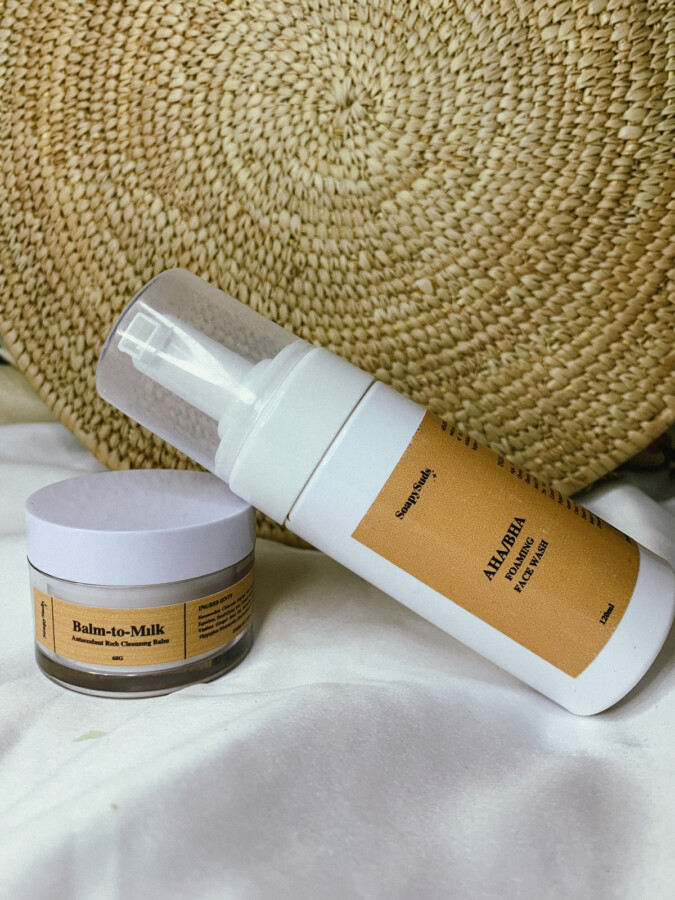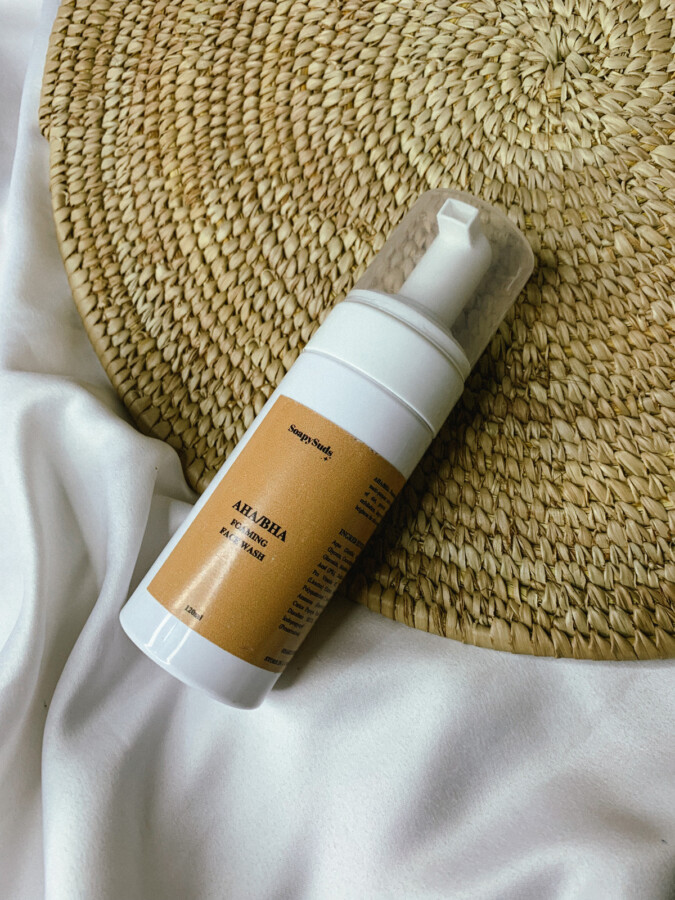 An exfoliating cleanser is a multipurpose cleanser. This means it cleanses the face and also has ingredients like alpha hydroxyl acids (AHA) and beta-hydroxyl acids (AHA) that help clear off dead skin (exfoliate). 
This sort of cleanser shouldn't be used daily as over-exfoliating can irritate the skin and damage the skin barrier. 
Back to the cleanser. It comes in a 120 ml white opaque plastic bottle with a pump head. It has a transparent cover with a brown and black paper design showing the ingredients like mandelic acid, lactic acid, and salicylic acid. There are also instructions on how to use it.
It has a mousse-like texture and didn't sting my face upon application.  Please note that I've also been alternating between it and a gentle cleanser since it's exfoliating. 
Is this worth your buy?
Yes if you're after a gentle exfoliant in your routine. 
The only con is you would need another cleanser because you can't use this every day, but it makes for a good exfoliant so it's a win-win depending on how you look at it. 
INGREDIENTS as seen on the website: 

Aqua (Distilled Water),  Vegetable Glycerin, Cocamidopropyl Betaine, Decyl Glucoside, Mandelic Acid, Lactic Acid, Pro Vitamin B5, Glycyrrhiza Glabra (Licorice) Extract, Sodium Cocoyl Isethionate, Salicylic Acid, Polyquaternium 7, Sodium Citrate, Carica Papaya Fruit Extract, Allantoin, Disodium EDTA, Diazolidinyl Urea, Iodopropynyl Butylcarbamate (Preservative).
Soapy Suds Milk "N" Honey Bar Soap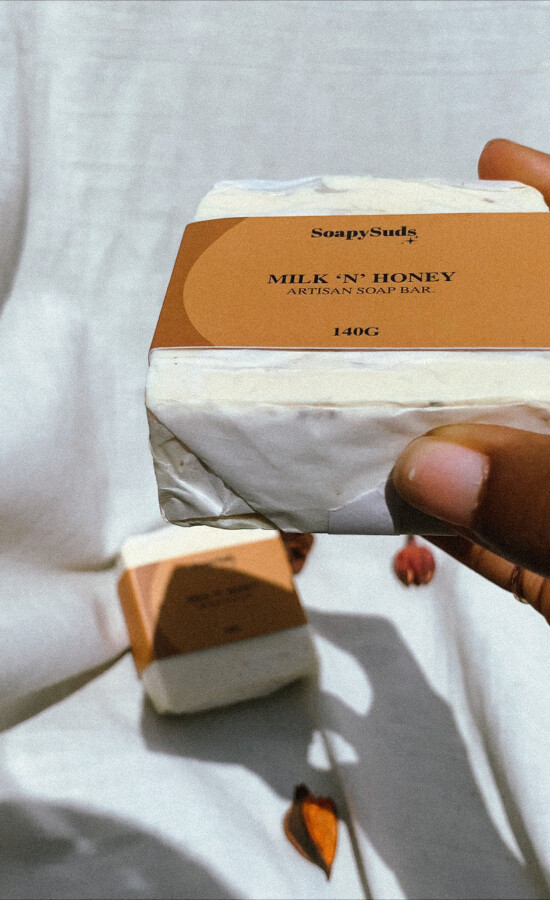 The next product in this package is the bar soap. It comes wrapped in a pale white wrapper and the classic brown tag. It's shaped like a square with a chipped end and I love that the chipped corner has some holes like a honeycomb. 
I had been using body washes and hadn't used bar soap in ages so this was an interesting switch. The mild fragrance and after-effects on my skin were ones I looked forward to. Since it was two bars, I gave my sister one, and in her words: 'The soap was beautiful on my skin, Iruoma!"
I would say that the convenience of liquid washes is better for me, especially in school where we have a public bathroom and I don't particularly appreciate having to open soap dishes. That makes me hope they make a liquid wash with a formula this gentle!
Is it worth your buy?
Yes! If you prefer body bar soaps.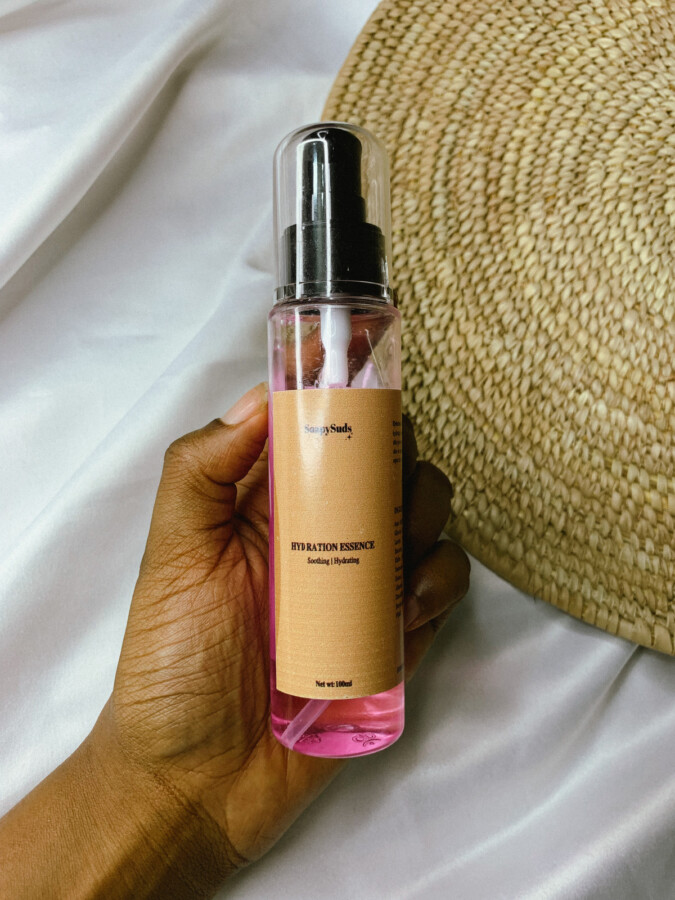 Every product in this package was a star, but this essence toner was the boss! The reviews about this water gel were all over my IG feed and it was the product I even requested for PR when asked what I would like.
This toner did not disappoint! You know that I would never mince words about my experience with a product so trust me when I say this toner is a blessing!
While toners are not necessary for your skincare to be complete, having one that gives extra hydration is a win-win for your skin.
INGREDIENTS as seen on the website: 

Water, Vegetable Glycerin, Snail Secretion Filtrate, Sodium Lactate, Propanediol, Pro Vitamin B5, Sodium Hyaluronate, Glycyrrhiza Glabra (Licorice) extract, Allantoin, Disodium EDTA, Diazolidinyl Urea, Iodopropynyl Butylcarbamate & Propylene Glycol (Preservative), FD&C pink.
It contains glycerin which is super hydrating and it was packaged in a transparent 100ml plastic with a beautiful functional nozzle that guarantees no spillage.
It is suitable for all skin types and really helped me with my skin barrier.
Is it worth your buy?
Absolutely absolutely absolutely (how many times would I type that word? Lol) YES!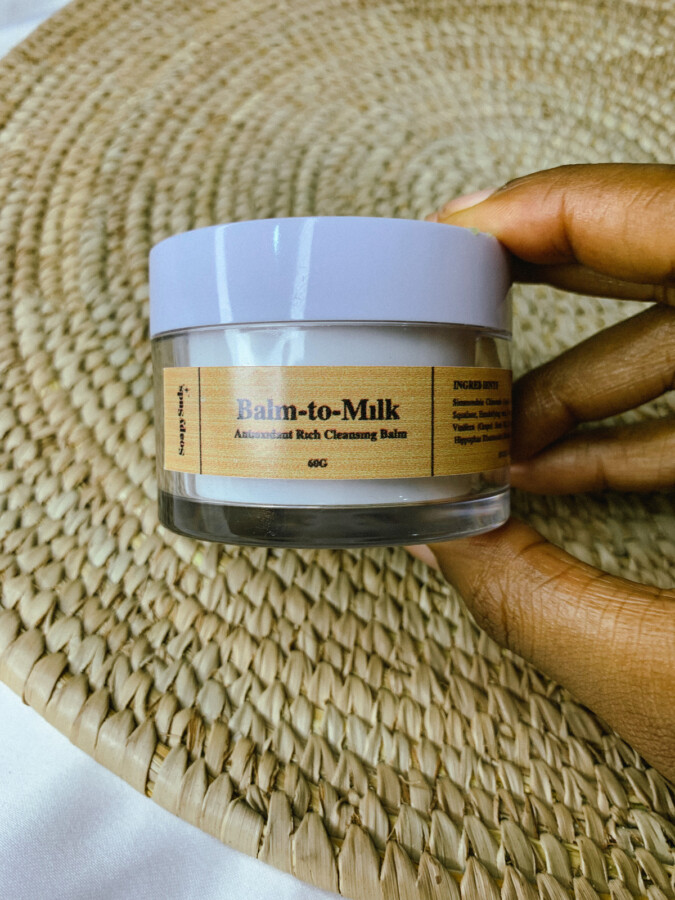 The Balm-to-milk cleansing balm was one of the new products to launch in October and I was thrilled to be among the influencers to try it first.
My regular makeup remover has been micellar water as I had been skeptical about trying cleansing oils or balms because of my skin type. The interesting fact is that oils actually do a better job at breaking the grime or dirt off your face so they're excellent to be used by both oily or dry skin as a first cleanse. 
Anyways, the first day I used it on my face, I became a believer in cleansing balms!
It has a rich creamy balm texture and all you need to do is rub it on dry palms and massage it onto your face for about 60 seconds.
Like the name, it emulsifies into a milky liquid on the face once water touches it and it doesn't leave my face feeling greasy which was one of my concerns about using it.
This cleansing balm also left my face feeling non-stripped and I looked forward to my double cleansing at night to use it.
My favorite thing about it is the packaging. It's a cute 60g jar with the classic white packaging of the brand and comes with a scop so you don't dip your hand in the product.
Very thoughtful!
INGREDIENTS as seen on site: 

Simmondsia Chinensis (Jojoba) Seed Oil, Olea Europaea (Olive) Oil, Squalane, Emulsifying wax, Cetearyl Alcohol, Vitis Vinifera (Grape) Seed Oil, Polysorbate 80, Hydrogenated Castor Oil, C12-15 Alkyl Benzoate, Hippophae Rhamnoides (Sea buckthorn) fruit oil,  Tocopherol.
PS -Micellar water is a multipurpose skin care product made using ingredients for cleansing like glycerin and purified water. It can be used as a first cleanse or to remove your makeup.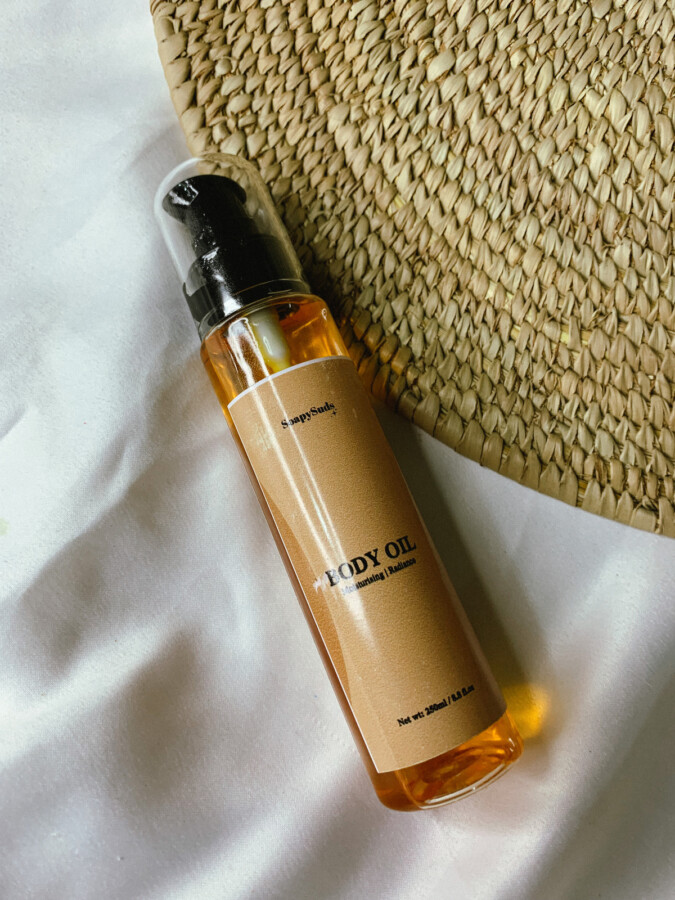 The Soapy Suds body oil was a breath of fresh air for me. I love using body oils and body butter so it's no surprise I enjoyed my use of this product. The best part about this product is the fragrance and after-feel.
Most people do not like using oils on their skin, especially in humid areas, but this oil was formulated in a way that leaves your skin feeling supple, not clogged or greasy. 
I mentioned the fragrance earlier on, but it deserves another mention. This body oil has the scent of vanilla mixed with tropical fruits or what i would say was candy-like. I enjoyed layering it with body lotion and my perfume.
My package had the 100ml variant but there's a 250ml size of this goodness in a bottle.
It's meant for body use only and it's suitable for both morning and evening use.
INGREDIENTS as seen on the website: Prunus Amygdalus Dulcis (Sweet Almond) Oil, Daucus Carota Sativa (Carrot) Seed Oil, Rosa Rubiginosa (Rosehip) Seed Oil, Camellia Oleifera Seed Oil, Undecylenyol Phenylalanine, Glycyrrhiza Glabra (Licorice) Root Extract, C12-C15 Alkyl Benzoate, Fragrance, Hippophae Rhamnoides (Sea Buckthorn) Fruit Oil, Tocopherol.
Is it worth your buy?
Absolutely yes! I believe it's a good addition to your body skincare routine, especially during this period of harmattan.
This is my least explored product in the package and I honestly need to do better. The AHA serum is an exfoliating serum for the body. If you're familiar with how we use physical exfoliants on the skin like body scrubs and glove sponges? That's the function of this serum but think of it as a more gentle approach to the skin.
I used this a couple of times in school and haven't used my glove sponge for exfoliating because after use my skin feels smoother. Afterward, I layer it with body lotion and body oil.
INGREDIENTS as seen on the website:  Aqua (Distilled Water),  Vegetable Glycerin,  Lactic  Acid,  Glycolic Acid, Propylene Glycol, Kojic Acid, Alpha Arbutin,  Glycyrrhiza Glabra (Licorice) Extract, Allantoin,  Sodium Hydroxide (PH adjuster) Sodium Citrate, Sodium Hyaluronate, Diazolidinyl Urea, Iodopropynyl Butylcarbamate (Preservative), Disodium EDTA, Sodium Metabisulfite, FD&C Orange.
As we advance this new year, I intend to use it consistently so as to give a more robust review of my experience with it. Despite my inconsistency, I've had a pleasant experience!
NB- The body serum is meant to be used at night and due to its ingredients. It's best used 3 times a week for the first 3 weeks of use as recommended on the website.
Is it worth your buy?
I would say yes especially if you want to try something different for your body care routine.
---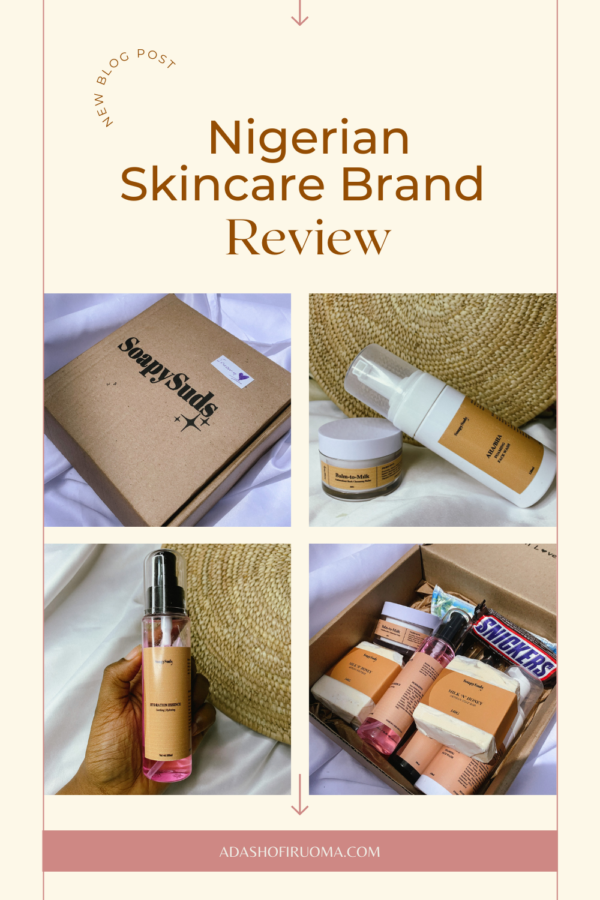 Soapy Suds is definitely one Nigerian skincare brand to look out for, and I hope they keep up the good work of not just making effective skincare, but educating Nigerians on healthy skincare habits.
Check their IG page below for more details:
Have you tried any products from Soapy Suds? Would you like to try them? What's your favorite Nigerian skincare brand currently? Please share with me in the comments.
---
READ ALSO: My Body Care Routine Ft Body skincare products
CONNECT HERE: TIKTOK // BLOGLOVIN // PINTEREST //  TWITTER
2