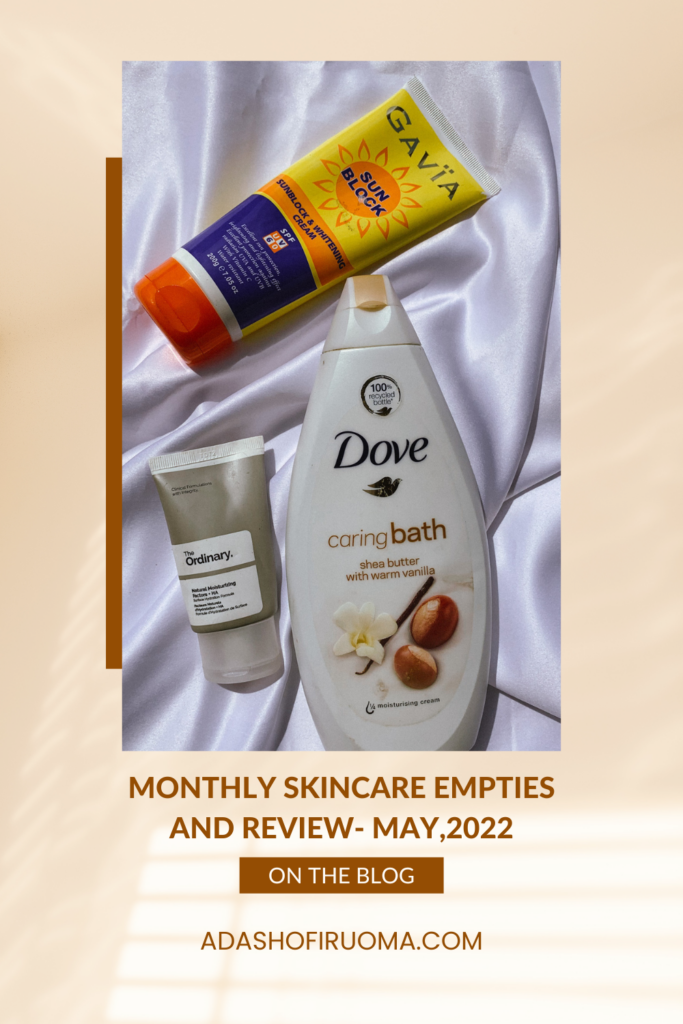 Hey, beauty!
I'm trying not to cringe at this new greeting phrase but bear with me. This "figuring out" phase has me by the neck. Today is all about reviewing some skincare empties, and I'll like to call them #ADIempties where I'll review some of the products I use up every month! 
I finally exhausted some products in the month of May and I've been itching to share my thoughts so you know if it's worth your coins or not.
Ready? Let's go!
The Dove Caring Bath Shea Butter With Warm Vanilla Liquid soap.
I'm slowly transitioning to learning more about body care and the dove caring bath was my conscious start. I loved that Dove has a wide range of variety when it comes to their bath lotions, and this shea butter with warm vanilla left my skin happy.
Description
It's a 500ml recyclable portable bottle that has a pop-off cap that makes it easy to apply the product.
Experience
The lingering smell is remarkable. It has this vanilla luxury smell that just made me happy. It had a balance of moisture after use and my skin didn't feel dry after showering. It also lathers well and your bathroom will be left with its beautiful smell.
Who can use
 I believe everyone can use this product as it's moisturizing. I also think it's perfect for any season.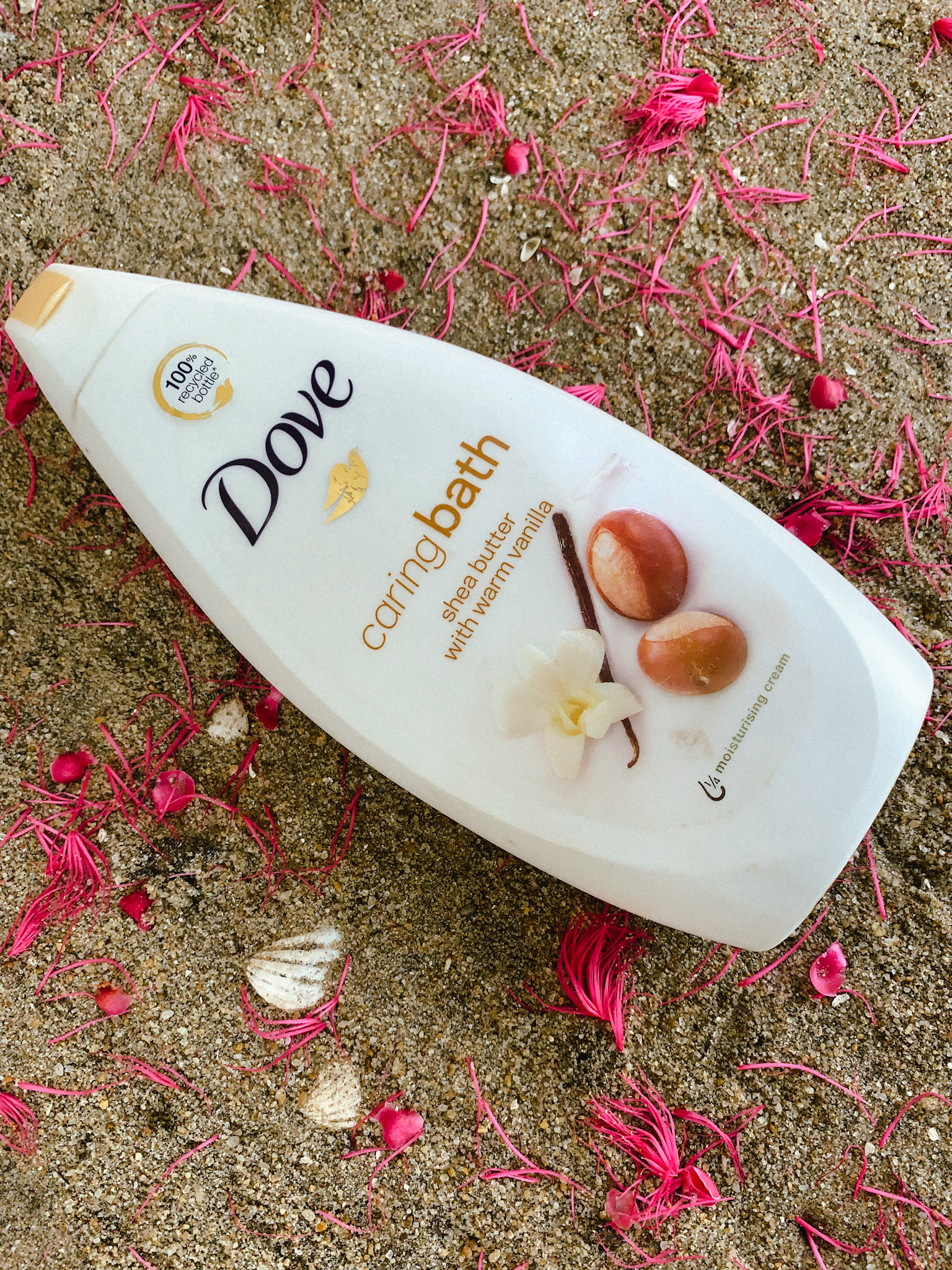 Verdict
Worth your buy! 
Where To Shop
I got mine from a local supermarket for #1900 but you can check on Amazon, Konga, and any good skincare store.
The Ordinary Natural Moisturising Factors + Hyaluronic acid Moisturiser 
Another one of my skincare empties to be featured is this moisturizer from The Ordinary. I got this product on a whim because I had seen it on Tiktok and wanted to try it on oily skin.
A peek into the monthly empties: Review of 4 Skincare Empties for the Month of May Ft The Ordinary and More.
Click To Tweet
Description
It comes in 2 sizes- 30ml and 100ml. I got the 30ml and regretted using it for a while because I could have just gotten the bigger size.
Prior to my use, I had only seen the Ordinary serums so seeing the grey-colored tube was intriguing to me, lol. It also has a tube cap which makes it easy to apply. It also has no fragrance.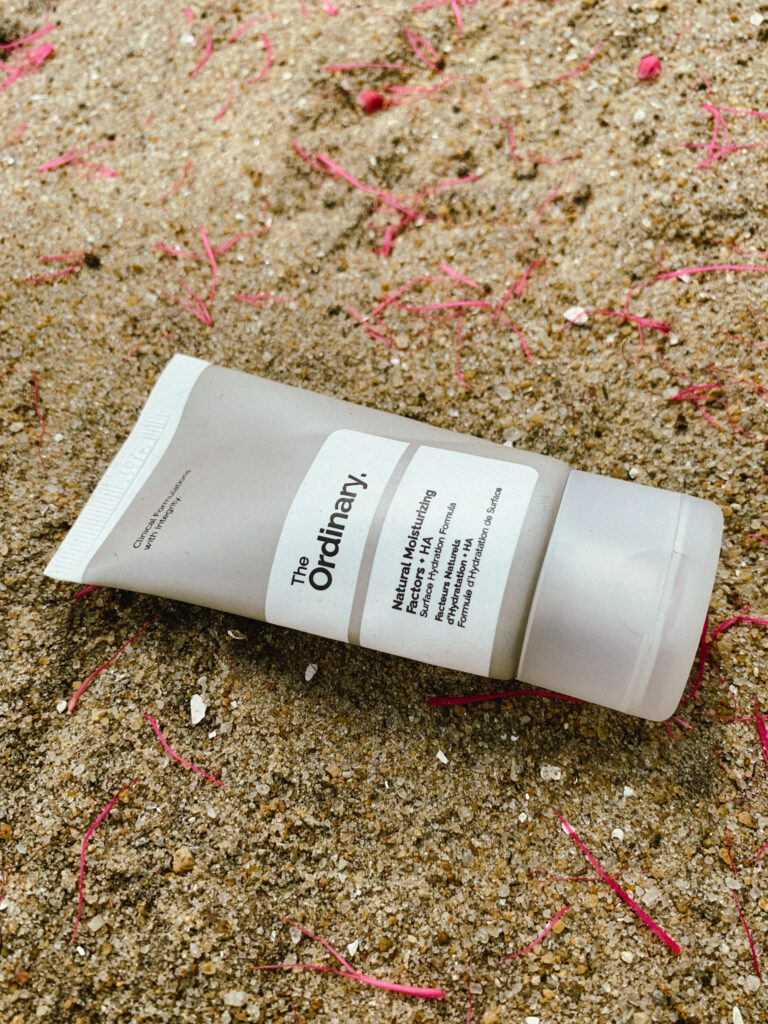 Experience
It comes as a white-colored cream and it felt like I was applying a lotion to my face. The thick texture took me a while to get used to but I loved the cool effect after application. It also gave this glowy, not greasy, finish and didn't feel heavy on my face.
Who can use
I'm oily skin and it didn't break me out. It is also good for dry skin as it contains great ingredients like hyaluronic acid, glycerin, and other humectants that increase the hydration of your skin.
Verdict
Worth your buy if you don't mind a heavily textured moisturizer. I also think I would enjoy it more during a dry season.
Where To Shop
I got mine for Jumia and can't recall the cost, but I'm steering clear of buying skincare products from them till I get trusted vendors. Check Teeka or Buy better if you're in Nigeria.
R&R Luxury Lip Butter
It's safe to say that R&R Luxury has won me over and I wrote a more detailed review about all the products that I have used from this brand. 
The lip butter made me believe in quality lip balms again after I spent money on a fake lip balm prior. Thankfully, this didn't fail to do a good job. 
Description
Consistent with their branding, the lip balm comes in a paper pack aesthetic black and white mini tube. It also is rolled up for application like most lip balms.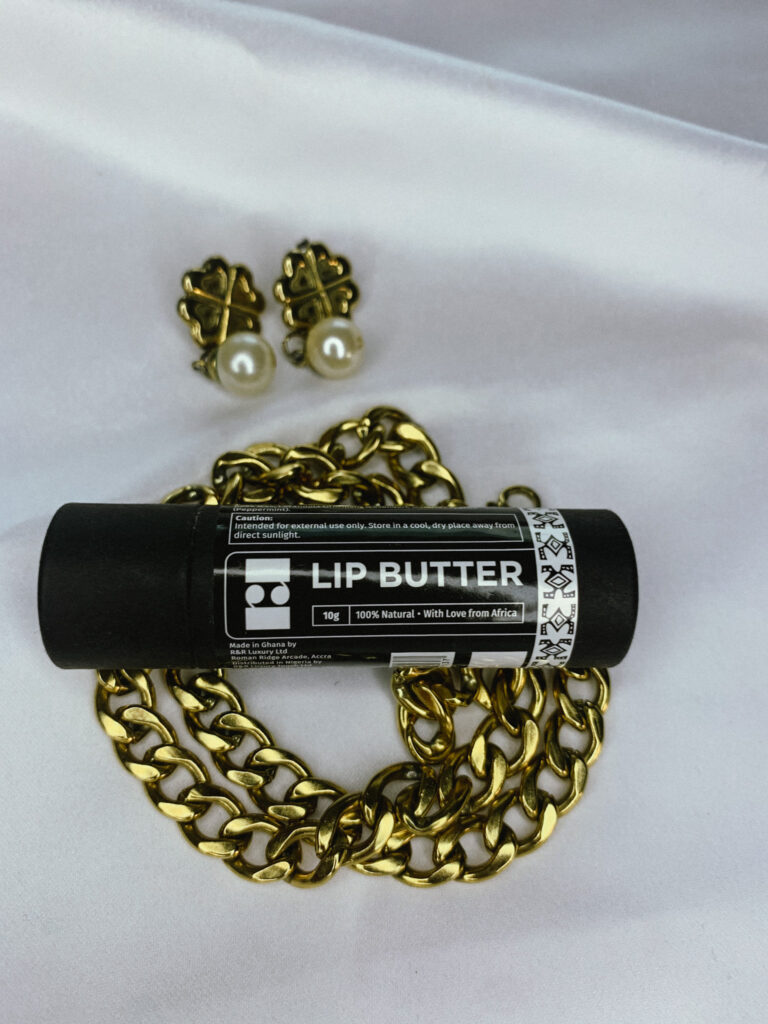 Experience
One thing I loved about this balm was the long-lasting wear. Seeing that it's made with beeswax just gave more points to them because that ingredient seals in moisture. I also liked that there was peppermint so it left this cool feeling upon application. It is not tacky and can be used to prep the lips before lipstick or just as part of your skincare.
Who can use
Everyone! Except if you are allergic to peppermint oil.
Verdict
Worth your buy and is a perfect gift for skincare enthusiasts.
Where To Shop
You get 10% off with my code ADI10 when you shop on their site.
Gavia Sunblock SPF 60
Finally, one of my skincare empties is the Gavia sunblock. I have reviewed this sunscreen in detail so definitely check it out for all the facts.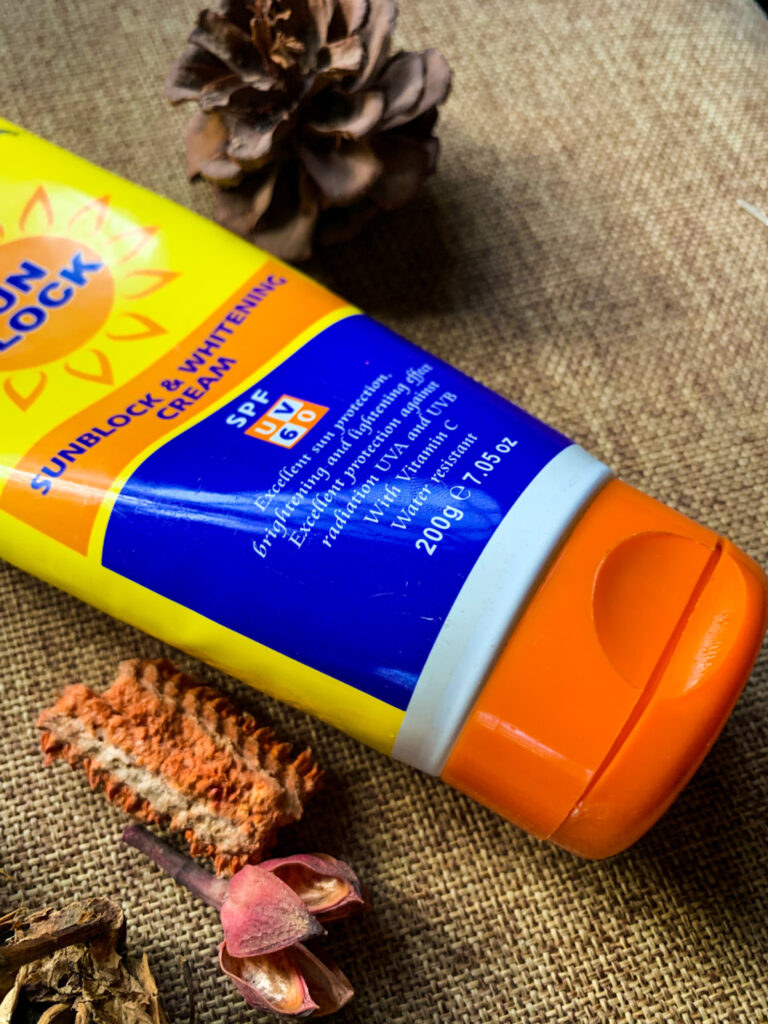 Verdict
Worth your buy if you're oily skin and looking for a mineral sunscreen on a budget
Where To Shop
I got this from a supermarket. Sadly there are fakes, so be on the lookout. 
I look forward to sharing the empties for June, God willing. Meanwhile, is there any product you'll like me to review? Let me know in the comments.
See you soon!
READ ALSO- AN HONEST REVIEW OF THE ORDINARY LACTIC ACID SERUM
3