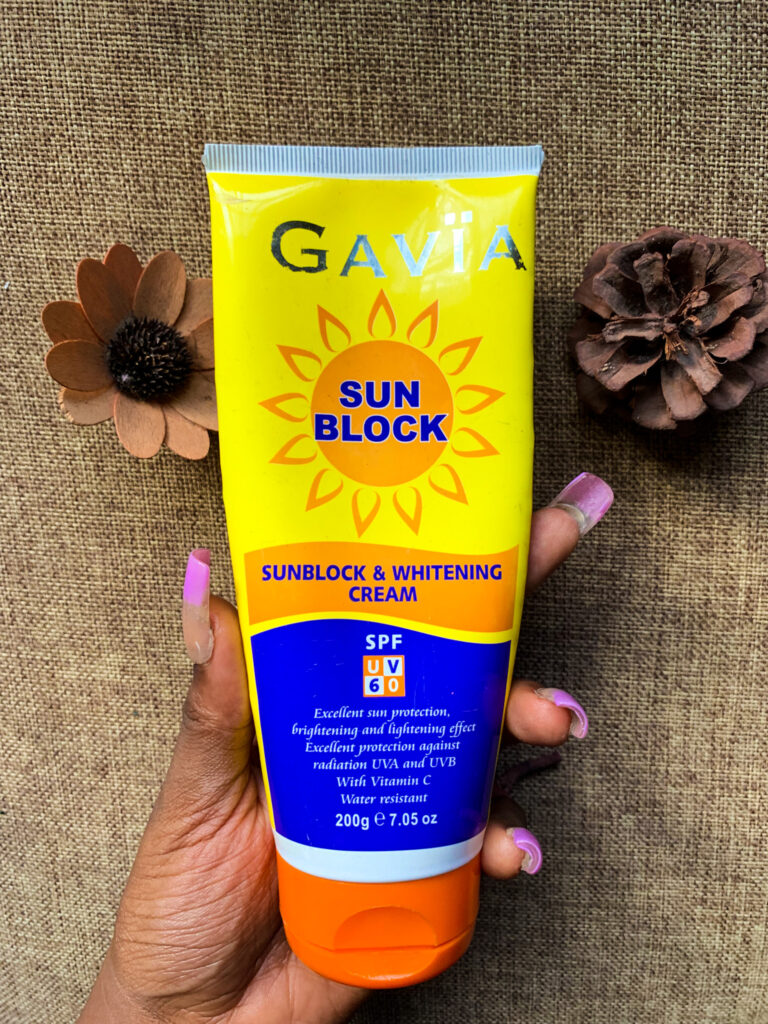 Adding sunscreen to my skincare routine felt like a luxury I couldn't bring myself to indulge in. Imagine spending almost the whole amount you used to buy a set of products to buy just 1 product. I'm probably being dramatic, but you get my point.
Then my friend introduced me to Gavia Sunblock and Whitening cream SPF 60. I had just exhausted my Aqua Missha sunscreen and I wanted something that wasn't too pricey and a bit larger.
Safe to say, I've used it for almost a year before starting my "experiment" to discover and review other affordable sunscreens for people like me who need options for sunscreens that don't break the bank.
Let's start the review, shall we?
You need to try the affordable Gavia Sunblock And Whitening Cream SPF 60 and here's why
Click To Tweet
Meeting Gavia Sunblock
Appearance
Gavia sunblock whitening cream comes in a cute yellow and orange 200g tube. Written on the body is Spf 60 and it claims to offer "Excellent sun protection, brightening and lightening effect. Excellent protection against radiation UVA and UVB with Vitamin C and is water resistant".
PS- The "whitening" is simply a marketing strategy as it doesn't actually whiten or bleach the skin.
Ingredients
It contains sun-blocking agents like Zinc Oxide and Octyl methocinnamate, as well as emollients, thickening agents, and vitamins A, D3, and E among others. The full list is seen in the picture so I won't bore you with the details.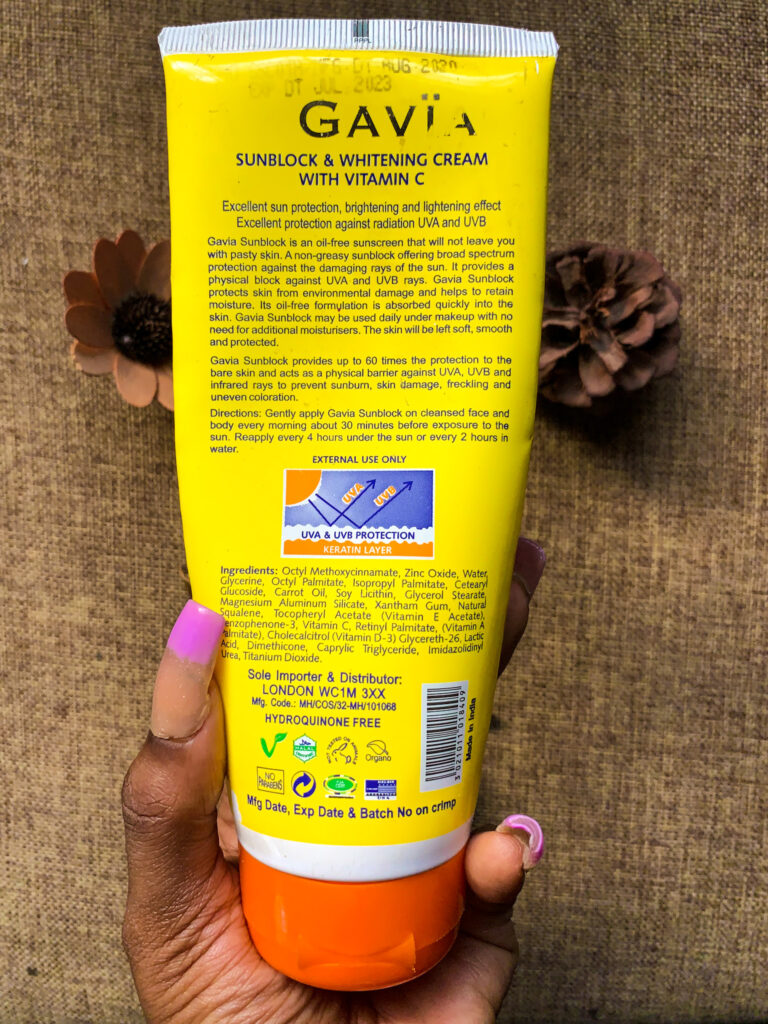 My Experience
Gavia sunblock has a creamy texture which I think doesn't feel heavy on application. I was nervous about doing the 2-finger breadth method because I was worried it would leave a white cast. Guess my surprise when it didn't! It does take some seconds for it to blend in so that's fine. I also enjoyed the matte feeling it left after application.
Join the newsletter and get your free guide to skin care, inspiration and the latest updates. Can't wait to share more!
Pros
Very affordable for its 200g size- I got it on Jumia last year for about #4500, but its currently #5500 in my local supermarket.
Creamy texture and feels lightweight on my oily skin.
Broad-spectrum and SPF 60.
Does not leave a white cast after application
Cons
It makes me sweat and some of my friends have noticed the same.
Has a slight fragrance which I don't mind, but if you don't like fragrance, then that's something to take note of.
Verdict
I rate this product an 8 out of 10 because it doesn't leave a white cast, and has an excellent matte finish but it makes me sweat. Would repurchase it as it's affordable and I enjoy how it feels during the harmattan season.
Which sunscreen have you tried?
Would you like to see more reviews? Please leave a comment for your girl and see you next time!
READ ALSO- A SIMPLE GUIDE TO FACE SERUMS
7