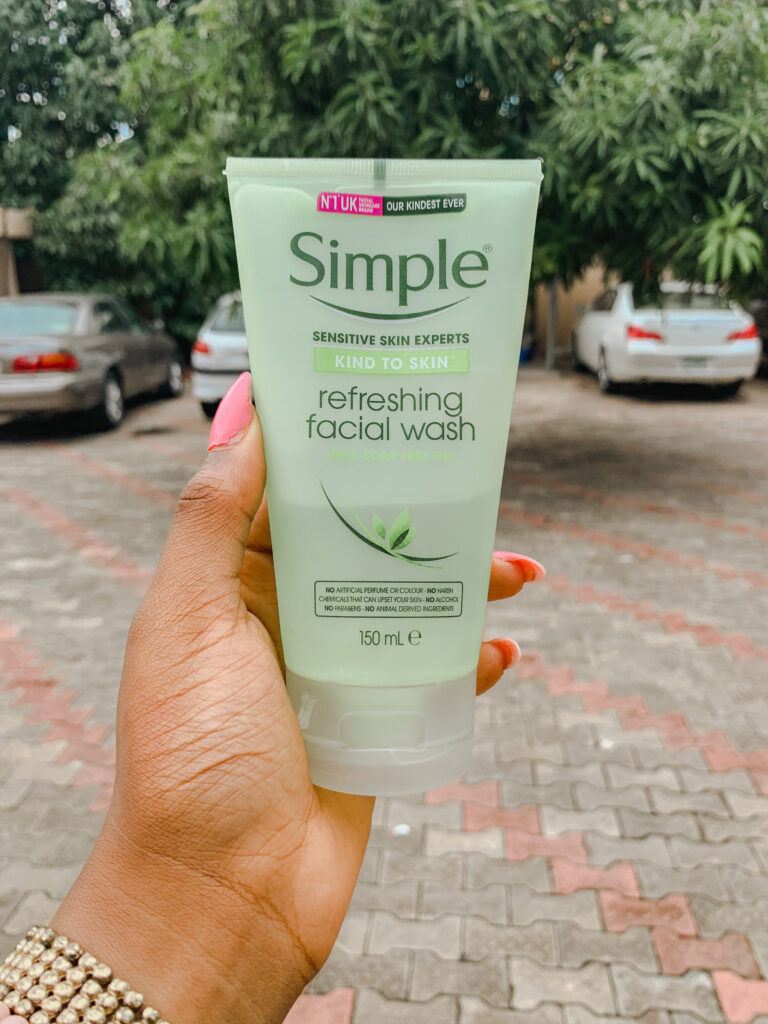 If you're looking for a review for the Simple cleanser or wondering if it would be a good fit for you, then keep reading.
Affordable and sustainable skincare sparks something in my heart. At the start of the month, I shared some new products on my Instagram stories, and promised to give a review.
My face has been in a funny phase (see what I did there? lol). I recently had a skin "reaction". That's the best way to put it, but thankfully the diagnosis wasn't as bad as I thought. It went from "baby butt" aspirant to "bumpy ride".
After getting a probable diagnosis, I had to hold off using 2 out of the 3 products I shared. Now this is where I thank God because the Simple cleanser I had gotten was a super mild one and was perfect for this phase.
Simple KIND TO SKIN REFRESHING Facial Wash
Cleansing is usually the first step in any skin care routine. It makes sense because you need to clean off the dirt before applying the other things your lovely face needs to stay healthy. If you have a sensitive skin, the Simple Kind To Skin Refreshing facial wash (kind of mouthful) could be worth looking into.
I had read some good reviews about it and decided to give it a go.
PS- This isn't a recommendation. I'm sharing my experience and hoping it will be a useful resource for you. Check the next post on things to note before buying any product for your skin.
Simple is UK's top facial skin care brand and there's a reason it is popular. True to it's name, it works in a simple yet effective way depending on your purpose of use.
Description
First thing you notice about Simple Facial wash is the packaging. I love the shade of green used. It also comes with a retractable lid and nozzle and is 150ml.
It is colorless with a jelly-like consistency.
Aqua, Cocamidopropyl Betaine, Propylene glycol, Hydroxypropyl methylcellulose, Panthenol, Tocopheryl Acetate, Pantolactone, Sodium hydroxide, Disodium EDTA, Sodium Hydroxymethylglycinate.
In addition to the ingredients, it contains vitamin B5 and vitamin E. It has no artificial perfume or color, no harsh chemicals, no alcohol, and it's vegan (no animal derived derivative).
Simple refreshing facial wash is non-comedogenic and hypoallergenic. Meaning, it doesn't clog your pores and has very minimal chances of causing you to react. It's also 100% soap free as it contains no harsh chemicals.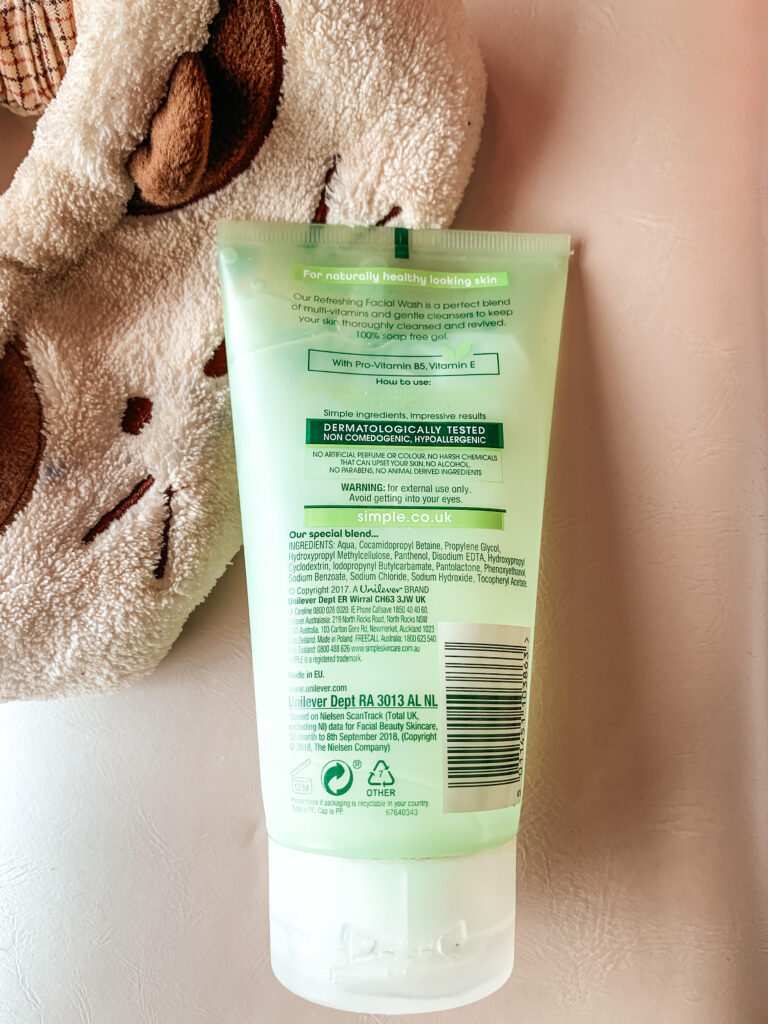 Steps to use
Wet face with warm water (sometimes I use cold water).
Apply the cleanser into clean hands and work into a lather.
Massage unto face in a circular motion.
Rinse off with cold water.
Pat dry with a face towel and continue your routine.
Pro tip: Don't apply your cleanser and just wash off. That's literally wasting it and getting minimal result. You need to let it "sit" on your face for a while to activate it before washing. That can be for 30 seconds to 1 minute. I learnt this from Salama Mohamed.
My experience
This cleanser always leaves my face supple. I have acne prone and oily skin so that feeling is refreshing. I have also been using E-45 as a moisturizer based on my prescription to balance out any drying effect, but this cleanser isn't as drying as others I have used.
It is easy to apply and so gentle. There are no particles in it so it feels smooth when rubbing on my face. It literally is that mild.
I love the fact that it is sustainable. I have been using it for 4 weeks and it could go 2 more weeks with the quantity left.
Where to get from
You can get it from your favorite skincare store or Jumia. I got mine from BuyBetter for #2500 ($6).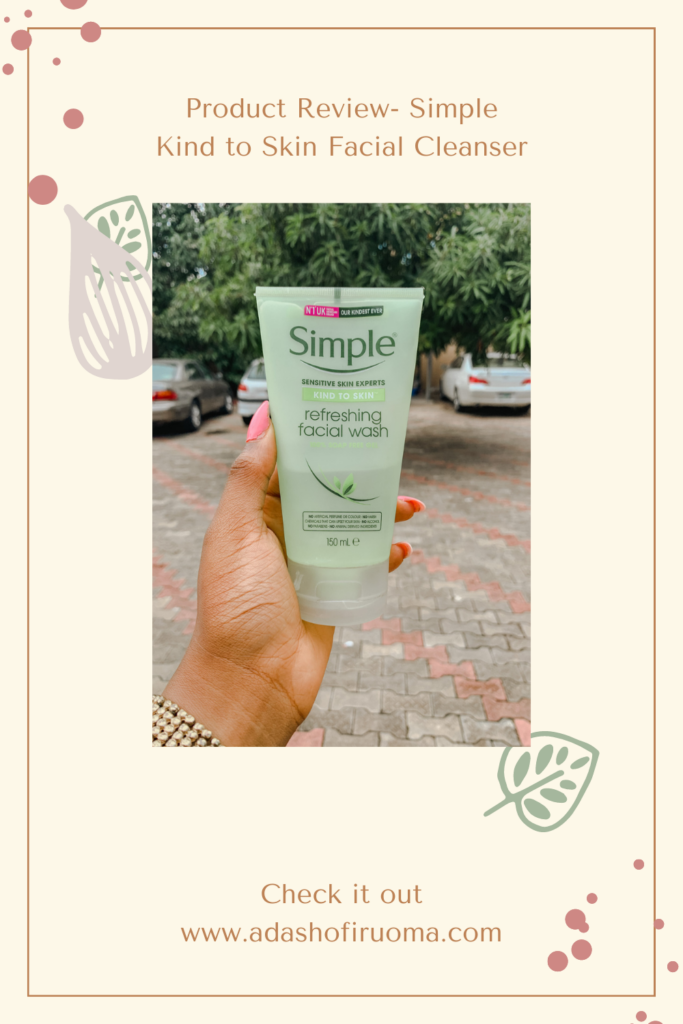 Pros
This cleanser does it's job effectively.
It has a minimal chance of irritation as it has no perfume or alcohol so it's a good fit for sensitive skin.
You only need a pea-sized amount during your wash.
Cons
If you have some issues you're targeting on your skin e.g. hyperpigmentation, dark spots, etc. , this may not be a good fit. This is because it does not contain active ingredients for acne prone or combination skin.
The jelly like texture makes it hard to rinse off just once. I have to rinse off at least 2/3 times to get the slippery feel away.
Would I be getting this again?
Currently, I would say no as the next step for me is to get products with the active ingredients my face needs after this. I must say that it has served its purpose by just cleansing.
I would advise that you get it if your skin is at a place you're okay with, and you're looking for something mild and gentle.
Hope this helps.
Would you like to see more reviews?
Have you ever used this cleanser? Please let me know in the comments. Enjoy the rest of your week!
6