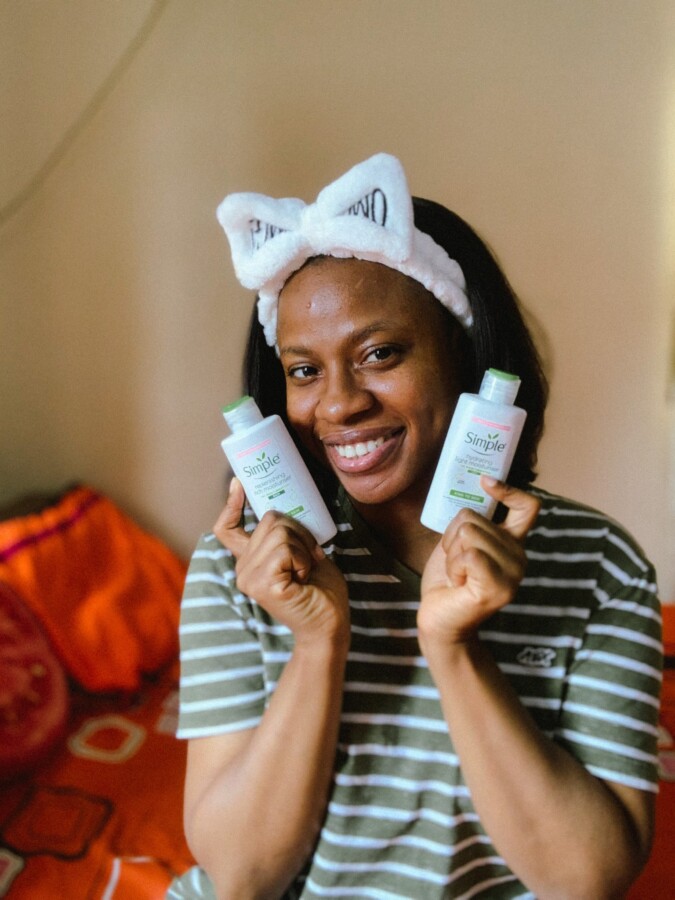 If you're looking for an affordable and effective moisturizer, chances are that you've seen the Simple hydrating light moisturizer or the Simple replenishing moisturizer. Simple is that "simple", clean, and effective brand that goes straight to the point. Their kind to skin cleanser was the first product I used from their brand and it's usually one of the first cleansers I recommend to my friends if they are just starting their skincare journey.
For a long time, the simple hydrating light moisturizer was my staple moisturizer until I decided to try another brand. Recently I saw the replenishing moisturizer and decided to try it out and take note of the differences. If you're wondering which simple moisturizer to try, then this review of both moisturizers is the post for you!
PS: Simple has 3 variants of their moisturisers. Light which is preferred for normal to oily skin. Rich for dry skin and the protecting light moisturiser which has SPF.  
Simple Hydrating Light Moisturiser Review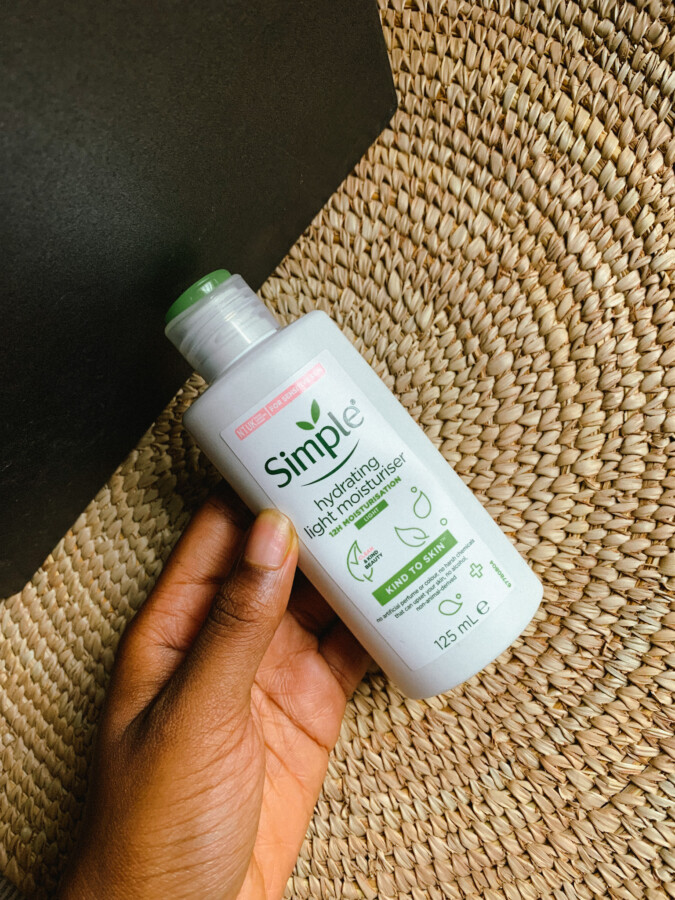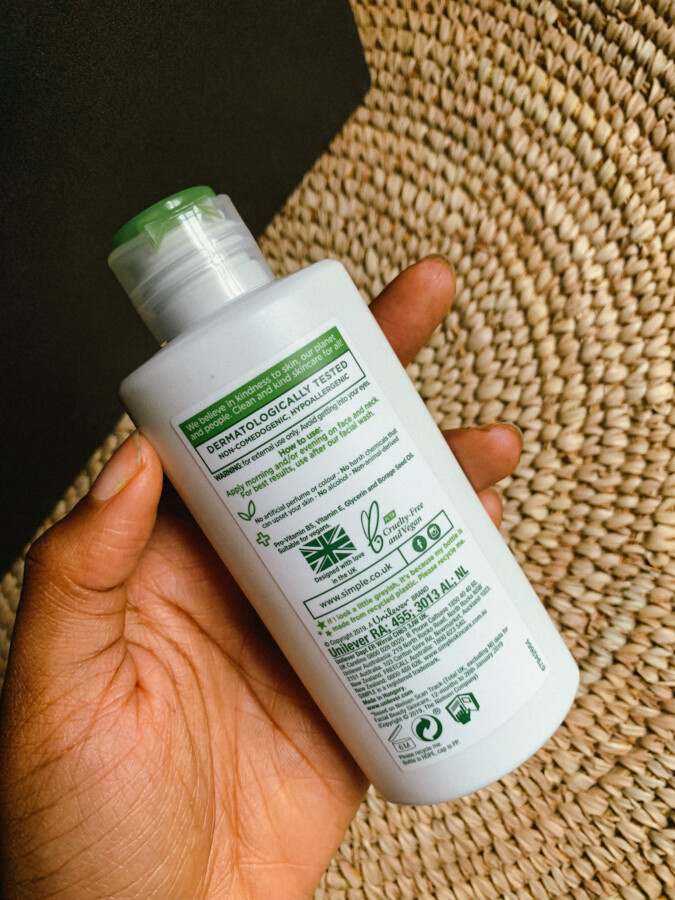 Description
The moisturizer comes in a white opaque plastic bottle with a screw-on flip-flop cap. Like most simple products, the packaging is simple. The moisturizer has a cream-like consistency and is white in color. There's also no fragrance. It is 125ml and lasts for a while.
claims/ ingredients
This brand has some tried and tested claims:
Hypoallergenic (not likely to trigger an allergy)
No parabens ( no synthetic chemicals/preservatives)
No ingredients derived from animals
No alcohol
No artificial color
Also dermatologically tested.
It contains humectants like glycerin, emollients like panthenol, and occlusives like dimethicone.
The ingredients as seen on the Simple UK are:
Aqua, Glycerin, Paraffinum Liquidum, Polyglyceryl-3 Methylglucose Distearate, Cetyl Palmitate, Dimethicone, Acrylates/C10-30 Alkyl Acrylate Crosspolymer, Bisabolol, Borago Officinalis Seed Oil, Caprylyl Glycol, Carbomer, Cetyl Alcohol, Disodium EDTA, Lactic Acid, Panthenol, Pantolactone, Pentylene Glycol, Phenoxyethanol, Potassium Carbonate, Potassium Hydroxide, Serine, Sodium Lactate, Sorbitol, Tocopheryl Acetate, Urea. 
NB- A good moisturiser should basically contain *HOE which I coined to remember the following:
Humectants: draws water from the environment to the skin.
Occlusive: forms a thin layer to seal in moisture.
Emollients: binds the skin cells together to give a smoother texture.
My experience With The Simple Hydrating Light Moisturizer
I used this product after my toner and I loved the hydrating feeling upon application. I don't like my moisturizers feeling heavy on my skin. As I mentioned earlier, this is the moisturizer I keep coming back to, as I experiment more with my cleansers and SPF.
If you're looking for a simple moisturizer that doesn't break the bank and is effective, check out my review of 2 variants of Simple moisturizers.
Click To Tweet
I've been using it mostly during the day and using the Face Facts hyaluronic face cream at night.
The cap made it easy to dispense and apply to my face and I typically only need a dime-sized amount to cover both my face and neck on a sunny day. It's also light enough to add an extra layer when the weather is dry.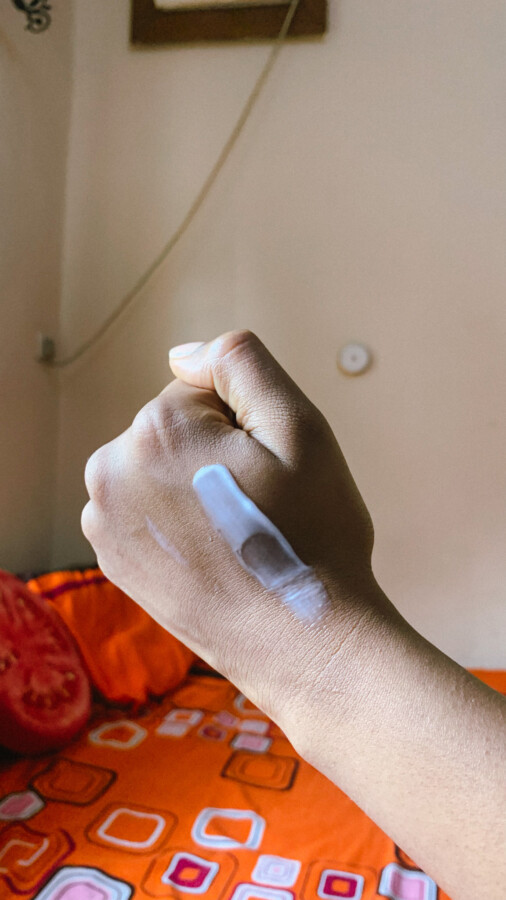 It didn't irritate my skin or cause me to break out which is a plus. This moisturizer always feels soothing and cool on my skin upon application. I also noticed that my skin would feel supple till evening, especially during a humid day and that covers one of its claims to keep the skin moisturized. I can't vouch for the 12 hours claim anyways. 
---
Simple Replenishing Rich Moisturizer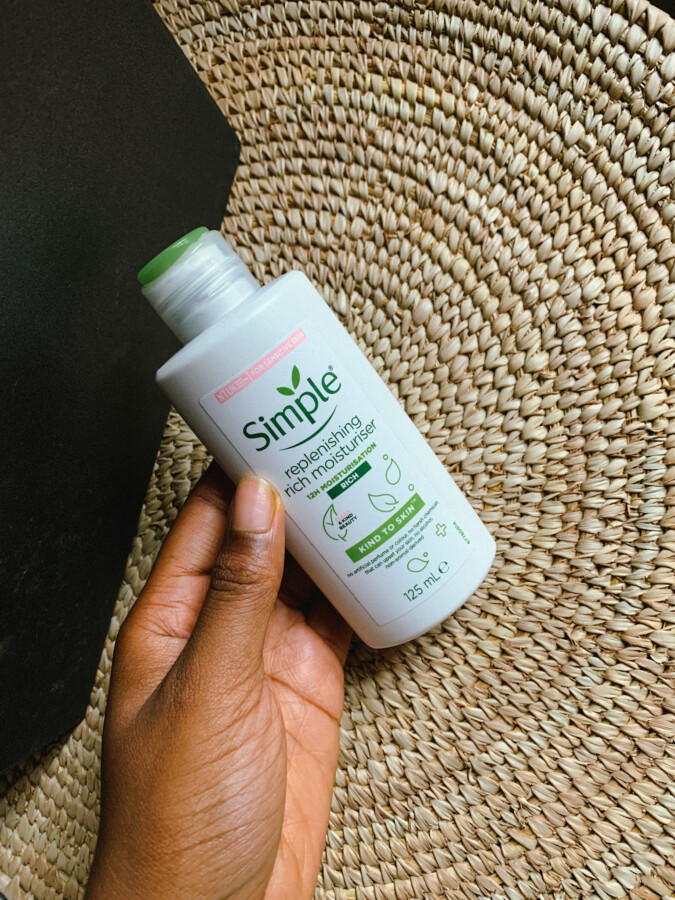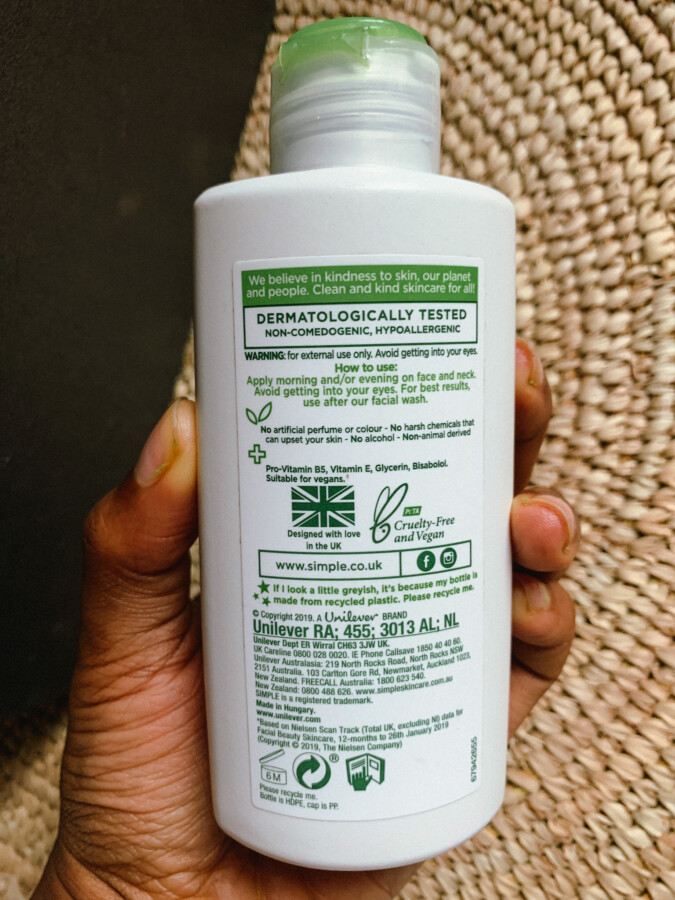 Description
If you're not conscious of their names, you may think that the replenishing moisturizer is the same as the light moisturizer because they look exactly alike. It also comes in a white opaque plastic bottle with the same screw-on flip-flop cap that makes for easy application.
The bottle has a quantity of 125ml as well so it lasts for a while too. Texture wise it has the same creamy consistency as the hydrating moisturizer, but is a bit thicker and has no fragrance.
claims/ ingredients
This moisturizer also has the same claims as the hydrating moisturizer. The replenishing moisturizer has a slightly different composition as it contains pro-Vitamin B5 and Vitamin E. 
The list of ingredients is seen as follows:
Aqua, Glycerin, Coco-Caprylate/Caprate, Polyglyceryl-3 Methylglucose Distearate, Ethylhexyl Methoxycinnamate, Stearyl Alcohol, Butyl Methoxydibenzoylmethane, Polyacrylamide, Phenoxyethanol, Stearic Acid, Panthenol, Caprylyl Glycol, C13-14Isoparaffin,Bisabolol, Laureth-7,DisodiumEDTA, SodiumHydroxide, Pantolactone, TocopherylAcetate, BHT,PentyleneGlycol, Urea, Lactic Acid, SodiumLactate, Serine, Sorbitol, SodiumChloride, Allantoin.


My Experience With The Simple Replenishing Rich Moisturizer
I tried this for just a month and I have mixed feelings about it. I'm trying to be conscious about the effect weather has on my skin and its response to certain products so I want to give this one some grace. 
Which simple moisturizer is best for you? Check my review of the simple hydrating moisturizer vs the replenishing rich moisturizer.
Click To Tweet
It was thicker in consistency than the light moisturizer and doesn't feel as soothing as the hydrating moisturizer on my skin. It felt like I was applying a thick lotion to my face. To be fair, I like lightweight moisturizers so that played a huge role in how I felt about the simple replenishing rich moisturizer.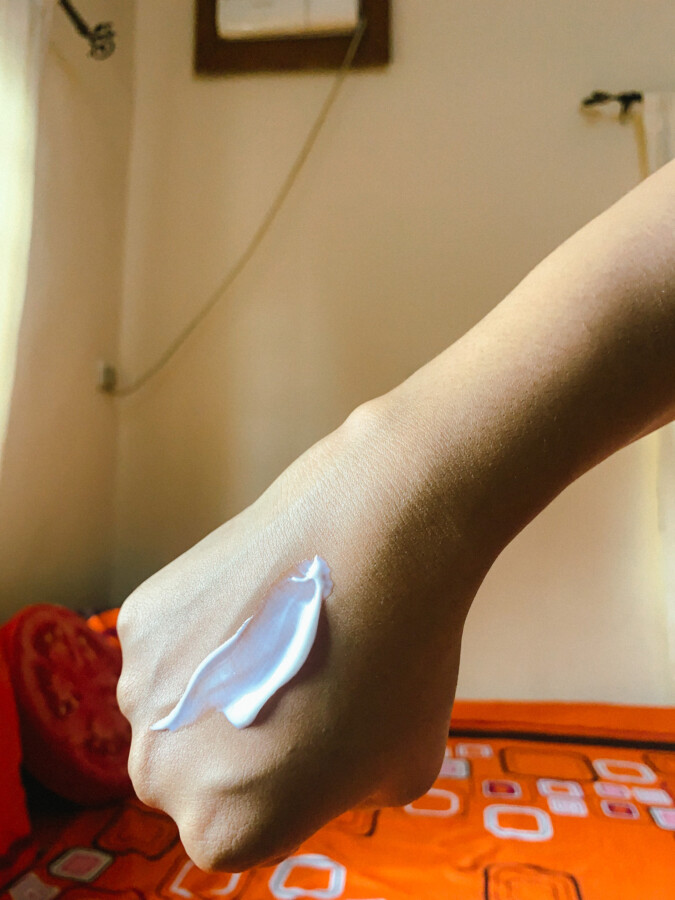 One way I enjoyed using it was at night before I switched to my current nighttime moisturizer after doing some experimenting during night and day to gauge how my skin felt. This moisturizer is also non-greasy like the hydrating moisturizer and didn't cause me to break out as well.
Join my community of beauty and skincare enthusaists to get skincare tips, freebies and blog updates delivered to your inbox weekly.
Hydrating vs Replenishing verdict: Which Is Best For You?
From my experience, I will say that the hydrating light moisturizer is best suited for normal and oily skin types while the replenishing rich moisturizer is best suited for dry skin especially with its ingredients, although this blogger disagrees based on her experience.
Thankfully, both of these moisturizers are suited for sensitive skin and if you're new to skincare, you can try them once you know your skin type.
If you're looking for something with actives, then these moisturizers won't cut it for you because they're really simple! The ingredient list shows lactic acid but the products don't exfoliate or do much after moisturizing the skin.
I personally prefer the hydrating and always repurchase, especially for the months when I'm broke as it's super affordable.
Where to buy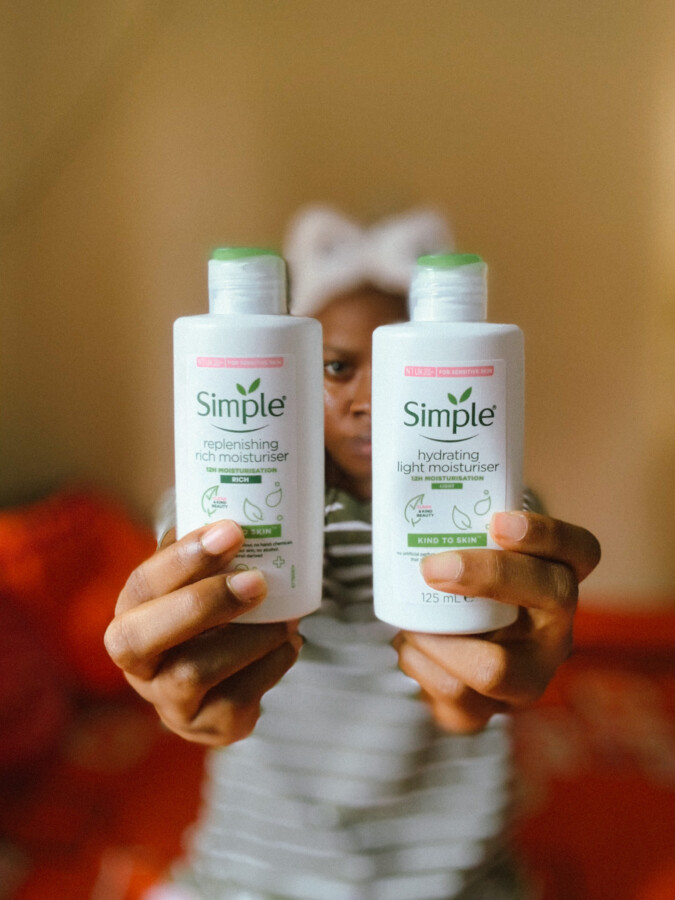 I got both from @beautybydaz on Instagram for about #2500 ($5-$7), but prices vary slightly depending on the store.
You can get it on Amazon below;
Pros of Both Moisturizers
Travel-friendly
Good quantity
Affordable
Great for sensitive skin
Cons of Both Moisturizers
The opaque bottle doesn't let you see the quantity of product left
Bonus tips-FAQs
How do you use a moisturizer?
Depending on the texture and even weather, you can apply once or layer it (apply twice) during your routine.
When should you use a moisturizer?
Use after toning or cleansing if you don't have a toner. Also, a moisturizer comes before sunscreen in the morning and is the last step in your night routine. 
How often should you use a moisturizer?
Twice- in your morning and evening routine.
Can oily skin skip a moisturizer?
No! Please don't skip a moisturizer if you're oily skin. Oily skin needs moisture just like every other type of skin and not applying moisturizer causes your skin to produce more sebum and prone to more breakouts. 
If you got to the end of this post, I am proud of you! Have you tried any of these products before? Would you like to try them? Let me know in the comments.
Stay connected:
TIKTOK // BLOGLOVIN' // PINTEREST // NEWSLETTER
11