Do you feel tired when people talk about their skincare routine? How many times have you watched several videos and when you hear them mention some expensive products, you give up? Hold on! The steps to crafting a skincare routine that is suited just for you are not only simple but worthwhile.
I'm becoming more passionate about sharing my journey in skincare, because I believe that no matter how much you have or what you earn, there's always a suitable way to take care of your skin without breaking the bank more than necessary.
Are you ready? I'm sure you are so keep reading.
WAYS TO CRAFT A SKINCARE ROUTINE SUITABLE FOR YOU
What is your "Why?"
The first thing is to figure out is your reason. I know it sounds cliché, but it's the foundation you would build your informed decisions on.
Do you want to maintain your already thriving skin?
Are you targeting a specific skin nuisance e.g. acne or hyperpigmentation?
When I started being intentional about skincare, my goal was to get rid of the dark spots on my face. I'm acne-prone and I'm always picking my face (thankfully I'm better now). I also wanted to invest more on my face than makeup. In all fairness, I suck at doing my makeup so that was a motivation.
In summary, it's important to figure out your why, because it will inform the decisions you take to have to craft a skincare routine specific to you
Know your skin type and the issue you want to work on.
Do you know your skin type? Check the Sanex skin type finder to have an idea of what your skin type is. Mine is oily and acne prone and I find it fascinating how we have different skin types.
Skin type is classified based on factors like its hydration, sebaceous secretion, and sensitivity level from a cosmetic point of view. Please note that all skin types are healthy. The 5 types are- normal, oily, dry, combination, and sensitive.
If you don't know your skin type, you would end up spending a lot of money without results.
Have a budget.
You know I was getting to this, right? I would confess, this isn't the easiest part for me as my shiny object syndrome is a battle! What I find helpful is having a budget when buying skincare products. I ask questions like, How much can I spend per month on this?
Can I afford this product when it is exhausted?
Does my face really need this product?
Set a budget and check the product reviews especially if it's something you plan to purchase again.
You only need a cleanser, moisturizer, and sunscreen. Other products are then suited for the unique issues you want to target.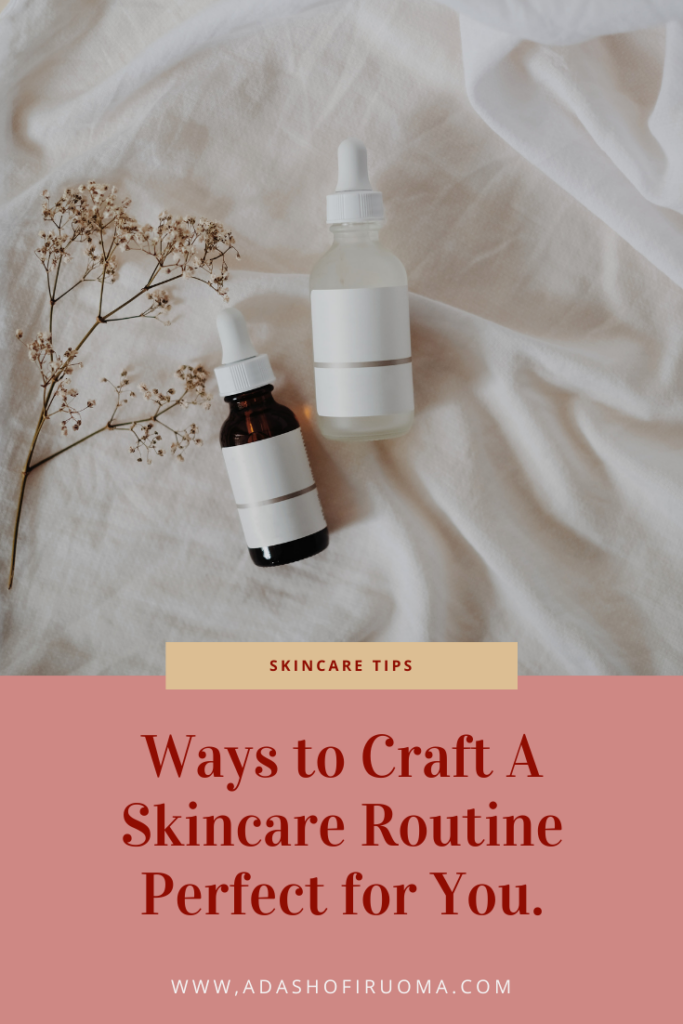 Keep Learning from Credible Sources.
Sociasl media has given us the best of both sides. Information at our finger tips, but here's the catch- it's any type of information, both accurate and false. It';s left to us to verify our sources and it's no different for skincare. Don't just get some information from a TikTok video or Pinterest without checking for more. Let's prevent stories that touch.
I love what @theskincareco_ does on Instagram with educational videos on skincare. On Youtube, Doctorly and Hyram are my faves. The former is run by 2 certified dermatologists and they're hilarious.
Another way to learn is by observing other people's skincare routine. That way you can adapt methods to suit you.
Your identity is not in the "smoothness" of your FACE.
Last but not least, crafting a skincare routine that works for you takes time. It is best enjoyed without comparing your journey to another person's own.
Don't feel discouraged if you don't see results immediately. Know that if it is suited to you, the results will come eventually, and like I said earlier- they'll be worthwhile.
What steps are you taking to create your skincare routine?
Let me know in the comments. Happy weekend, friends!
3