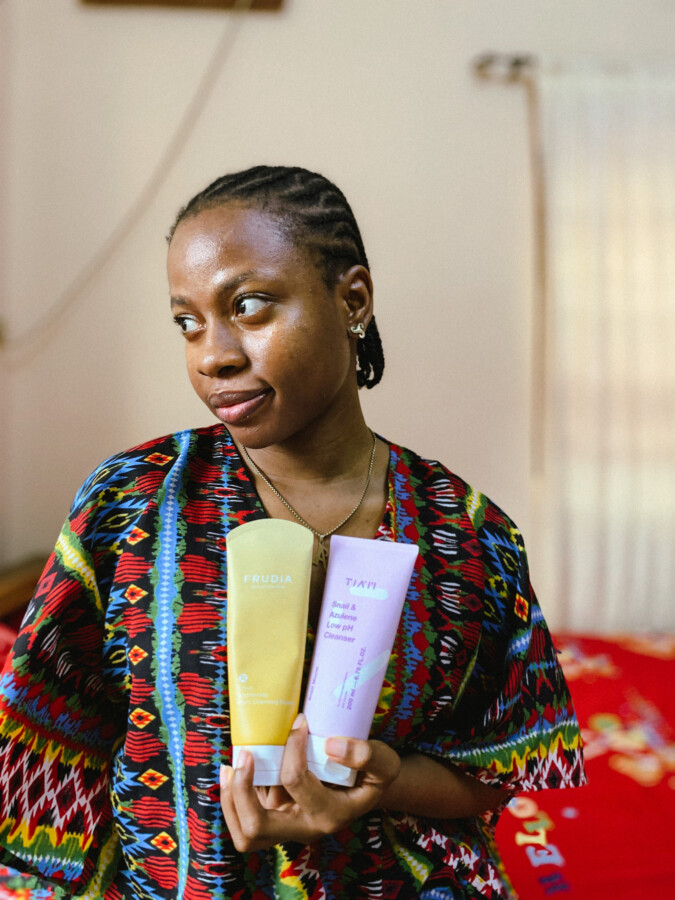 The k-beauty (Korean beauty) rave is not for nothing guys! They usually have tons of effective and gentle skincare products like the Beauty of Joseon essence water. I currently have 2 k-beauty cleansers for my morning and nighttime routines and thought I should do a comparison since I have used them for about a month now. 
As much as your routine should be suited to your personal taste, a cleanser is non-negotiable for healthy skin. What's interesting is that cleansing is the most essential step but it's usually overlooked or seen as boring. If cleansing is not done correctly, it can compromise the skin barrier. 
Cleansers are used to remove dirt and makeup on your skin. I recommend using a gentle cleanser that doesn't strip your skin or cause irritation. That's the reason I'm sharing my experience with these k-beauty cleansers so if they are something you want to try out, you can get an honest opinion about them first.
The Tiam Snail and Azulene Low pH Cleanser Review
Description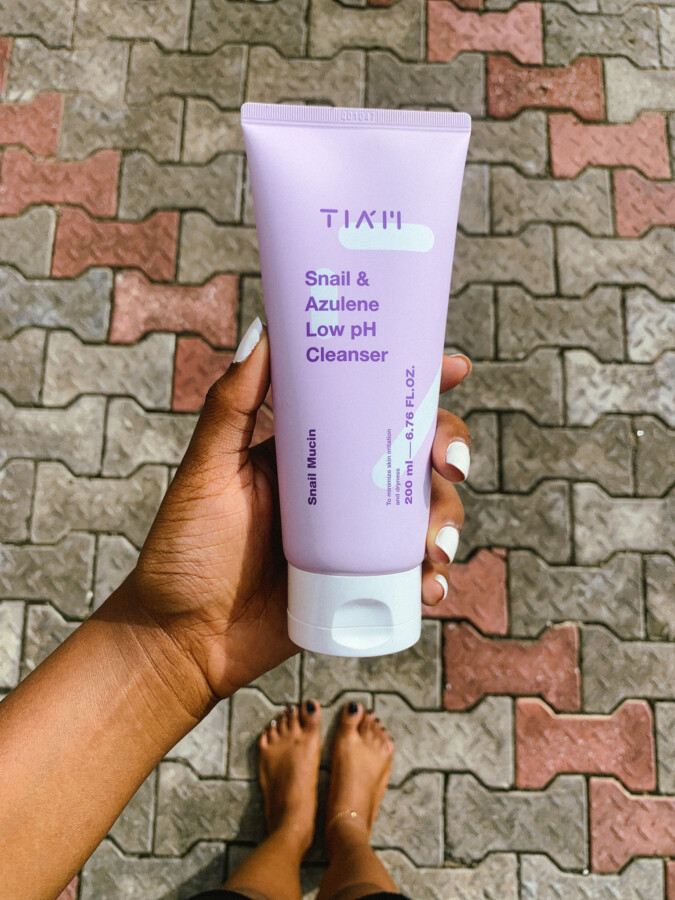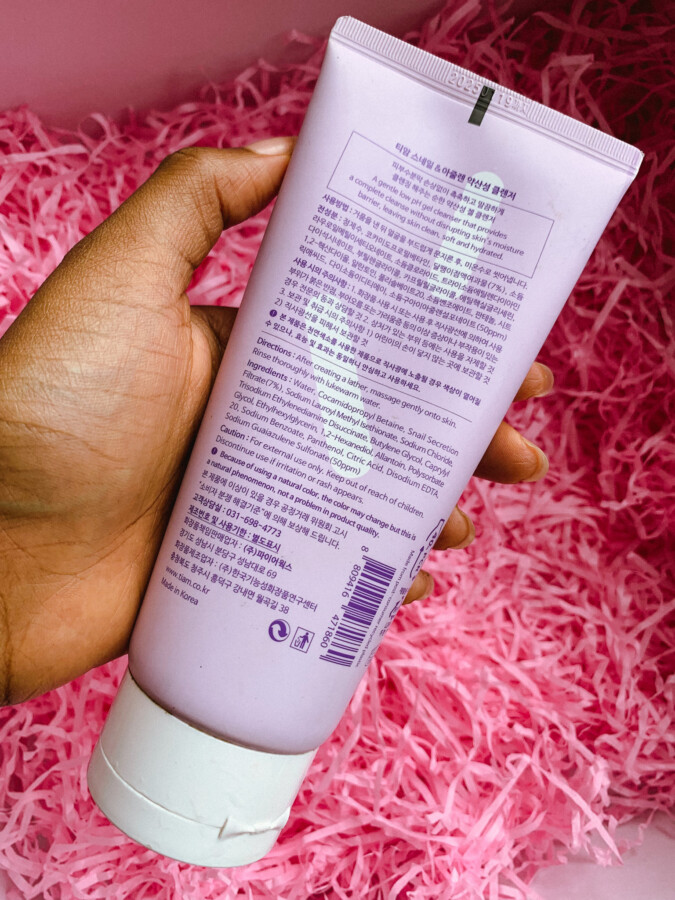 This cleanser is from the popular TIAM brand and just like most Korean beauty products, it is gentle and packed with good ingredients. 
It comes in a 200ml purple tube with a white cap that has a nozzle to dispense the product. You have to ensure it's sealed properly to avoid spillage.
The Tiam cleanser has a transparent look and is gel-like in texture (a gel cleanser). It has a mild fragrance I can't describe but it's almost not noticeable. 
Claims/ Ingredients
This k-beauty cleanser claims to be moisturizing and rids the skin of dirt and impurities without stripping it.
The ingredients as seen on YESSTYLE are:
mPurified Water, Cocamidopropyl Betaine, Snail Secretion Filtrate (7%), Sodium Lauroylmethyl Isethionate, Sodium Chloride, Trisodium Ethylenediamine Disuccinate, Butylene Glycol, Caprylyl Glycol, Ethylhexyl Glycerin, 1,2-Hexanediol, Allantoin, Polysorbate 20, Sodium Benzoate, Panthenol, Citric Acid, Disodium EDTA, Sodium Guaiazulene Sulfonate (50ppm)oisture. 
Key components to note:
Snail secretion filtrate (7%)– this is a soothing ingredient that is rich in hyaluronic acid and keeps the skin moisturized and supple. 
Allantoin– Protects and soothes the skin
Panthenol– Acts as a humectant
My experience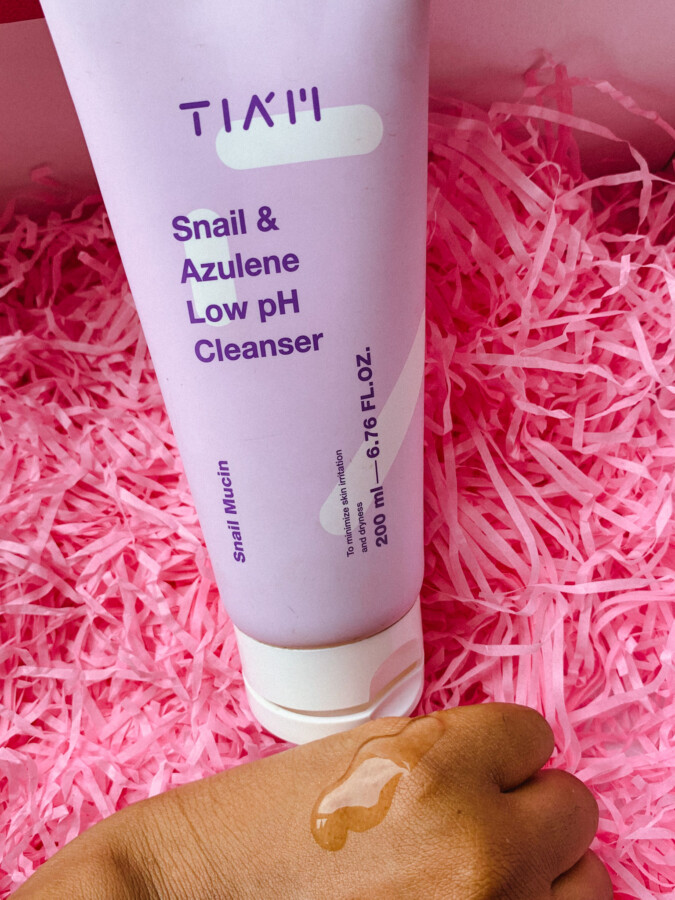 Now to the "meat of the matter". I have enjoyed using this cleanser! My sister and now my mum are hooked on it as a result, and we have different skin types so that is a testament to its properties. The Tiam snail and azulene low pH cleanser has a pH of 5.5 so it doesn't disrupt your face's pH as much which is a good property for any cleanser. 
I also like that it has its directions in English at the back of the tube. After cleansing, there was no tightness or irritation noticed and I found this blogger who shares the same experience even from the previous version of the cleanser. On two occasions, it stung my eyes, but I've just been making sure I don't open my eyes when I use it.
How I used it
This cleanser was my morning and evening cleanser for a while before I got the Frudia cleanser I would review next. Now it's my nighttime cleanser. I apply it to my wet face and massage it outwards before rinsing. After that, I carry on with the rest of my routine.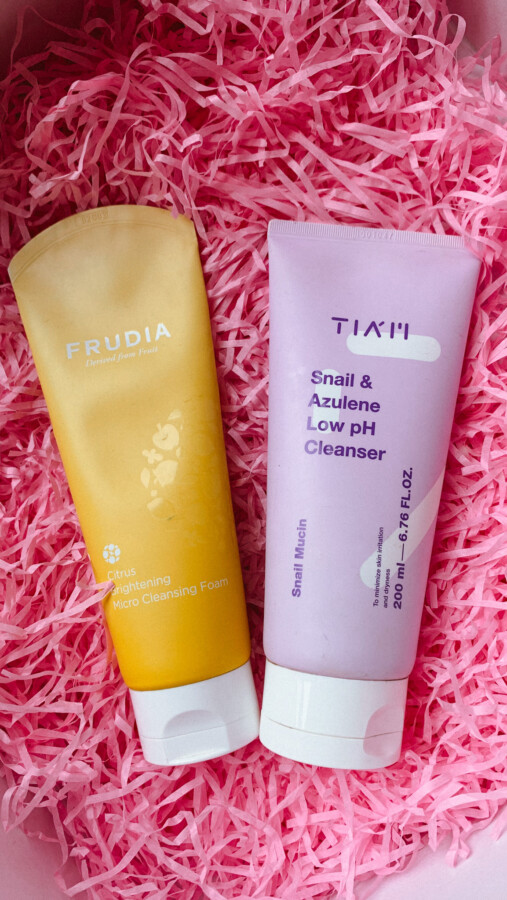 Pros 
Gentle on the skin
Good for sensitive skin because of its low pH
Really affordable- 200ml for 4500-6000 naira depending on the vendor. 
Improves the overall appearance of the skin thanks to its ingredients.
Cons 
I can't fault this product but if I had to give any con it would be how easily the cap moves which can be messy if not sealed properly.
Where to Shop
I got on Beauty by Daz for 4,950 naira,  but you can get it from any of the stores here
Pro Tips for cleansing: 
Always wash your hands first before cleansing.
Extend the cleanser to your neck.
Apply your cleanser in circular motions and outwards as that helps massage the skin and circulates blood flow. 
Sign up for more skincare tips and blog updates:
The Frudia Citrus Brightening Micro Cleansing Foam Review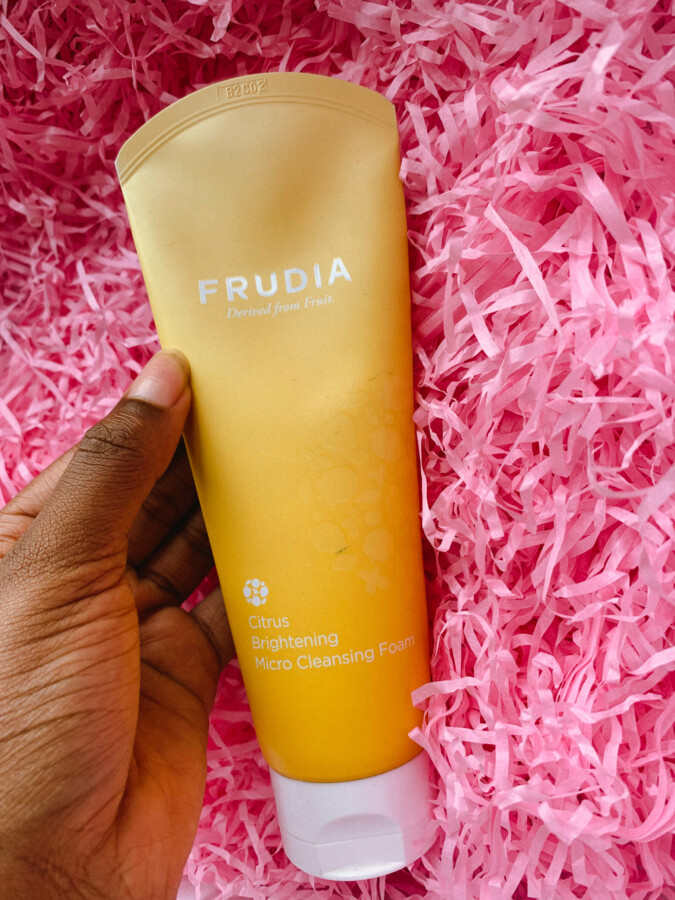 Description
Frudia is another k-beauty brand I didn't know about till I started looking for another cleanser to add to my stash. They have a wide range of variants and use fruits as a distinguishing mark. In this case, mine is citrus. 
I love their characteristic bright packaging. This cleanser comes in a bright yellow 145ml pack similar to TIAM's snail cleanser- just the color difference.
The cleanser has a white look and is creamy in texture. The pack says it contains microbeads so that's worth knowing. It also has a citrusy fragrance.
claims/ ingredients
The Frudia cleanser claims to be brightening as it contains Jeju citrus peel, naturally occurring vitamin C, and a combination of fruit oils like mango, apricot, grape, and grapefruit. It's also said to be brightening and refreshing.
The ingredients are listed below:
Water, Myristic Acid, Glycerin, Potassium Hydroxide, Palmitic Acid, Stearic Acid, Lauric Acid, Glycol Distearate, Sorbitan Olivate, PEG-32, Glyceryl Stearate, PEG-100 Stearate, Polyquaternium-39, Citrus Unshiu Peel Extract, Oleic Acid, Arachidonic Acid, Disodium EDTA, Capric Acid, Butylene Glycol, 1,2-Hexanediol, Coco-Caprylate/Caprate, Vitis Vinifera (Grape) Seed Oil, Prunus Armeniaca (Apricot) Kernel Oil, Pearl Extract, Solanum Lycopersium (Tomota) Seed oil, Punica Granatum Seed Oil, MangiferaIndica (Mango) Seed Oil, Citrus Paradisi ( Grapefruit) Seed Oil, Eucalyptus Globulus Leaf Extract, Chamaecyparis Obtusa Leaf Extract, Bambusa Vulgaris Extract, Tocopherol, Phenoxyethanol, Chlorphenesin, Phenoyethanol, Sodium Benzoate, Fragrance, Limonene, Linalool, Hexyl Cinnamal
My experience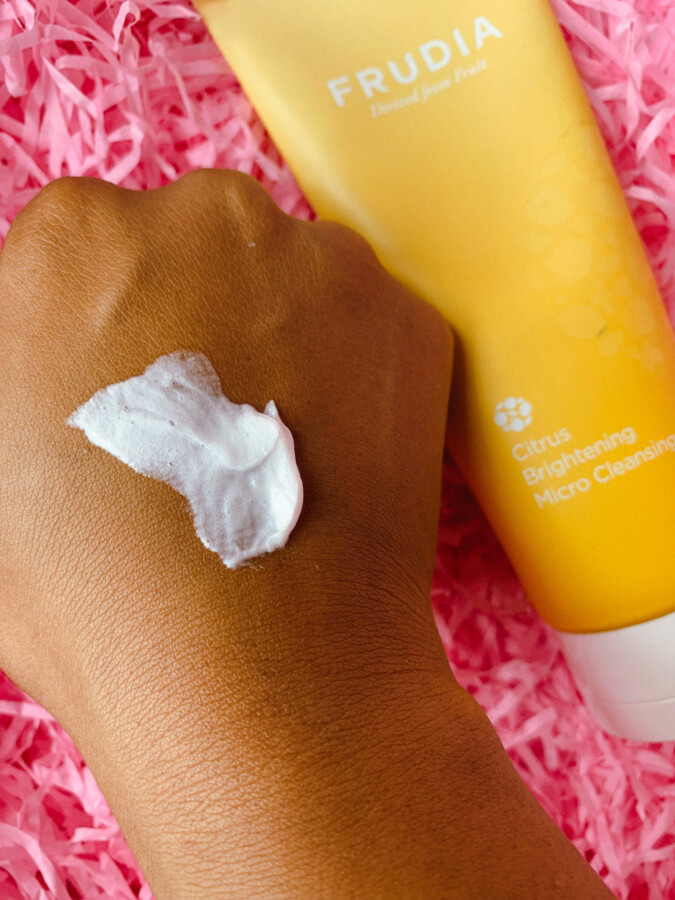 I wasn't expecting that texture! It is so creamy and I thought it was a moisturizer I bought, lol. After noticing that it lathers well, I started using a dime-sized amount. The fragrance is my favorite thing about this cleanser as it smells like oranges.
On the first day I used it, it felt dry. Although I attributed that to the quantity and adjusted it in subsequent uses. So far, it still pales in comparison to the TIAM one in terms of how non-stripping the latter is. 
One thing I noticed is that it leaves my skin "feeling" clean and looking for moisture. I've also been using it almost daily as part of my morning routine but sometimes I alternate between the TIAM one because of that "drying" feel this gives me.
How I used it
This cleanser is relegated to my morning routine as I focus on hydrating my skin during the day. That's how I've been able to use the cleanser.
Pros 
Has good cleaning properties
Pretty affordable- 145ml for less than 5000 naira on most sites.
Cons 
Can be drying
It may not be suitable for daily use depending on your skin type
It may not be suitable for sensitive skin because of the microbeads
Where to Shop
I got mine on BeautybyDaz as well for 4500 naira.
Verdict
These k-beauty cleansers are worth trying but from my experience, I would definitely be repurchasing the TIAM one but not this FRUDIA variant.
FAQs contains bonus tips for you, my skincare bestie!
Cleansing Frequently Asked Questions (FAQs)
What does a cleanser do?
A cleanser or face wash is the first item in a skincare routine that basically rids your skin of dirt and impurities from exposure.
How often should I use it?
Ideally twice a day. Morning and night. Some estheticians and beauty influencers say once for sensitive skin but I'm yet to be part of that camp.
What type should I get?
There are different types of cleansers I would delve into in detail in another blog post. Cleansers come in different forms, but the one you should get is based on your skin concerns or skin type as well as the ingredients. This reel by one of my favorite skin influencers explains the different cleansers for skin types.
Some brands put out the skin type that their cleanser is suited for like Cerave's line of cleansers, while some others like Simple kind-to-skin cleansers are generally suited for all skin types.
---
Have you tried any of these cleansers? Do you have a favorite cleanser currently?
Tell me in the comments, I would love to know!
Connect with me here:
INSTAGRAM // TIKTOK // BLOGLOVIN' // PINTEREST
4