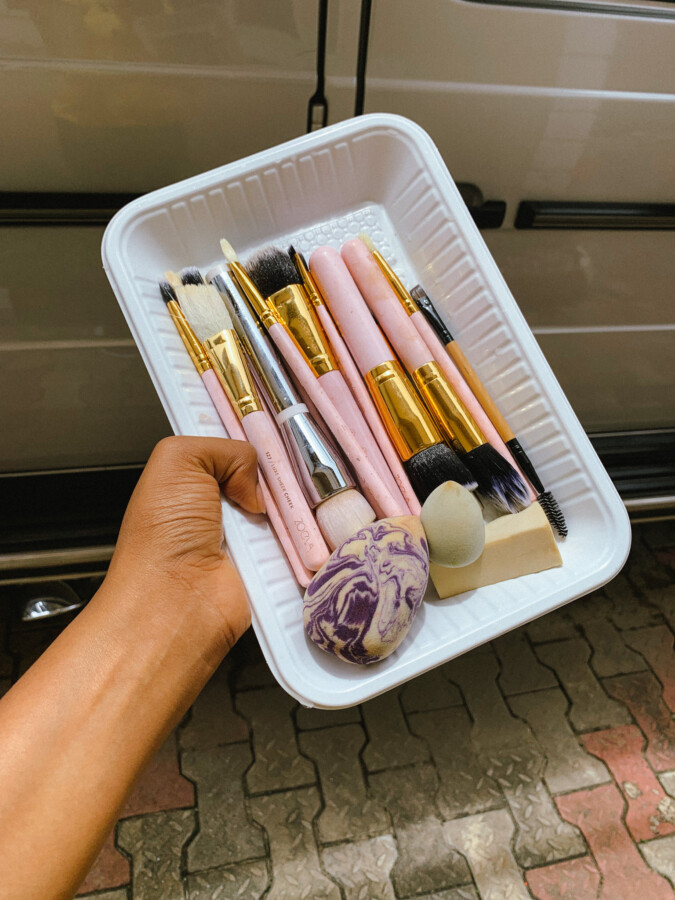 Getting started with makeup is one thing while learning how to clean your makeup brushes is another. I never thought I would be doing my makeup to a large extent so while I'm excited about it, I also love my skin a lot and like clean things to make contact with it.
Did you know that a silent culprit for triggering acne could be your makeup brushes? One good skin care tip is to use clean makeup brushes so let me share how I wash mine with you!
If you're tired of seeing your brushes look the same or not satisfactorily clean, try cleaning them with a silicone mat. But first, let's talk about the benefits of cleaning your makeup brushes.
Why You should clean your makeup brushes
Spending good money on a skincare routine and topping it up with dirty brushes is counterproductive. Here are some reasons I've found why it is important to clean makeup brushes.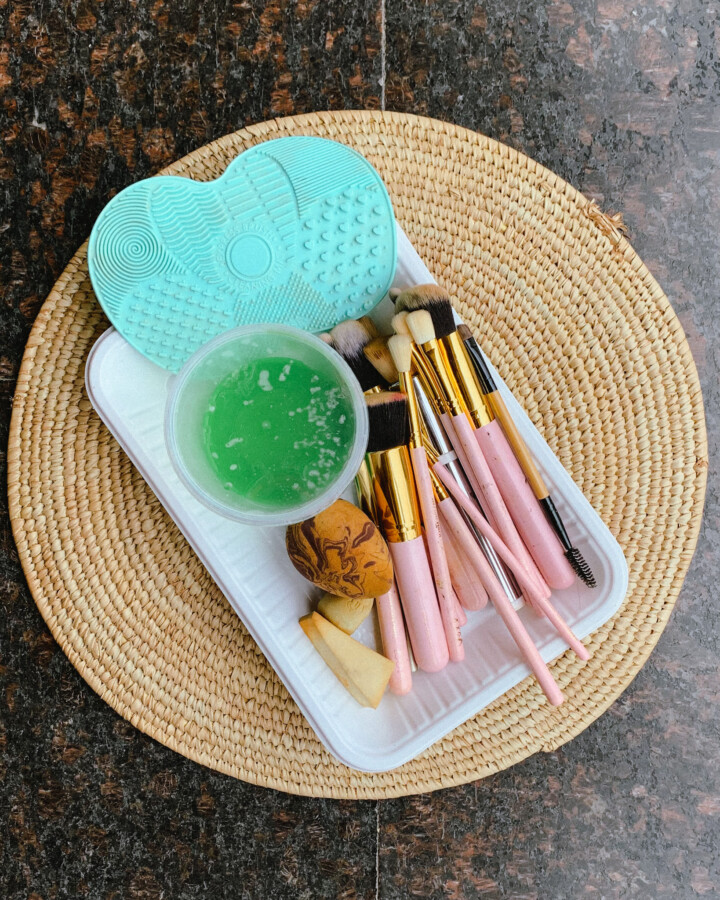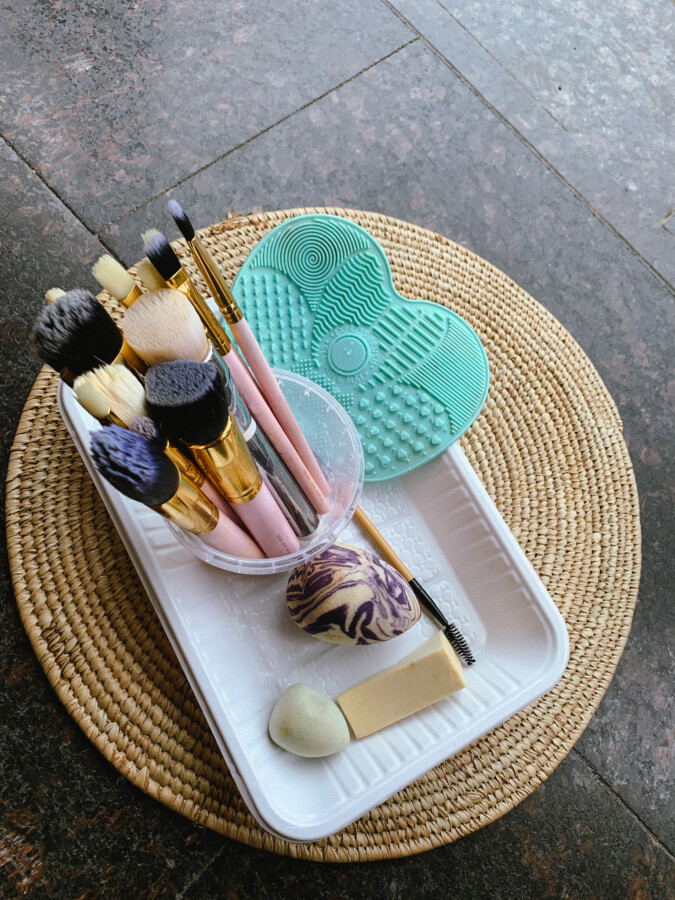 To Reduce breakouts and skin irritation
After using your makeup brushes, the product residue comes in contact with the air, dust, and bacteria. They become stiff with the caked-up makeup and can irritate your skin or clog your pores leading to breakouts. Washing your makeup brushes often keeps them soft and prevents irritation of your skin.
Clean makeup brushes apply makeup better
When your brushes are not flexible, it's more difficult to apply your makeup. I don't think I can get used to how my makeup looks better when I apply it with clean brushes. It makes sense because clean brushes or beauty blenders allow for proper blending of your foundation or concealer and overall a better look compared to when you use a dirty brush. 
Also when there is makeup residue on your brushes, it makes it harder for the brushes to pick the actual color of your product hence giving a not-so-good appearance. Hence cleaning your makeup brushes makes it easier to achieve a flawless look.
Cleaning your makeup brushes makes them last longer
Buying any quality makeup product or brush is an investment and you want to take care of your investment.  If you're spending good money on these brushes, then they deserve some love. Don't let your money waste by cleaning your brushes as often as possible.
Dirty makeup brushes contaminate your makeup products
Imagine dipping your uncleaned brush into your favorite makeup product e.g your eyeshadow palette and introducing dirt and bacteria into it.
Not only does the bacteria have more chances of multiplying in the product, but it would also predispose you to infections and breakouts.
How often should you clean your makeup brush?
A lot of people have different schools of thought on this. When I put up on my IG polls, my community had varying answers. Some said once a week, biweekly, a friend even told me she does hers after every application. I would say it depends on your frequency. If you're a professional makeup artist or use makeup regularly, it is recommended you wash after each use.
Most dermatologists recommend it at least once every 2 weeks. I do the same because I barely use makeup now that I'm home. If I plan to use my makeup for filming content or for church on Sundays, I wash it a day or two before use.
Please, pick what works for you, but make sure it's something you can do and be flexible with. The goal is to clean your makeup brushes often.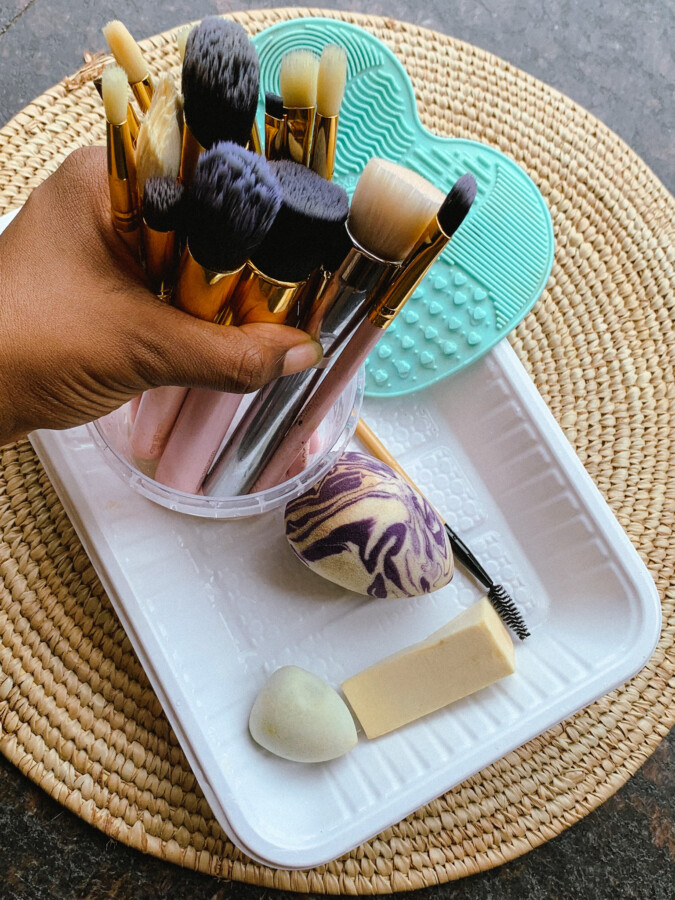 How to clean makeup brushes effectively
Now to the fun part, finally! Here's a step-by-step process I use to wash my brushes with a silicone mat. Ever since I started this, I have been hooked!
Stuff you need:
Brush cleaner- I use liquid dish soap. You can use a shampoo or that cleanser you don't like on your skin.
Ps- Don't use a silicone mat for beauty blenders because it would snag them.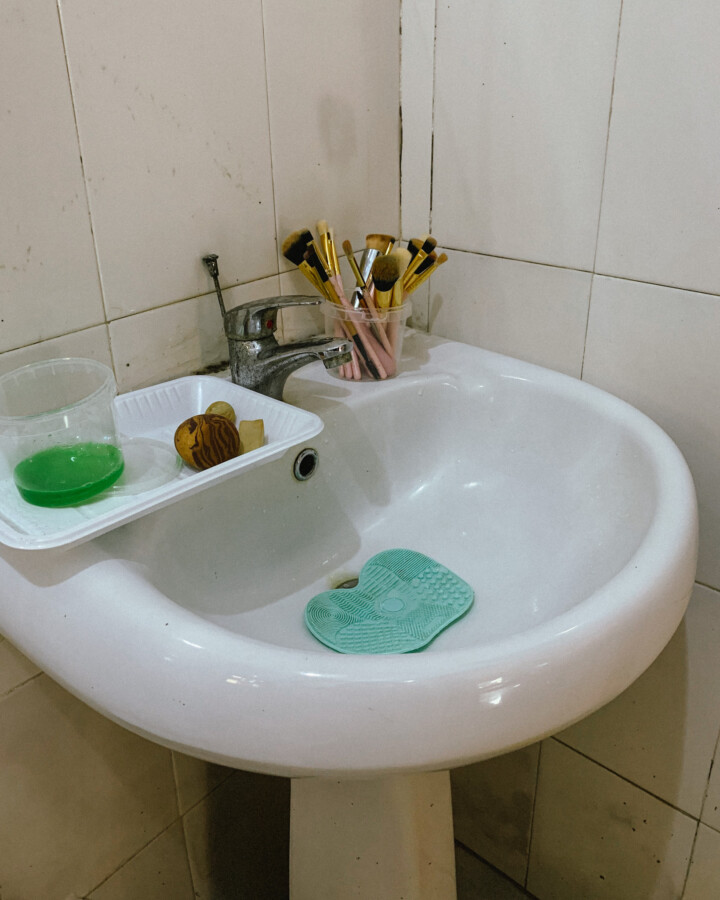 Steps
Step 1- Wet your mat and place it in a sink
Step 2- Insert your brush into the liquid soap
Step 3- Rub against the mat until you see it looks cleaner
Step 4- Run the brush under clean water
Step 5- Repeat the process for as long as you want until satisfied
Step 6- Do the same for all your brushes
Step 7- Assemble all the clean wet brushes and leave them under the sun to air dry
If you've been wondering how to clean your makeup brushes faster and effectively, try this method!
Click To Tweet
For your beauty blenders; Soak them in the liquid soap and water mixture for about 10 minutes and rinse off continuously till you're satisfied.
I did a tutorial on my IG:
Pro Tip- Clean your makeup bag too once in a while.
Where to buy
You can get a silicon mat from any makeup shop, but I got mine from @jay__vogue on IG for 1000 naira ($2).
FAQS
Here's where I answer some questions you might have about makeup and cleaning your brushes:
Can makeup cause you to have acne?
No, this is a myth. Makeup doesn't cause acne. Using dirty brushes can increase breakouts or irritate your skin, but makeup inherently doesn't. If the makeup is expired, then it could also cause breakouts. Sleeping with makeup can clog your pores and eventually cause breakouts too.
What soap can I use to wash my brushes?
I use liquid dish soap to wash my makeup brushes. Other good options are sulfate-free shampoos and facial cleansers. You can even use bar soap, but I think that may be inconvenient. Please don't use detergents as they may leave residues on the brushes.
Can I use hot water to wash my brushes?
No, please. Use lukewarm or cool water to wash makeup brushes. Hot water affects the bonding between your handles and the bristles which reduces the shelf life of your brushes and makes them shed. 
Can I use a heat dryer to dry my makeup brushes?
Your makeup brushes are best air-dried. I like to put mine outside on a sunny day or just leave them in an airy place. Make sure to keep an eye out for rain so you don't end up like me who spent 2 days drying her brushes.
When is it time to get new brushes?
Once you notice that your brushes are shedding and have lost shape.
Do you clean your makeup brushes? Was this helpful? Let me know in the comments!
Thank you for getting to this point! If you found this post helpful, check out these related posts:
Connect with me here~ TWITTER // INSTAGRAM // TIKTOK // BLOGLOVIN'
See you soon!
1