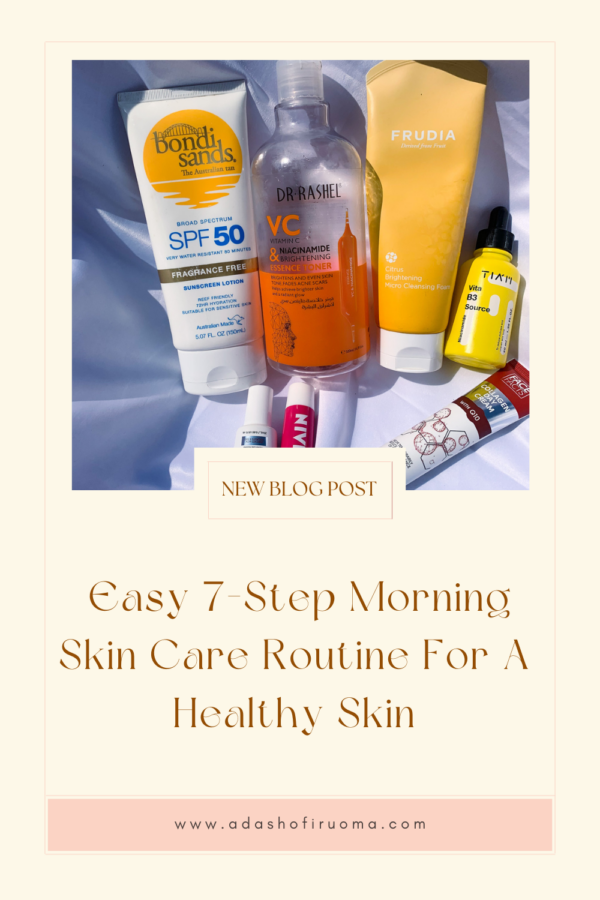 Hey, beauty! 
Welcome back here. 
Please tell me I'm not the only one whose routine changes based on my mood. My morning skin care routine keeps changing depending on the season, my budget, the products available, and even my mood.
I've been itching to share more of my routines at different stages so that gives you an idea of how to figure yours out (if you don't already have one). Remember the reason I do this is to share my journey and inspire you to love your skin better!
This post contains affiliate links which means I may make a commission if you purchase through them. It helps keep the blog running, so thank you for your support!
My Current Morning Skin Care Routine Steps 
1. Cleanse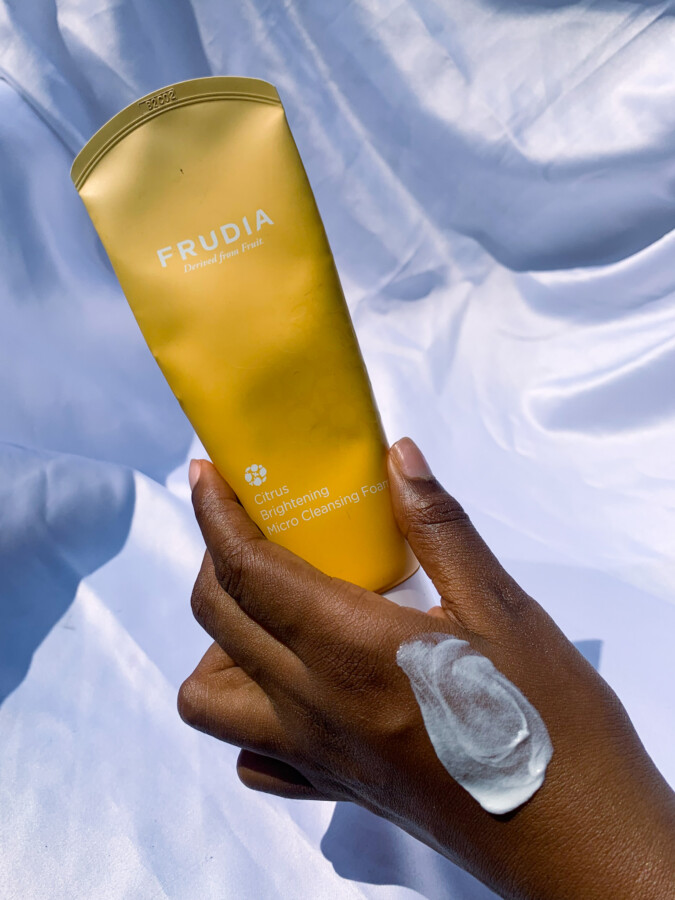 The first step of any morning skin care routine is to cleanse. 
These days, I've seen routines where people can skip cleansing and use a toner after rinsing their face with just water. 
I'm not comfortable with that yet, because I live in Nigeria where it is hot and humid mostly. Another reason for me is, I like to clean off the residue from the last night's skincare routine. Perhaps I would try skipping a cleanser someday in the future. Yet my recommendation, especially if you're just starting out with caring for your skin, is to have a cleanser in your morning skin care routine. 
My current cleansers are Frudia's Citrus Microcleansing cleanser and Tiam's Snail & Azulene low-pH cleanser which I have reviewed in the post below.
I prefer to use Frudia in the morning because it feels like a deep cleanser. Sometimes I use Tiam's because it's way more gentle.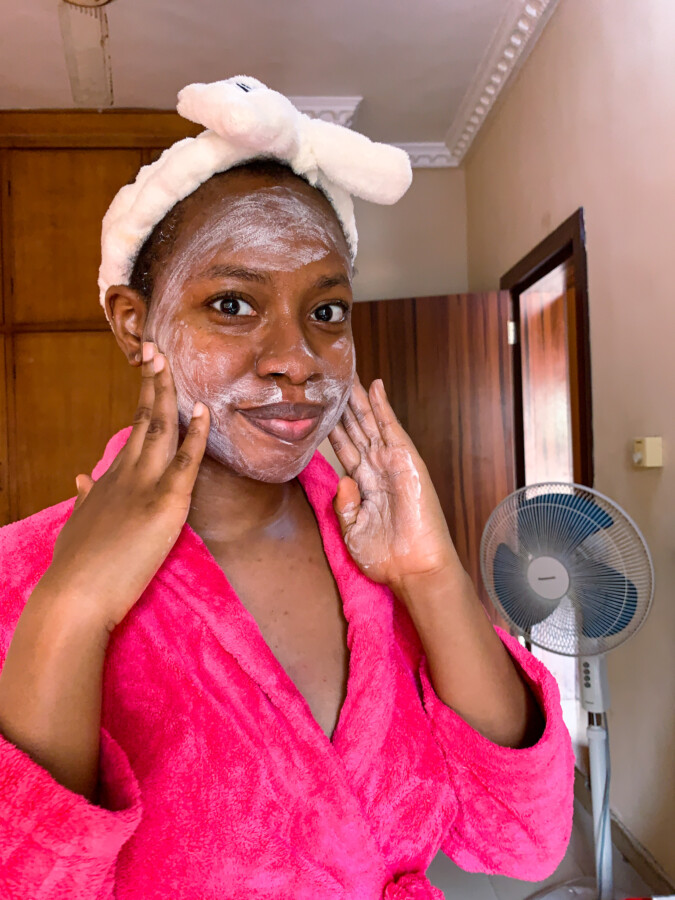 How I use
Wash my hands with my body soap- always try to start with clean hands.
Wet my face- please avoid using hot water on your skin.
I use a dime-sized amount of product.
Rub the product in my palms.
Massage my face for about 60 seconds (this is hard to remember if I'm rushing, but some days I stick to it- it's a great hack to get the most out of your cleanser).
Air-dry or use a paper towel to dry.
Recommended Cleansers
Tiam snail and azulene low pH cleanser
CosRx Low pH cleanser
*Iruoma10 gets you 10% off
2. Tone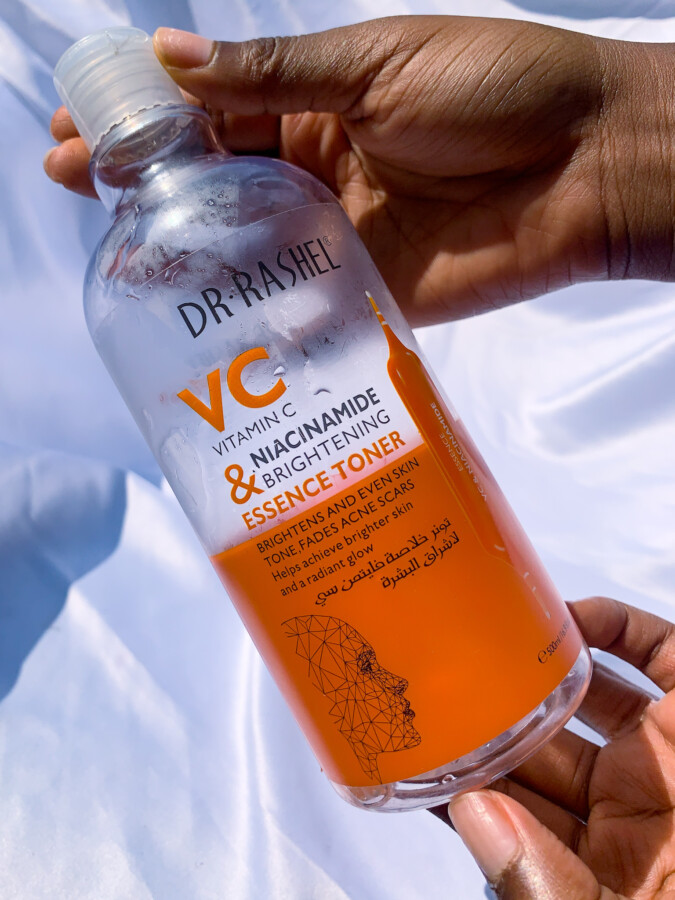 My next step is to tone. A toner helps remove any leftover dirt after cleansing and balances the pH of your skin. It is one of the "negotiables" regarding skincare, but it can be a great addition. 
Having a morning skin care routine is easy! Check out my easy, no-fluff 7-Step morning skin care routine for healthy skin.
Click To Tweet
Toners have evolved to have extra properties like hydrating or exfoliating which add some extra touch to your morning skincare routine (and evening routine too). 
My current toner is Dr. Rashel Vit. C and Niacinamide essence toner. This toner is the affordable skincare lover's dream. It's a huge (500ml) product and does a good job of hydrating. I would say it hasn't done much for me in terms of the ingredients used, but overall it's a great product.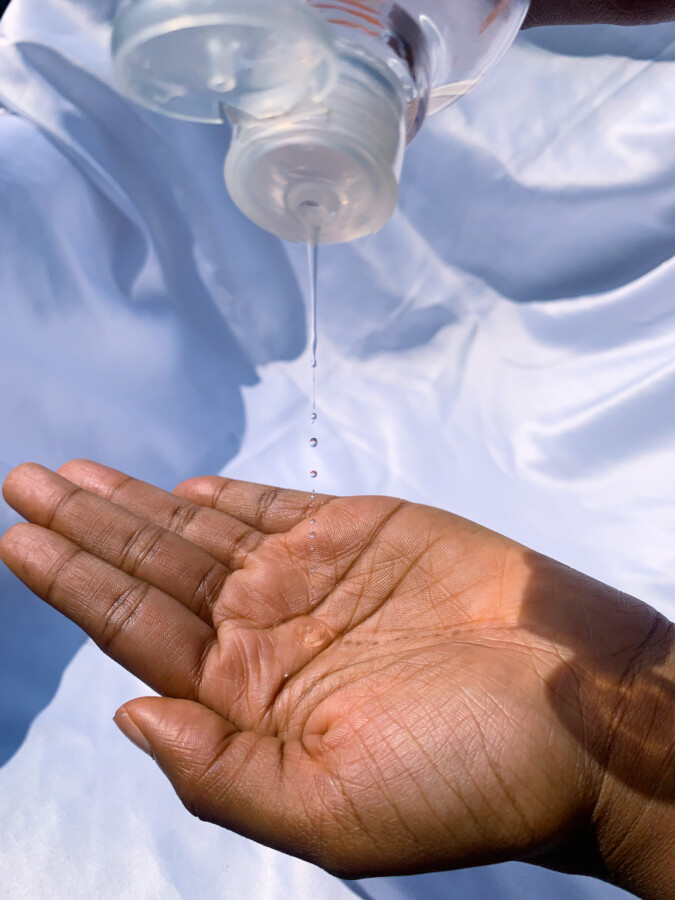 How I use
Apply a generous amount of toner to the palms (or cotton pad).
Apply the toner to my damp face ( This hack is the best for products with hyaluronic acid, but I love doing it for any toner)
Massage or dab the product on the face.
Let it air dry.
Recommended Toners
Beauty of Joseon ginseng essence water
Simple Soothing facial toner* (10% off with Iruoma10 )
Dr. Rashel Hyaluronic acid essence toner
Tiam Vita B3 mist toner
Dear Klairs supple preparation toner
3. Treat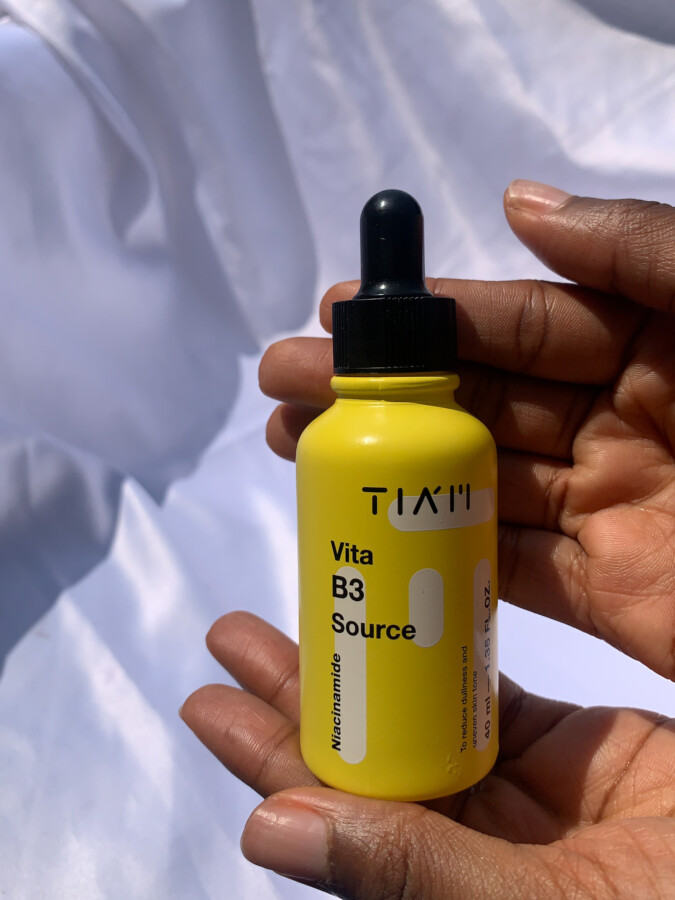 Usually, my next step would be to moisturize after my toner, but I've been trying the Tiam Vita B3 source serum. It is my current serum for both the morning skin care routine and evening routine and I'll be reviewing it soon. 
This is where I shamelessly plug my newsletter so you can see a review when it's up on the blog! Subscribe to the blog so you don't miss out on updates, alright? See you there!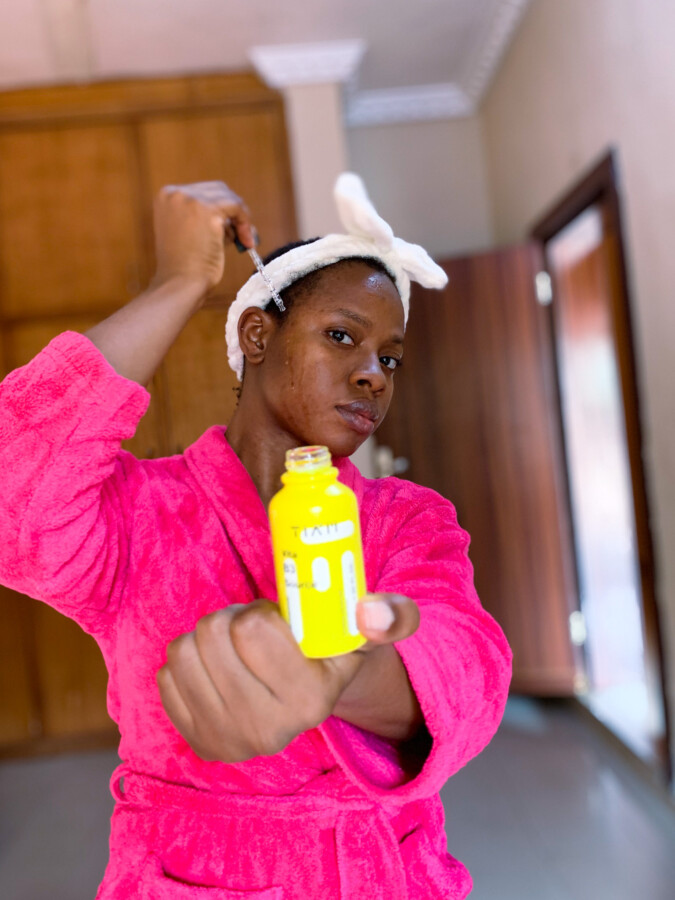 How I use
After my face is dry from the toner I use 2-3 drops of the serum
Massage it into my skin- face, neck, and ears.
Recommended Serums
The Ordinary Lactic Acid 10% + HA
Dr. Rashel Youth Revitalising Hyaluronic Acid serum
The Ordinary Niacinamide 10% + Zinc
4. Eye cream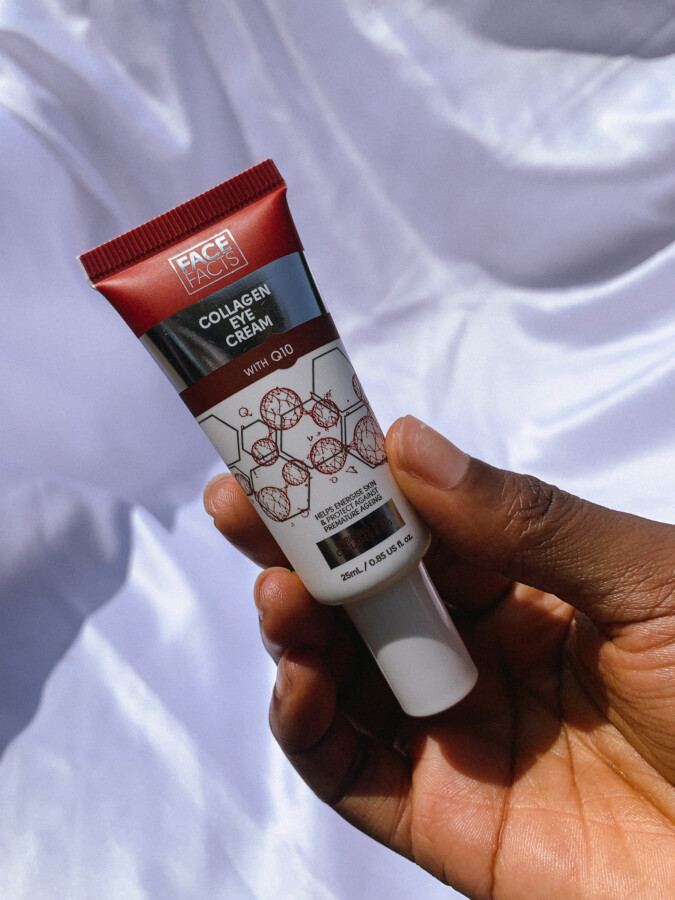 I started using an eye cream because of my eye bags from school. Eye creams are debatable in the skincare community. Okikiola Asher, @skinpriest on Instagram talked about its importance recently. Some people say eye creams are overrated moisturizers, while some swear it makes a difference.
I haven't used my eye cream consistently enough to give a fair verdict, but I would be the girl who still applies it, overrated or not!  The skin around my eyes feels hydrated due to my eye cream habit, so let's see if I can keep up this time.
My sister commends the eye cream she uses and after 1 use, my mum decided to get one.
One thing to note is that eye creams (like every other skincare product) come in different grades due to the quality of ingredients/ actives used. The result you get from one product could vary significantly from another brand.
My current eye cream is the Facefacts Collagen with q10 Eye cream. I use this product both day and night.
How I use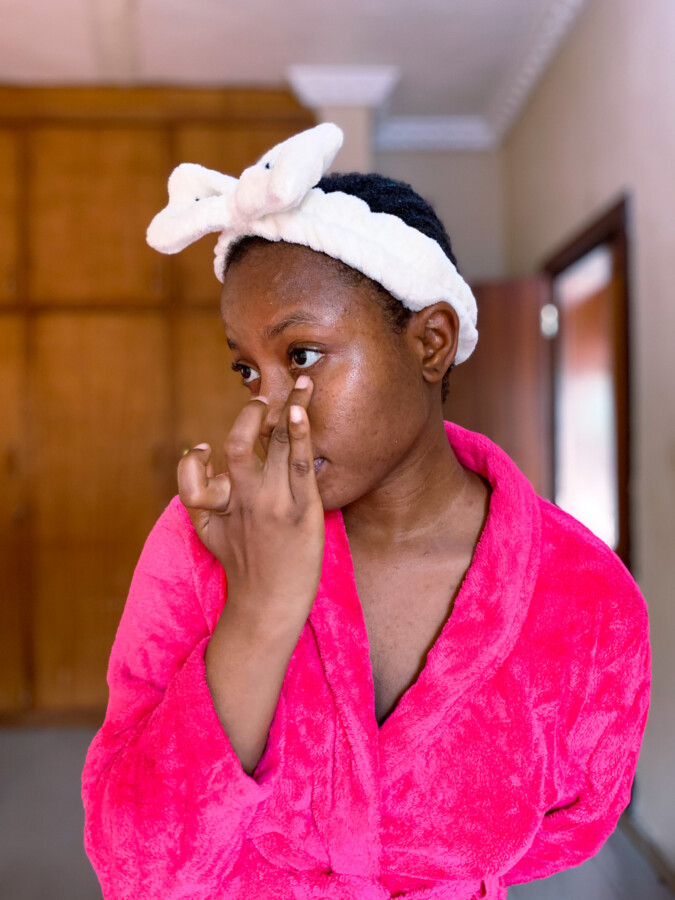 Apply a pea-sized amount on the back of my hand.
Apply on my eyelids and inner corners of my eyes and below.
Use your ring finger or pinky finger to dab. Do not tug at your eyes as it is a thinner skin area than the rest of your face.
Recommended Eye creams
*Use Iruoma10 to get 10% off your order
5. Moisturize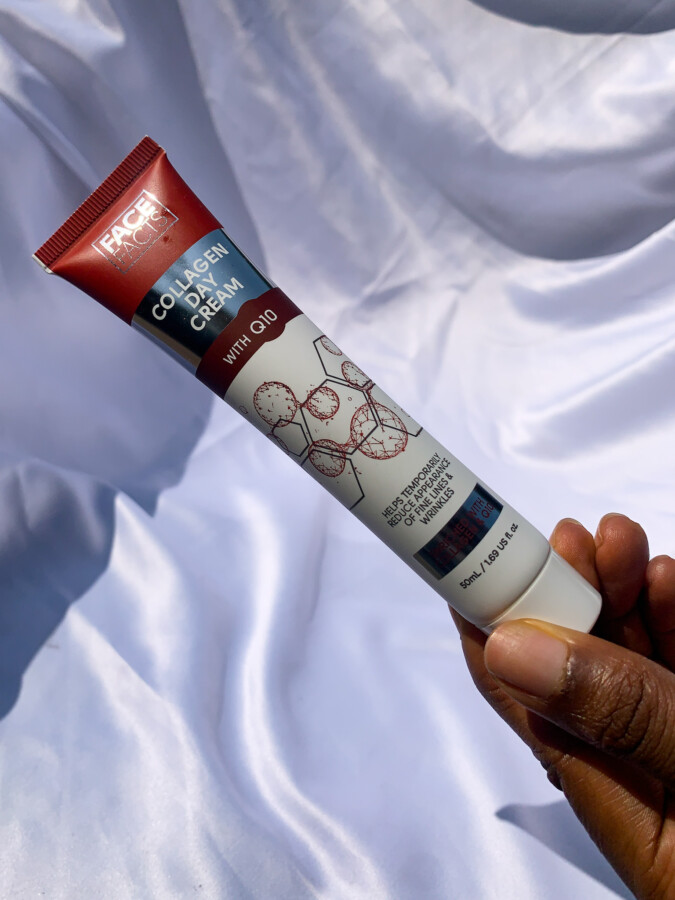 A moisturizer helps seal in the moisture from your skin care products and reduces the level of transepidermal water loss. In simpler terms, it keeps your skin hydrated, plump, and able to withstand environmental stress.
I'm currently using the Face facts Collagen with q10 day cream. This looks so much like their hyaluronic cream but I would still share my thought on it.
How I use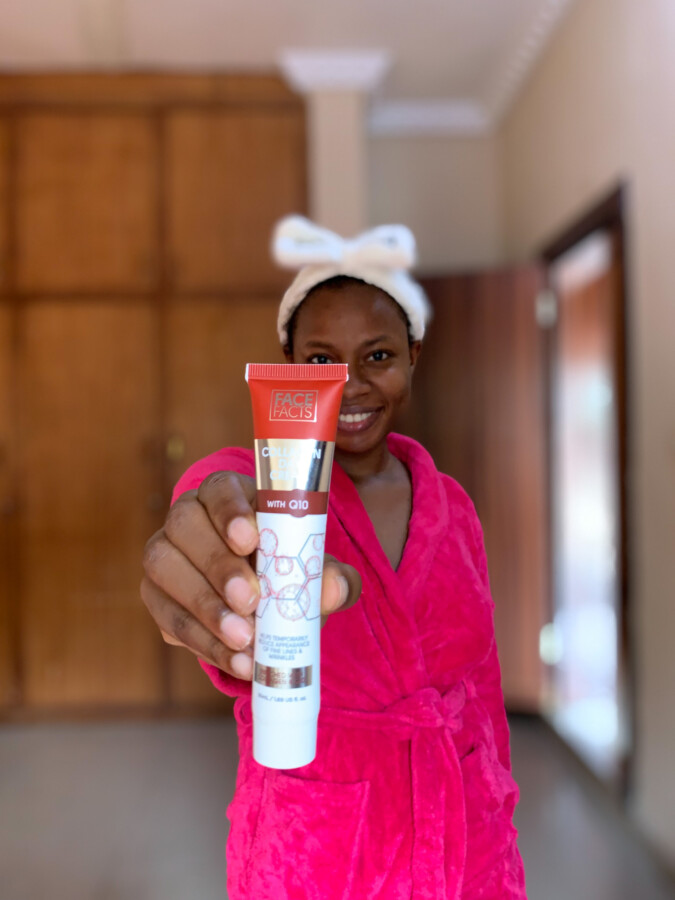 Apply the product on the back of the hand
Spread evenly across the face
Massage it to spread evenly on the face, neck, and ears.
Recommended Moisturisers
Simple hydrating light moisturizer
Simple replenishing rich moisturizer
CosRx Advanced snail mucin repair cream
Neurtogena hydro boost
* Iruoma10 for 10% off
6. Sunscreen 
Sunscreen is the last non-negotiable step of any ideal morning skincare routine. Trust me, if your routine only has a cleanser, moisturizer, and sunscreen, you are good to go!
Those are the essentials as skincare blogger Amanda explains in her basic skincare routine for beginners.
Sunscreen protects you from sun damage to your skin. My only problem with sunscreens is the cost. You can barely find sunscreens that leave no white cast and are not pocket-jarring for the size.
My current sunscreen is the Bondi sands daily moisturizing SPF 50. I talked about it in my last blog post and the review is there as well.
How I use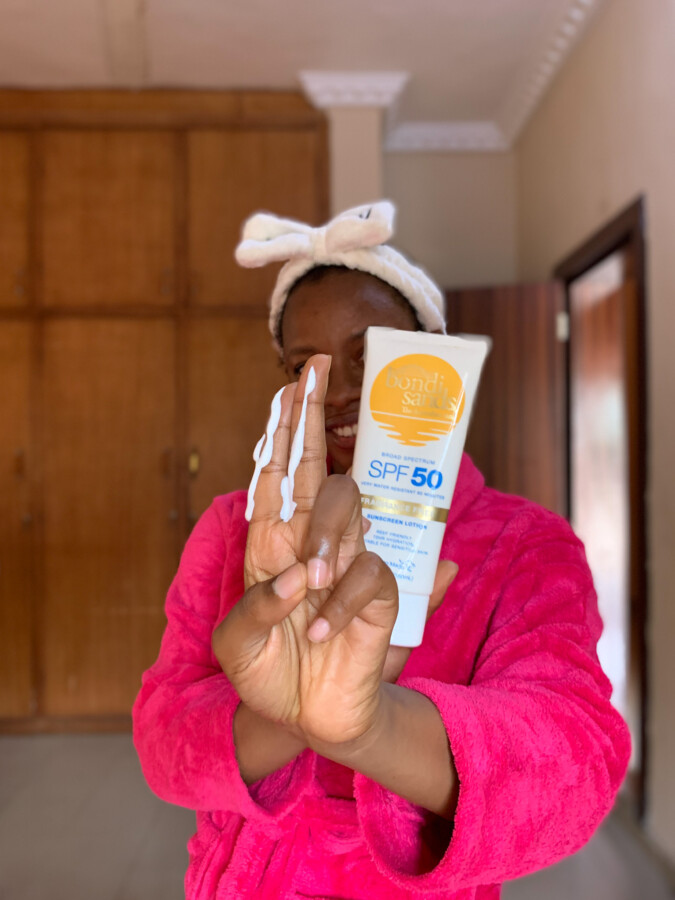 Dispense product from the tube using the 2-finger breadth method
Apply to face, neck, and ears
If I'm headed out and my decolletage, shoulders, arms, and hands are exposed, I apply SPF there as well.
Décolletage means the "low-neck line of a woman's dress" and has been adopted as a word for the area under your neck or the chest.
Recommended Sunscreens
Bondi sands SPF 50
Biore UV
Nivea sun gel
7. Lip balm
It's easy to neglect your lips, but please don't!  Lip care does not need to be fancy or expensive to keep your lips moisturized and not looking chapped.
I use a foolproof DIY lip balm recipe from Torera George and the watermelon variant of Nivea lip balm.
How I use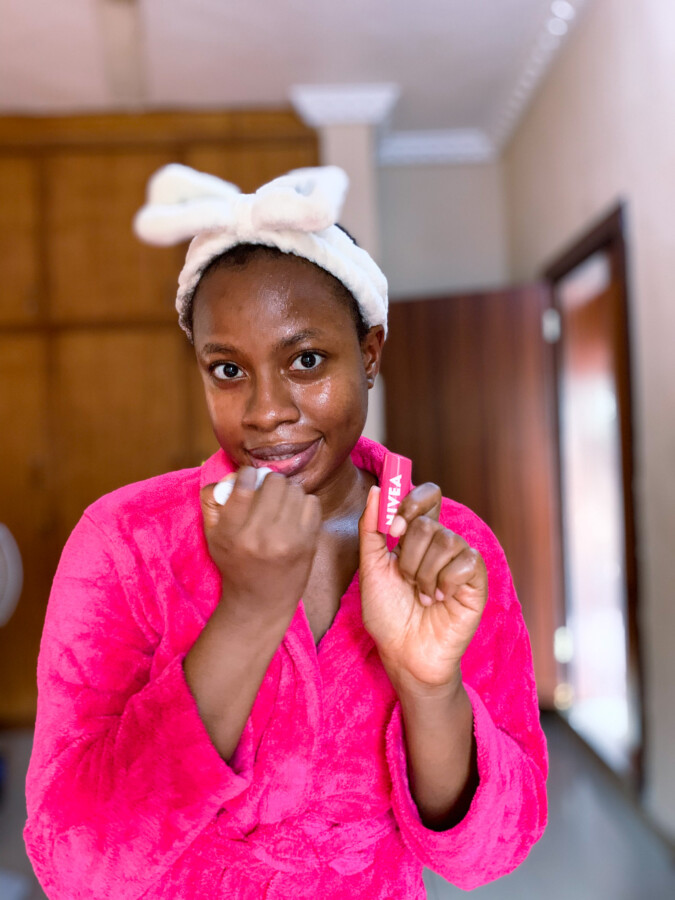 Apply DIY lip balm with the index finger 
Follow with Nivea's lip balm- mine has a colored tint that I love!
I could use lip gloss if I'm headed out.
Recommended Lip balms
Summary
A morning skin care routine can be simple with just a cleanser, moisturizer, and sunscreen. If you're like me and need some extras, then my routine would be helpful!
Cleanser
Toner
Serum
Eye cream
Moisturiser
Sunscreen
Lip balm/gloss
FAQs
1. Can I repeat the same step for my nighttime skincare routine?
Yes, you can! The only thing missing would be sunscreen because it's nighttime.
2. Can I use a towel to dry my face after cleansing?
Yes, you can. 
The thing to note is that this towel should be solely for your face and cleaned regularly to avoid it causing breakouts.
I recommend that you use paper towels which you can dispose of and is more gentle on the face. 
Personally, I prefer to air dry or use a paper towel.
3. Do I need different products for the morning and evening?
My biased answer is Yes and no.  If you have just one cleanser and moisturizer, those suffice until you can afford another. 
You can also have a different cleanser and moisturizer for your nighttime skincare routine. There are also some products that are best used at night like retinol, or during the day like vitamin C. 
I hope you found this helpful, friend! 
What are the steps in your morning skincare routine?
Share with me in the comments
 CONNECT WITH ME: INSTAGRAM // TIKTOK // BLOGLOVIN' // PINTEREST 
See you soon!
HELPFUL POST>>> Your Best Daily 5 Minute-Skincare-Routine
2