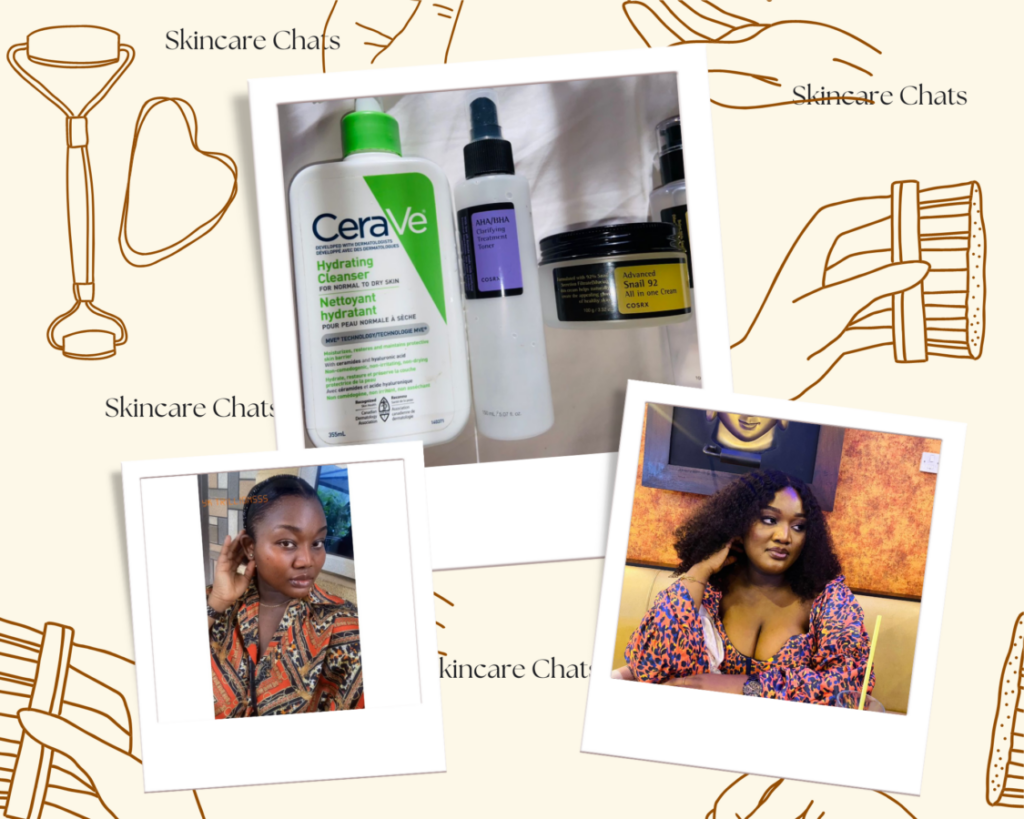 Almost every time I come across Shekinah's Whatsapp stories, it's either she's experimenting with a new food recipe or sharing a skin care product she just tried out as a skincare enthusiast.
I reached out to her with this idea to share the experiences of other skincare enthusiasts in order to encourage others who are about to start their journey or are already veterans in skincare.
Let's get into our skincare chat! 
Could you introduce yourself?
I'm Shekinah Ambali.
I've seen some of your skincare products on Whatsapp and how you talk about them. How did you get started with skincare?
I started during the lockdown in 2020. You know we really had nothing to do around that time and I had the time to notice the texture of my skin, my darker cheeks, and my neck. I didn't exactly start taking care of my exact skincare issue (hyperpigmentation) until September 2021.
It's the "time to notice the texture of your skin" for me, lol! Something good came out of that time, yeah?
Yes! I also have a family that is really into skincare, so it started around the same time for all of us too.
Come see this honest skincare chat between skincare enthusiasts Iruoma & Shekinah Ambali
Click To Tweet
That's actually cool! I remember seeing you praise an aunty once for some skincare products on your status. Was there any product that made you hooked on skincare?
Lol. I know right! The first product that got me hooked on skincare initially was the Niacinamide serum from Dang! Right now, it has to be snail mucin by CosRx.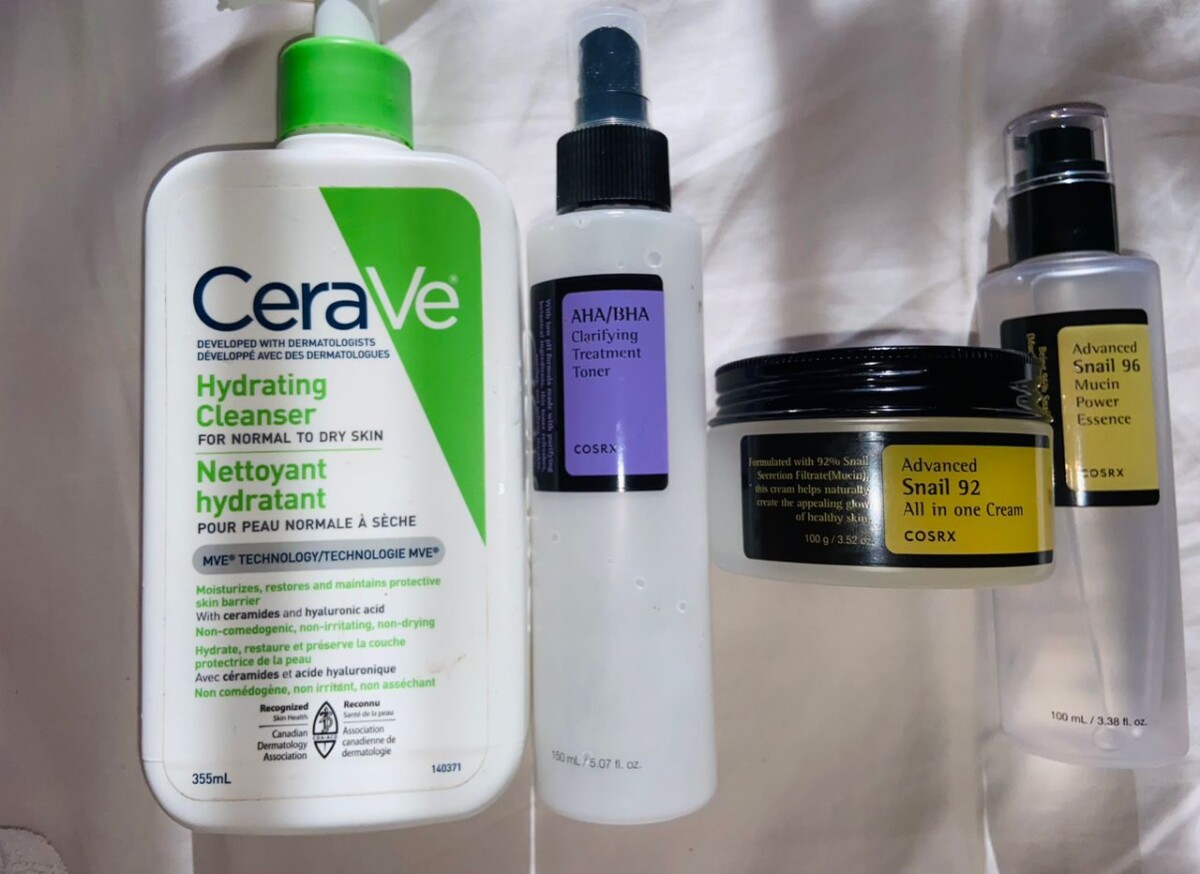 Interesting! Niacinamide is a badass ingredient so that's understandable. Plus most people are in love with the snail mucin from CosRx. Tell me, what is your skintype and what does your current skincare routine look like?
I have combination skin. For my current skincare routine, I am a huge collector of cleansers! I love to switch them as the spirit leads so I cleanse with either Cosrx's Low pH good morning cleanse, the Inkeylist's Fulvic acid brightening cleanser, Cerave's hydrating cleanser, or Omari's cleansing powder. 
After cleansing, I follow with a toner/ micellar water. Next up is a moisturizer (currently sticking with Simple) I follow that with my snail mucin, serums (niacinamide&vitamin c), and finally any sunscreen of choice. I collect sunscreens too!
READ ALSO: HOW TO KNOW YOUR SKIN TYPE
Okay, you're a collector because what is this stash? God when!
All thanks to my older sister. 
Perks of having an older sister! Speaking of which, what 3 beauty products can't you do without?
They would be Snail mucin, AHA/BHA toner, and Niacinamide serum.
That's interesting. Let's go back to your skincare routine. What's the favorite part of your routine?
Moisturizinggg! I try to use products that moisturize my skin more regardless of their 'special job' as this just helps me feel good all day long.
The emphasis is deep, but having your skin hydrated is important so I get it. Have you ever had any terrible experience with a product?
No, I haven't. I like to think I'm God's favorite child because I barely have a negative skin reaction to any new product I try.
Lucky you for real! If someone starting out their skincare journey meets you today, what would you advise them?
I'll advise the person to get basic skincare products for starters, and not be swayed by the skincare rave out there. Make sure to use sunscreen always, and most importantly, avoid "organic" skincare products!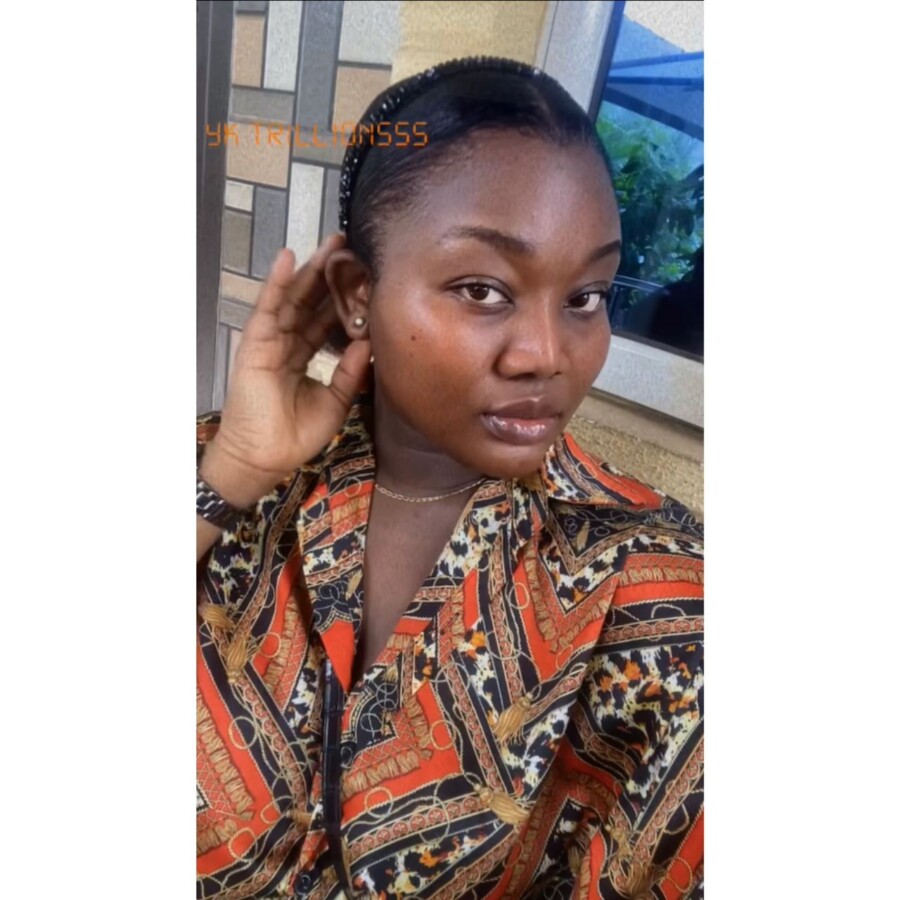 Shekinah Ambali is a medical student, business analyst, skincare enthusiast, and foodie. Check her Instagram for more!
---
Would you like to see more skincare enthusiast interviews?

Did you enjoy this? Let me know in the comments!
READ ALSO: 10 Things Skincare Enthusiasts Can Relate To
3