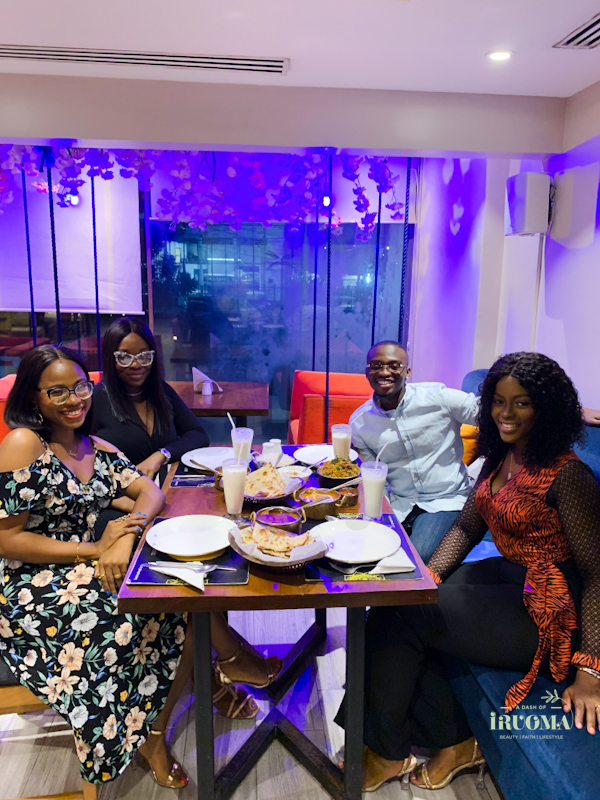 Meet your reviewers L-R: Iruoma, Oma, Chris and Feyi.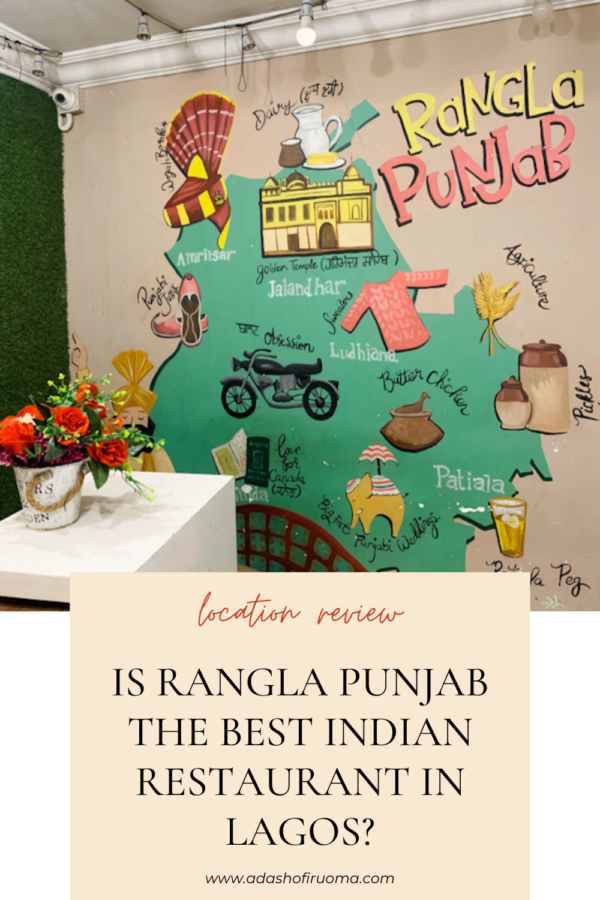 Rangla Punjab restaurant, Victoria Island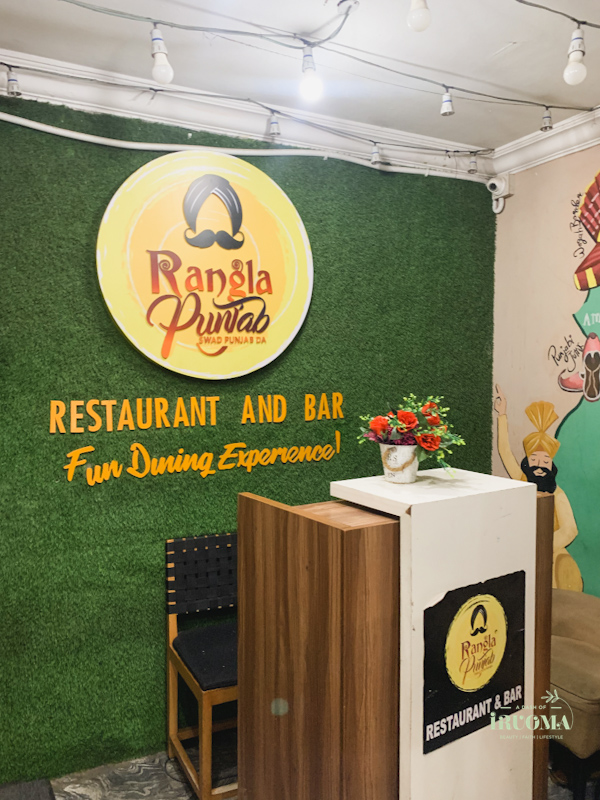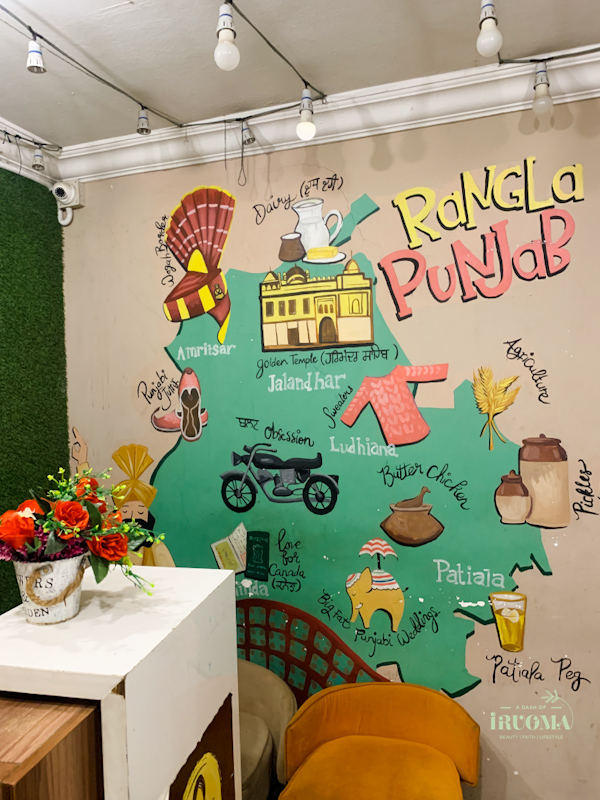 My friends are I decided to try something different to celebrate being done with our final exams. We recently finished school after nine years. One way to do so was by trying out what I hoped to be the best Indian restaurant in Lagos.
This restaurant is called Rangla Punjab. It is located at number 49 Adeola Odeku Street, victoria island, Lagos.
My friends were skeptical when I suggested it from the list Chris sent, but I managed to convince them and was hoping they won't regret trusting my choice!
Atmosphere and Decor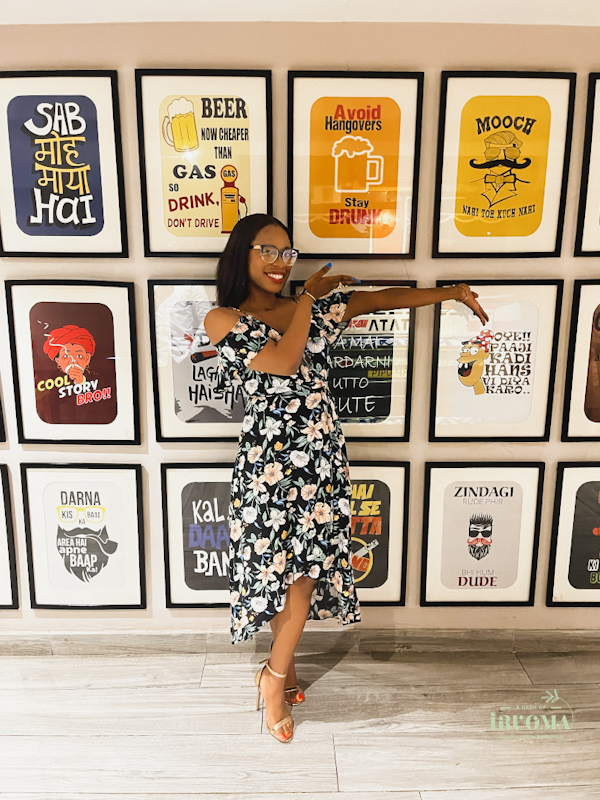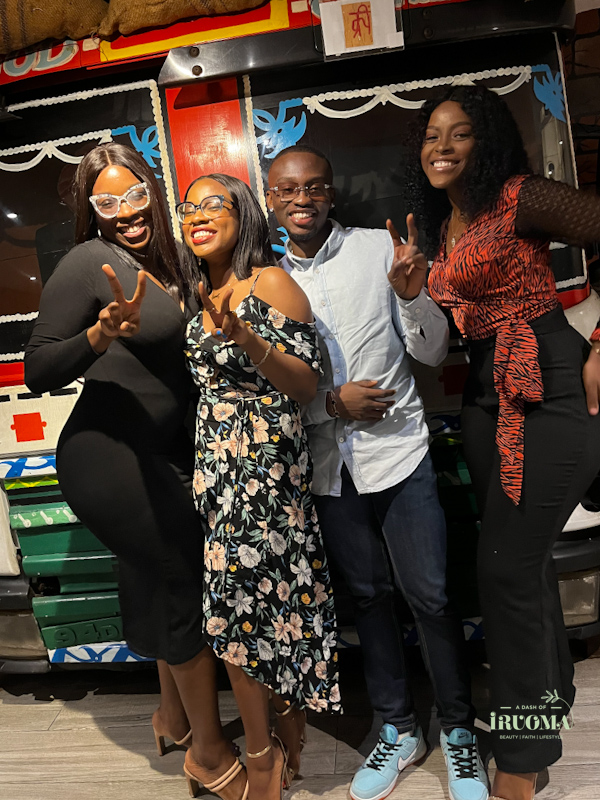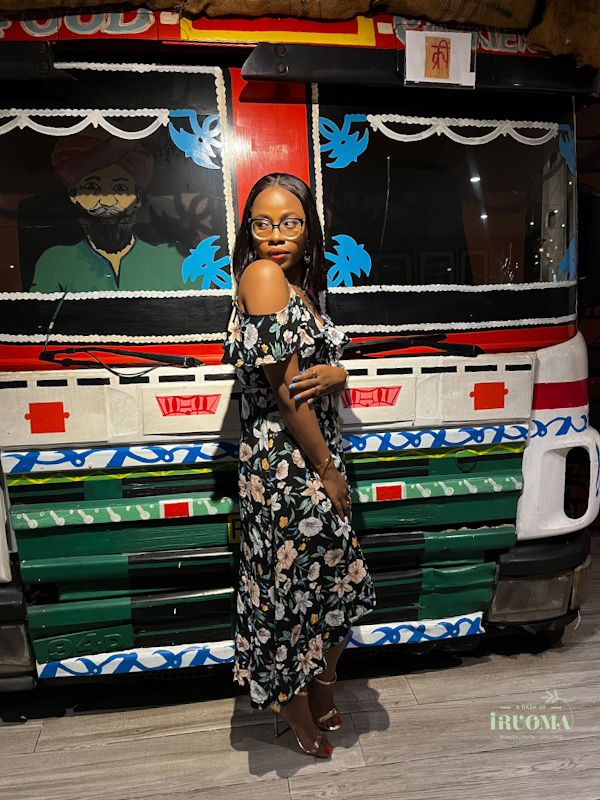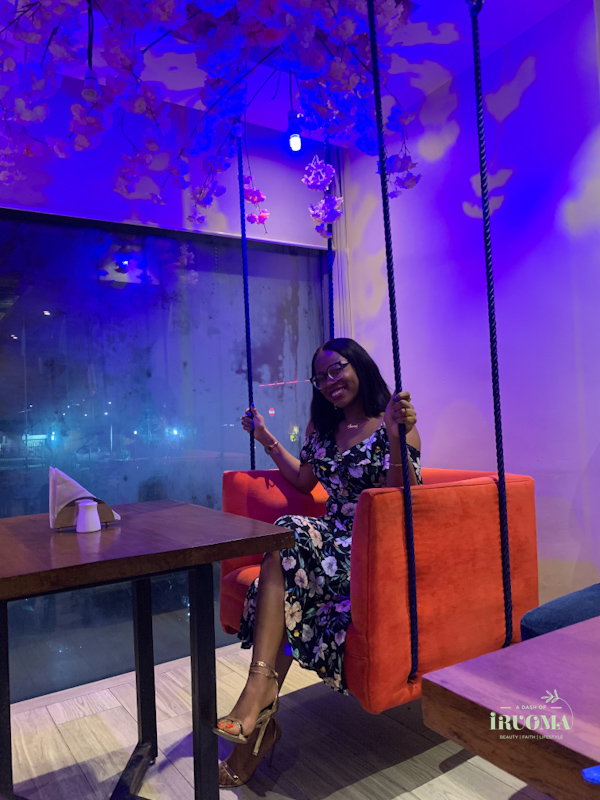 My favourite corner of the restaurant
The ambience is beautiful! It's  Indian-centric, with paintings and inscriptions right from the entrance. It has a traditional bus (almost life-like) decor at the dining area's corner, depicting their culture. My favourite part of the decor was the swinging cushions. I had seen it in a review and looked forward to being on them! 
The lighting is also pretty good for pictures and an overall look. My friends and I came at night, but our pictures still turned out great. If you're someone who likes to document videos and pictures, that's a plus.
The restaurant has a simple arrangement for the sitting area. Across are the cushions with colourful paintings of  Indian drummers on the walls.
There was another area that was booked so that I couldn't see the arrangement, but ours had a table with four chairs, and that was in about four sets. There's also a wall of picture frames with inscriptions related to drinks. I thought it was pretty cool because it's a great background.
Food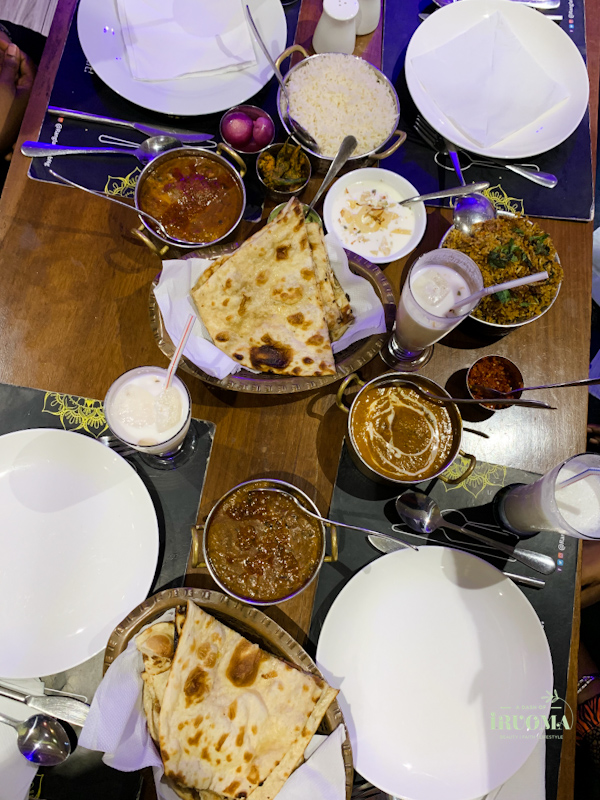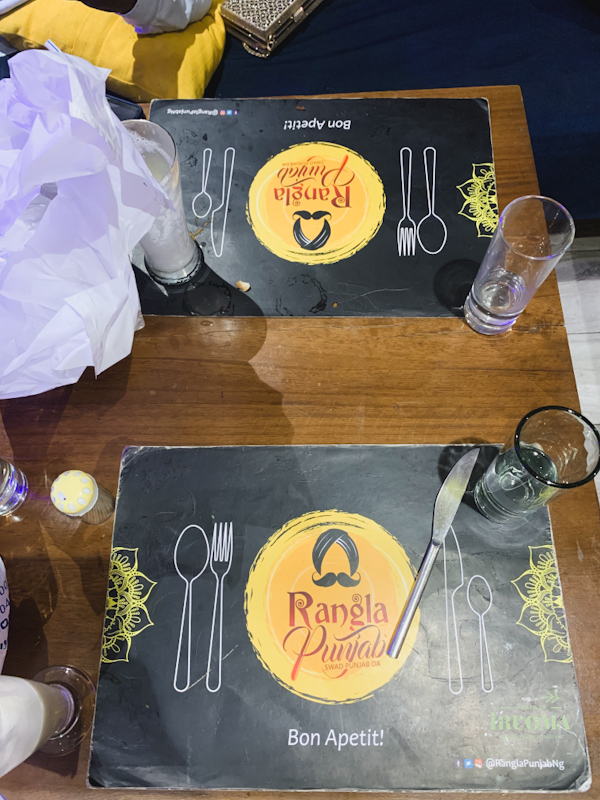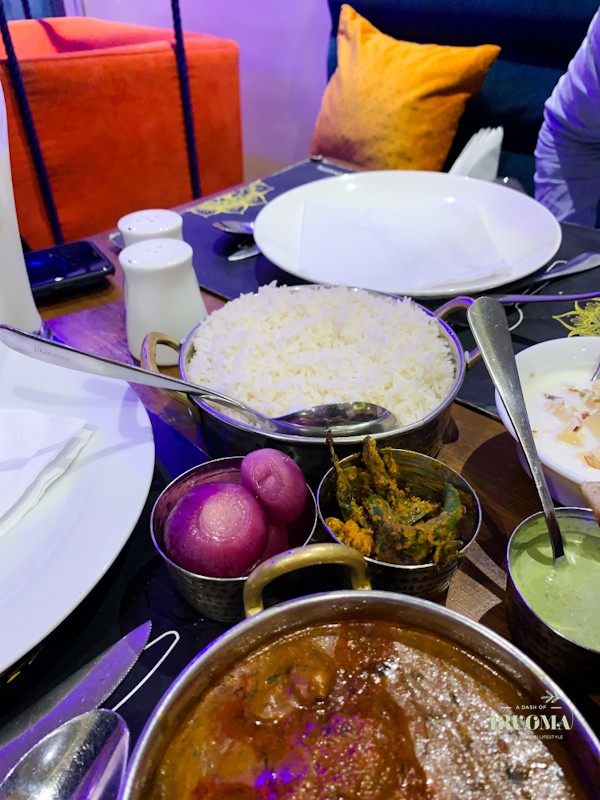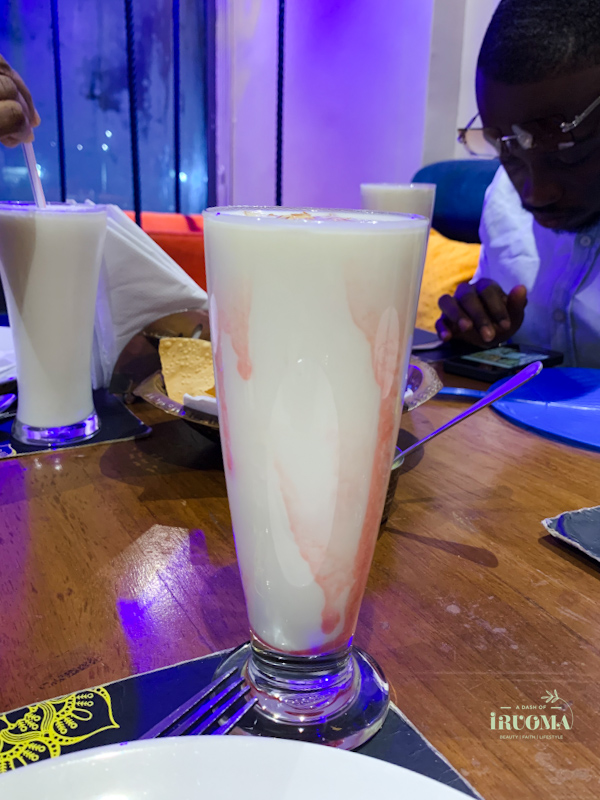 One thing that makes Rangla Punjab considerably the best Indian restaurant in Lagos is the dishes!
I've tried some Indian dishes from the Gypsy's restaurant and bar, but this took it up a notch. The dishes we had were:
Boneless mutton biryani
Murg Dharba 
Naan bread (butter)
Makkani kukkad
Mutton dhaba (boneless)
Steamed rice 
The good thing is you can play "safe" with these dishes because their taste profile isn't too different from what we're used to. We also decided to get different dishes so we could have a taste of everyone's order.
Could Rangla Punjab be the best Indian restaurant in Lagos? Read My Detailed Review To Find Out!
Click To Tweet
Here's what my friends had to say about their experience: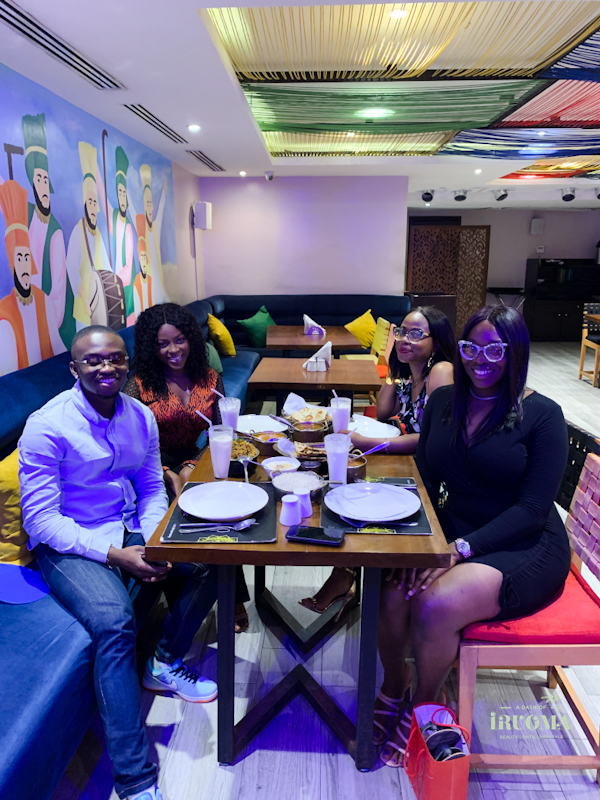 L-R: Chris, Feyi, Iruoma and Oma.
Oma
I'm not usually a fan of any other country's food (I promise I'm not racist, lol) but the food from Rangla punjab was so good and very filling!

I especially enjoyed the boneless mutton because it had lots of soft and tasty meat chunks. I definitely recommend and would go back.
Chris
Although their IG page and even the exterior of the restaurant might be unappealing, it's a whole new experience on entering! The service was so good it was almost criminal not to tip. The waiter took his time to explain everything on the menu and give recommendations. He also told us where the best lighting was and took good pictures of us. 
The food was great in quantity and quality, and we ate to our full. I had enough for breakfast the following day. 

I'll rate them an 8/10 because no one is perfect and secondly, they refused to let Iruoma manage their social media account!
Feyi

The food was amazing! 

It was my first time trying Indian food, and I have no regrets. The naan bread and buttered chicken was sooo good, and the chicken was soft. The only thing I didn't like were the extras. 

So asides our order, we were given extra spices and even onion bulbs. Yes, an actual raw onion to eat! Other than that, the main meals themesleves? *chef kiss*! 

The staff are also super courteous and helpful.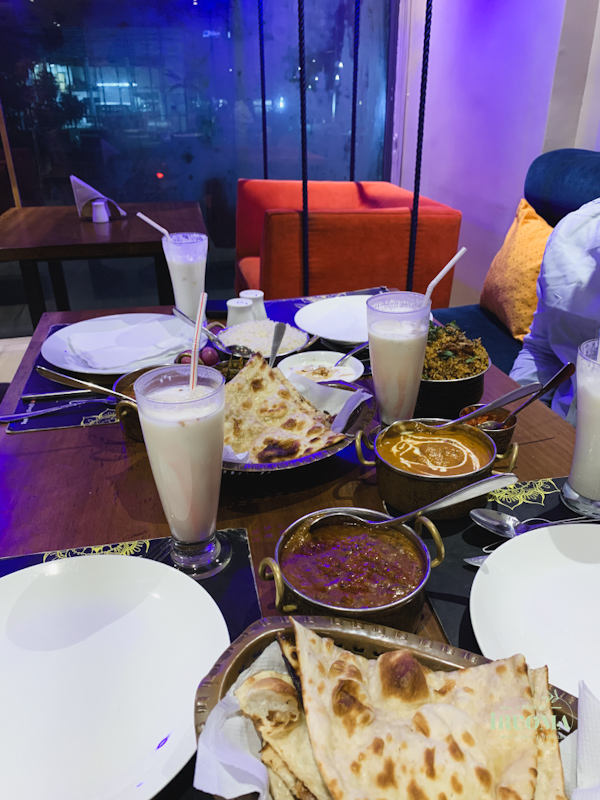 ---
While we waited for our order, we were served a starter on the house. It's called papad with chutney and pepper.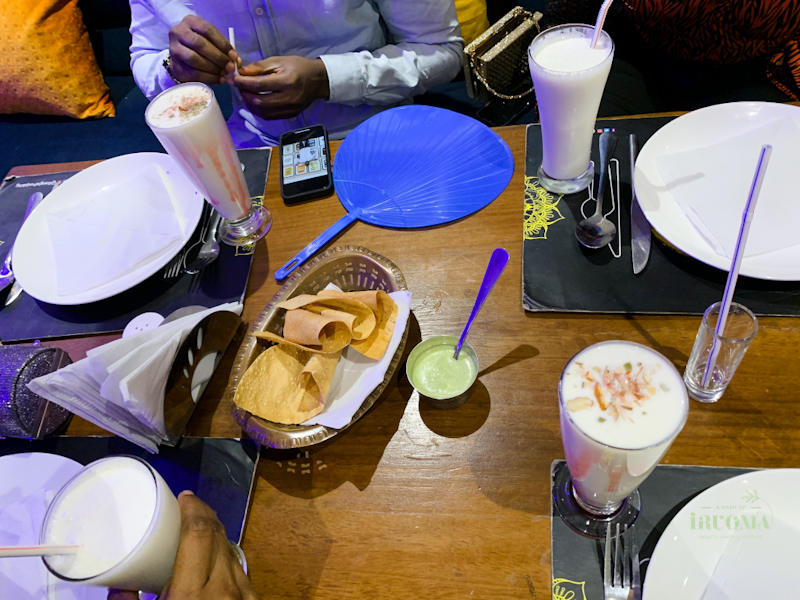 Papad and chutney sauce for starters
The papad tasted like local pringles and was too spicy for me, but my friends enjoyed it weirdly enough.
We ordered drinks called Lassi. They were the sweet lassi and vanilla lassi. There were a variety of drinks and cocktails with names I can't remember, so we went with the ones that had familiar words (sweet and vanilla).
The lassi drinks were pretty much yogurt with an extra touch. They put ice in it as well. It took a while for my tastebuds to get used to it, but eventually it did. I definitely recommend especially the sweet one. 
We spent a total of 46,000 Naira for the 4 of us and still had enough to take away.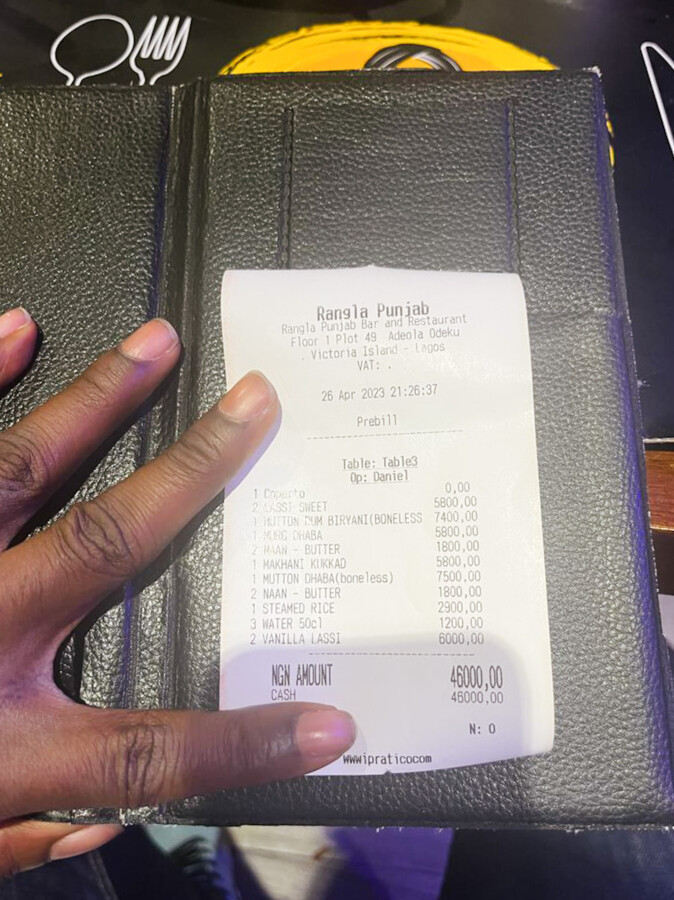 Total damage to our pockets
Service
Our experience with the staff was quite wholesome. They let us take pictures and were willing to help. Before getting there, I sent a message to their WhatsApp customer care line, which I got from their Instagram profile. Their responses were prompt, and I was also sent the menu and rates.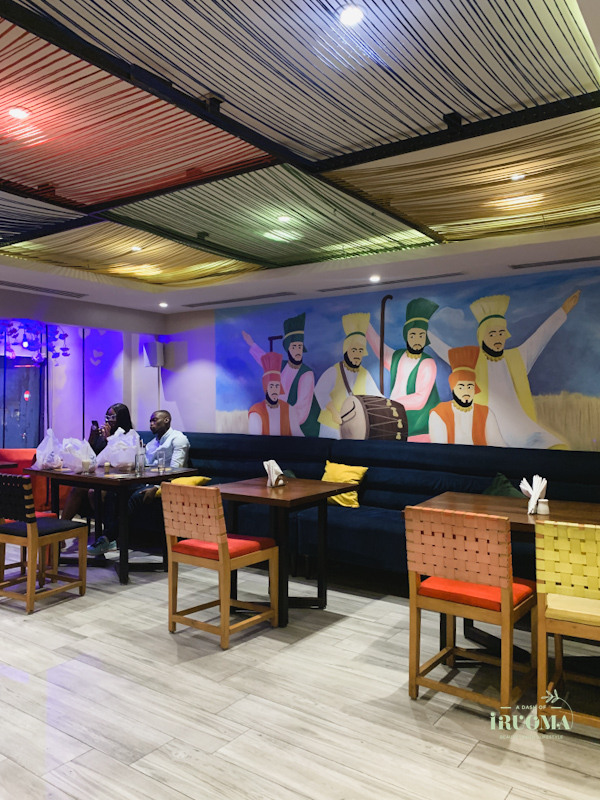 Rangla Punjab is good for a family gathering, a bridal shower, a chilled evening out, a date, etc.
I loved the waiter who attended to us. He was very professional, quick to answer our questions and ensured we were comfortable. I know it's their job, but it was exceptional. Unfortunately, I couldn't get his name so that you can ask him.
Aside from the dining experience, they host a buffet service every Sunday. Most of the details would be found on their IG.
I believe that Rangla Punjab could be the best Indian restaurant in Lagos with all that we experienced. Let me know if you do try this restaurant!
Have you tried this restaurant?
Is there an Indian restaurant in Lagos you think could beat this? Share with me so I can visit.
READ ALSO: An affordable restaurant in lagos mainland
---
Please don't forget to subscribe to the blog, tap the love button, and share this post with a friend!
CONNECT WITH ME HERE: TikTok // BLOGLOVIN' // PINTEREST // NEWSLETTER
1