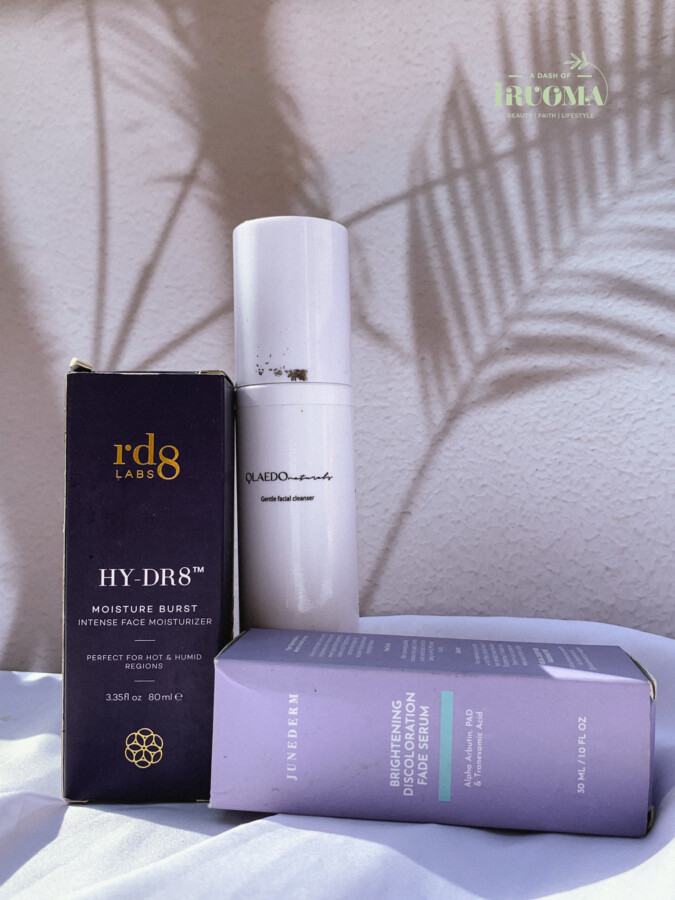 Hey, beauty!
I know it's been a hot minute since I last published a beauty post. This has been sitting in my drafts since I was done using these products. I miss this skincare routine for hyperpigmentation, as it is simple and effective. As someone who is acne-prone, and has struggled with dark spots and uneven skin tone, I know how frustrating it can be to find effective products that work. 
PS: My current routine is different for full disclosure, but that doesn't invalidate this routine or my experience. 
In December, thanks to the help of my community, I won some skincare products described as the holy grail of Nigerian skincare products for hyperpigmentation, and you can imagine my excitement!
My favourite thing about these products is that Nigerian brands made them, and that shows the progress our indigenous beauty industry is making!
Did this combination of products leave a noticeable difference in my skin? Let's talk about them.
Introduction to Hyperpigmentation
First things first, let's talk about what hyperpigmentation is. 
Hyperpigmentation occurs when there is an excess production of melanin, the pigment that gives our skin its colour. This can be caused by things like sun damage (especially), hormonal changes, acne scars, and inflammation. The result is dark spots or patches on the skin that can be difficult to get rid of.
My Routine For Hyperpigmentation
Now, onto my skincare routine. Here's what I do:
Step 1: Cleanse with Olaedonaturls Gentle Cleanser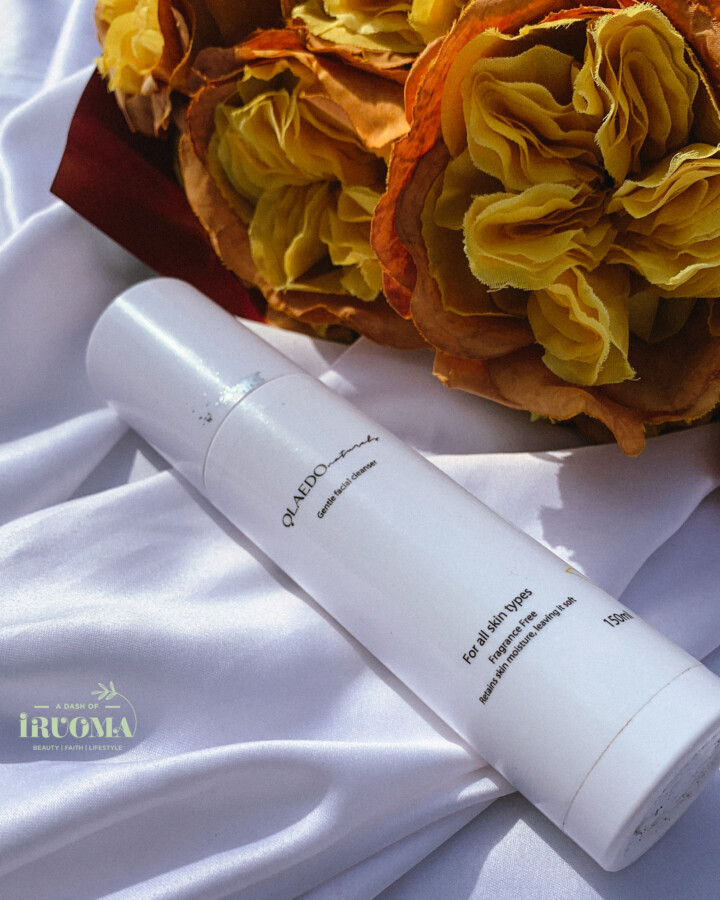 The first step in any skincare routine is to cleanse the skin to remove dirt, oil, and makeup. I've been using this gentle cleanser for over two months (due to alternating with other cleansers), and its after-effect on my skin always impresses me. It's non-foaming and doesn't strip the skin of its natural oils. I love how gentle enough it is to use twice daily, plus it leaves my skin feeling clean and soft.
Cleansing leaves a perfect canvas for the next step.
Step 2: Treat with Junederm discolouration correcting serum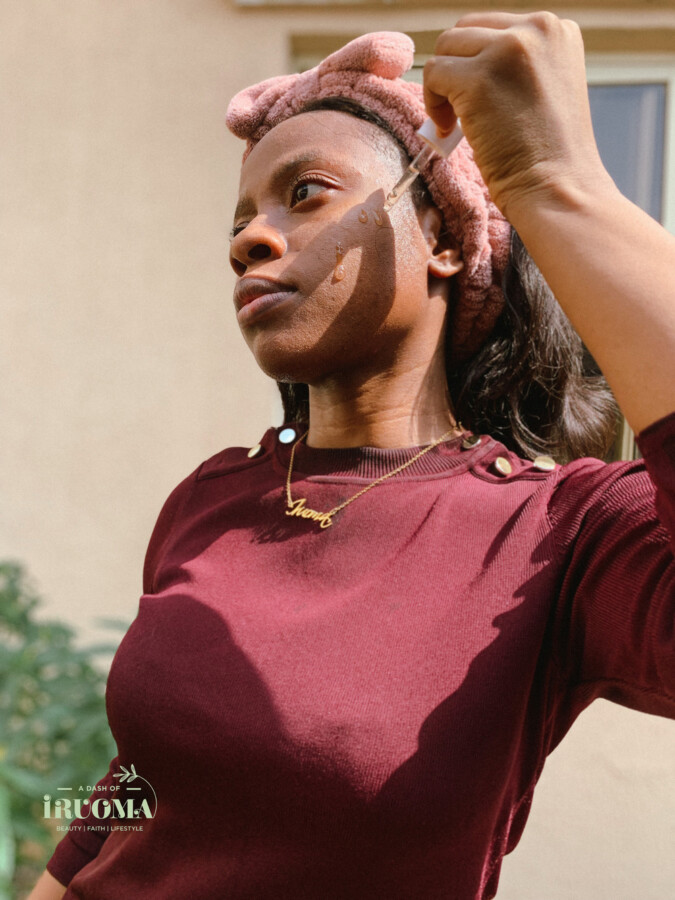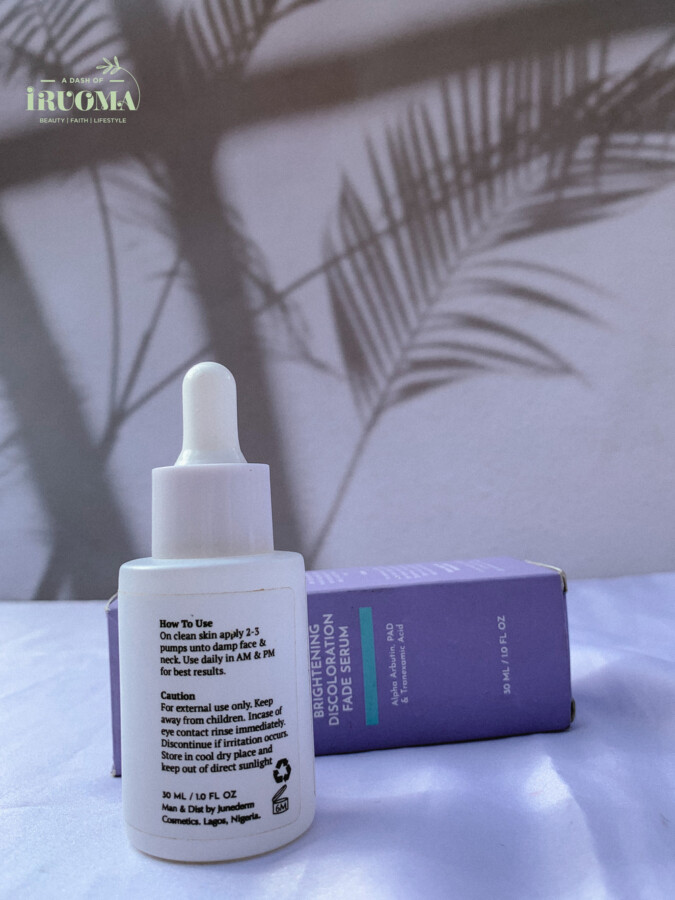 This is the step where I focus on treating my hyperpigmentation. The Junederm discolouration-correcting serum is a potent blend of ingredients that work together to reduce the appearance of dark spots and even skin tone. According to their website, it contains brighteners like:
"5% niacinamide, 2% tranexamic acid, potassium azeloyl diglycinate (PAD), 2% alpha arbutin and oligopeptide-68, "all of which are known to brighten the skin and fade hyperpigmentation. 
When I started with this serum, I used it 2-3 times at night before working my way daily. When I tell you that the significant improvement I noticed was no small deal, I mean it! I also noticed a remarkable appearance of my skin.
A friend of mine even commented on how my skin was looking radiant one evening after I had used this serum consistently for over three weeks, and I was so glad!
This was during my final exam preparation, and my skin was "glowing" despite the stress.
Step 3: Moisturize with Rd8 labs Hydra boost Moisturizer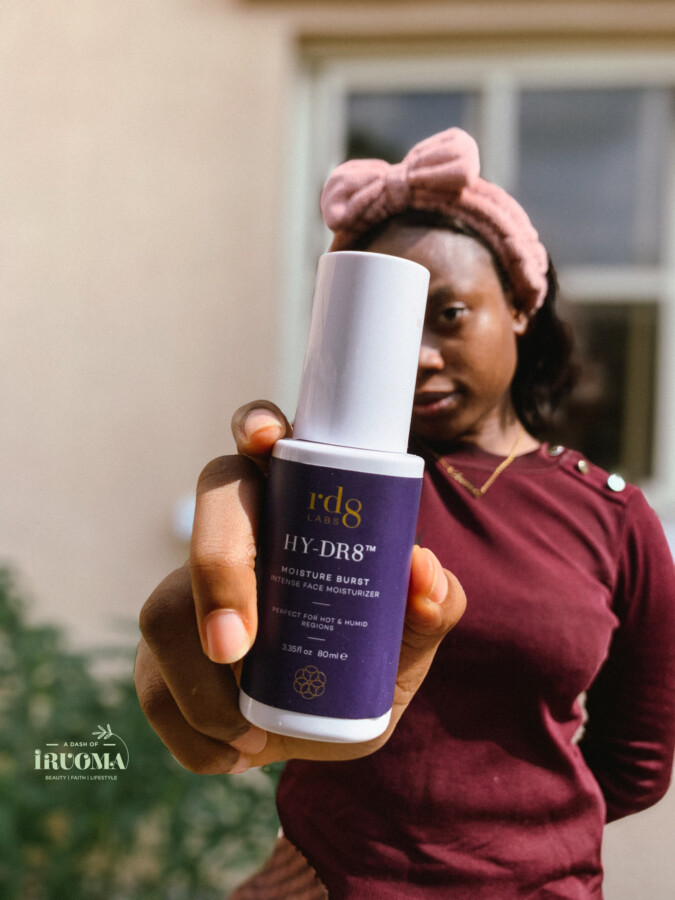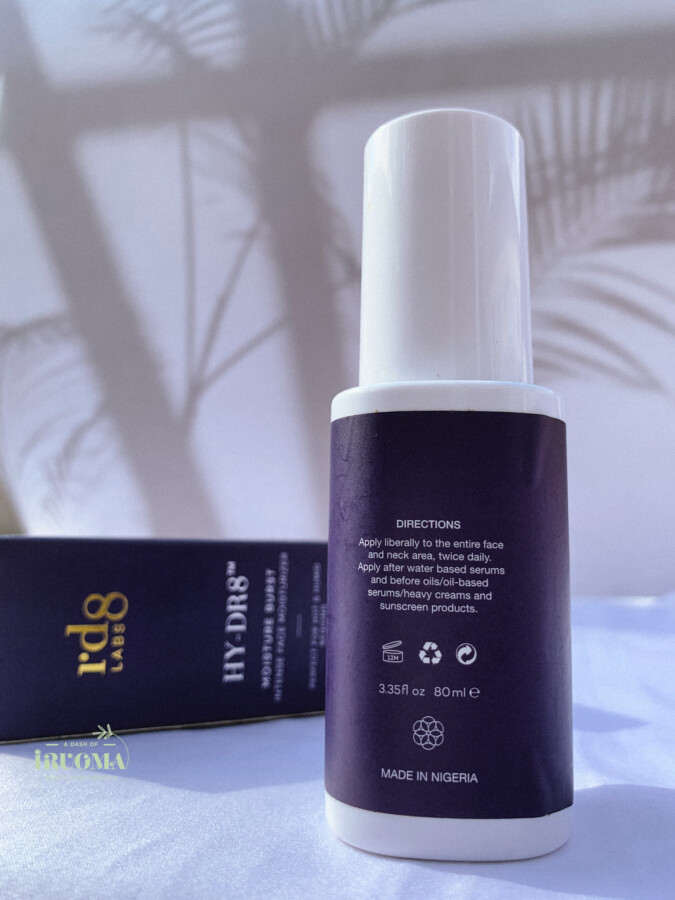 After treating my skin with the serum, I follow up with a moisturizer to keep my skin hydrated and plump. According to its founder's interview, the hydra boost Moisturizer is a lightweight, non-greasy formula specially formulated for humid climates.
The burst of coolness that you get when this moisturizer touches your skin is phenomenal! I love that it absorbs quickly into the skin, and it is lightweight enough for hot weather and all skin types, especially oily skin. 
This is one of the moisturizers that my skin has enjoyed other than the Simple hydrating light moisturizer.
Step 4: Protect with sunscreen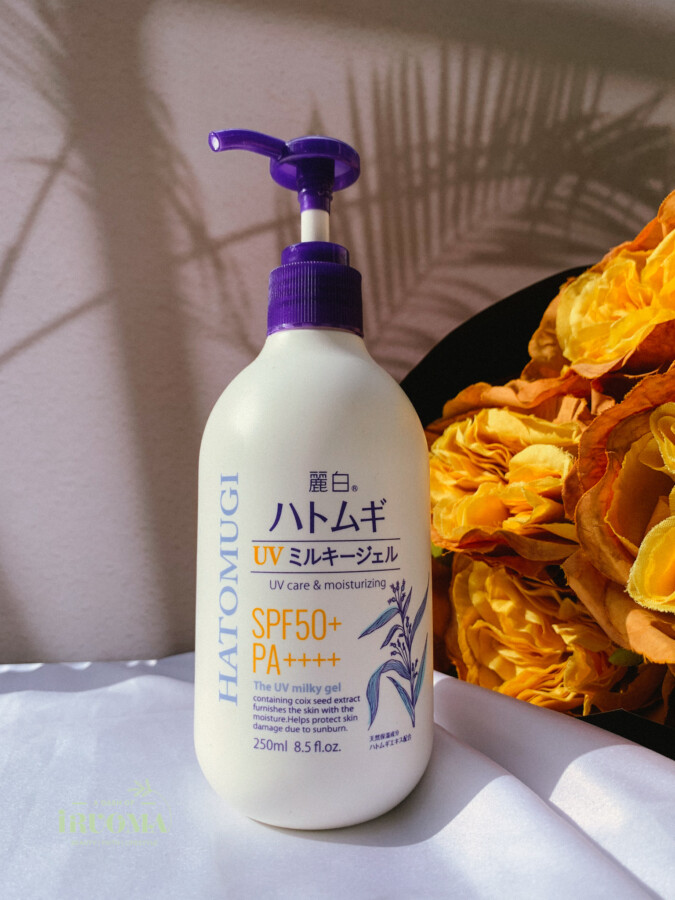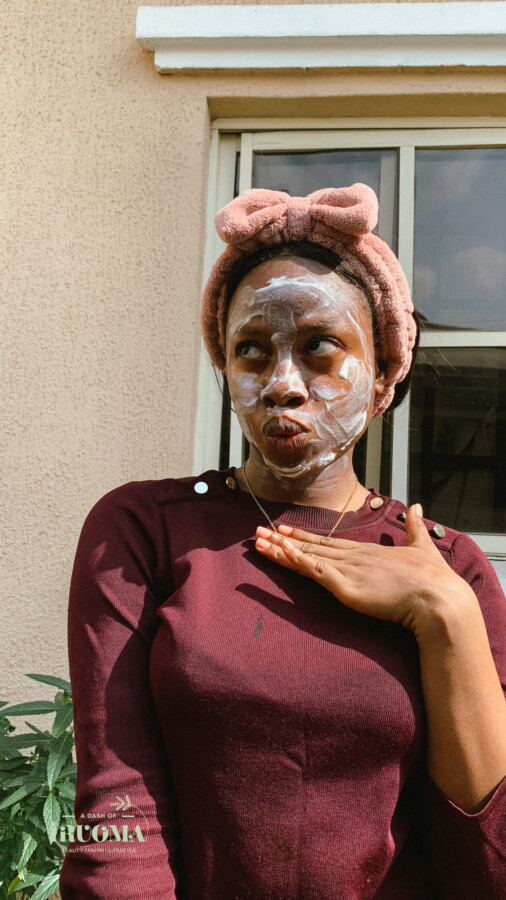 Last but not least is my favourite step- sunscreen!
This is a step that many people overlook, but it's crucial for preventing further hyperpigmentation and protecting the skin from harmful UV rays. My friend once said that half of our skincare is avoiding the sun, and she's right!
If you're not applying sunscreen, that's counterintuitive to treating hyperpigmentation. Worse still, the ingredients in these products could make your skin sun sensitive and worsen your condition, so sunscreen is non-negotiable.
I always use SPF 30 or higher sunscreen, even on cloudy/ rainy days. 
If you're not sure where to start with sunscreens, here's a helpful post on sunscreen as a beginner.
I must tell you that I had other things in my routine that helped my hyperpigmentation treatment, such as exfoliating and the use of anti-oxidants But if you want just four simple steps that pretty much contain the vital ingredients for hyperpigmentation, these would be my recommendation.
Overall, I've found that this simple skincare routine has made a huge difference in the appearance of my hyperpigmentation. Of course, everyone's skin is different, so what works for me may not work for you. But if you're struggling with dark spots and uneven skin tone, I recommend trying these products!
FAQs
What ingredients should I look out for to treat hyperpigmentation?
Several skincare ingredients can help fade hyperpigmentation, such as:
Vitamin C: The most common form is ascorbic acid can help reduce hyperpigmentation by inhibiting melanin production.
Hydroquinone: This topical skin-lightening agent works by inhibiting the production of melanin (this should be prescribed by a dermatologist, in my opinion, as it's potent and can be dangerous).
Retinoids: These vitamin A derivatives help reduce hyperpigmentation by increasing cell turnover and exfoliating the skin.
Kojic acid: This is a natural skin-lightening agent that works by inhibiting the production of melanin.
Niacinamide: This form of Vitamin B3 can help reduce hyperpigmentation by preventing the process by which melanin pigments are transferred to the skin cells.
Azelaic acid: This ingredient can help fade hyperpigmentation by inhibiting the production of melanin and reducing inflammation.
What causes hyperpigmentayion?
Hyperpigmentation can be caused by a variety of factors, including sun exposure, hormonal changes, and acne. 
How can I treat hyperpigmentation?
My recommendations are to identify the underlying cause of hyperpigmentation and address it, in addition to using topical skincare products. Additionally, it is always recommended to consult with a dermatologist or aesthetician for personalized skincare recommendations.
Please note that fading hyperpigmentation is a journey (as skincare generally is!) and may involve different products targeting the different hyperpigmentation processes. Nonetheless, it's a productive journey and not impossible.
Do you struggle with hyperpigmentation?

Share your routine with us in the comments.
Join me on other platforms:
TikTok // BLOGLOVIN' // PINTEREST // NEWSLETTER
3