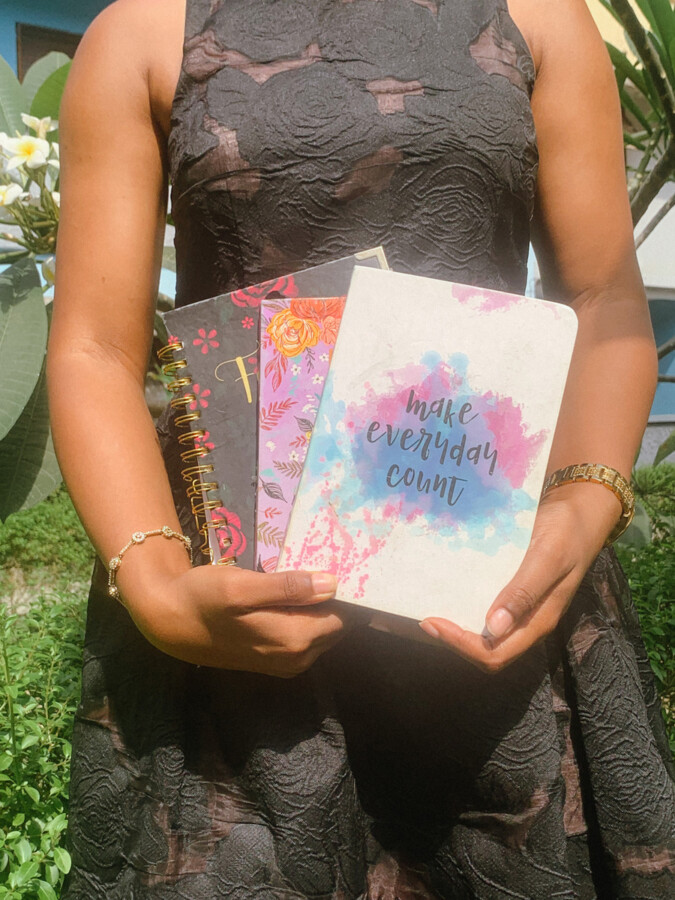 Despite how 2022 has not gone according to my plan, it has taught me to be flexible with plans, not to abolish the idea of planning. 
I love the concept of stewarding time and looking forward to resting. Maximizing productivity is not as complex as it sounds when you have the best daily planner to help.
As much as digital tools for productivity have a special place in my heart, I would always be the paper and biro babe. 
My pleasant experience with planners from a Nigerian stationery brand called Just Journal has left me recommending paper planners to everyone I can.
This post is sponsored by JustJournal NG and all opinions and experiences shared are those of the author.
Just Journal is a Nigerian stationery brand that prides itself in building a community of stationery lovers who are creating their dream lives and loving every step of the way!

Asides from daily planners, the store offers a wide variety of journals, accessories, cards, and gift items.
If you're searching for ways to elevate your productivity in 2023, welcome! You're at the right place.
Let's begin, shall we?
A Peek Into Just Journal Planners
My first ever planner was the "Make every day count" planner. It's a monthly planner for 3 months. The features are similar to other planners in the collection with the difference in design and appearance.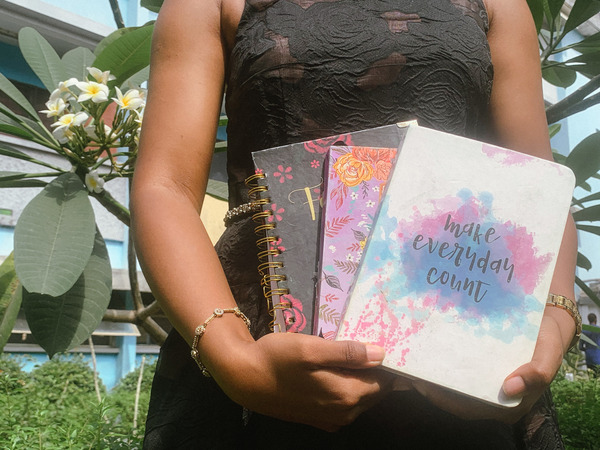 The layout:
Prompts for daily to-dos
Weekly goals and review
Monthly goals and review
Cover:
Content:
A portion for your name.
A personal message from the brand owner.
A quick review of the previous year. 
A slot for goals for the year.
A vision board.
What you would like to learn in the year with timelines.
A slot for affirmations. 
Weekly and monthly finances.
Ideas/brain dump, 
Reading plans, 
Gifting list 
Letter of thanksgiving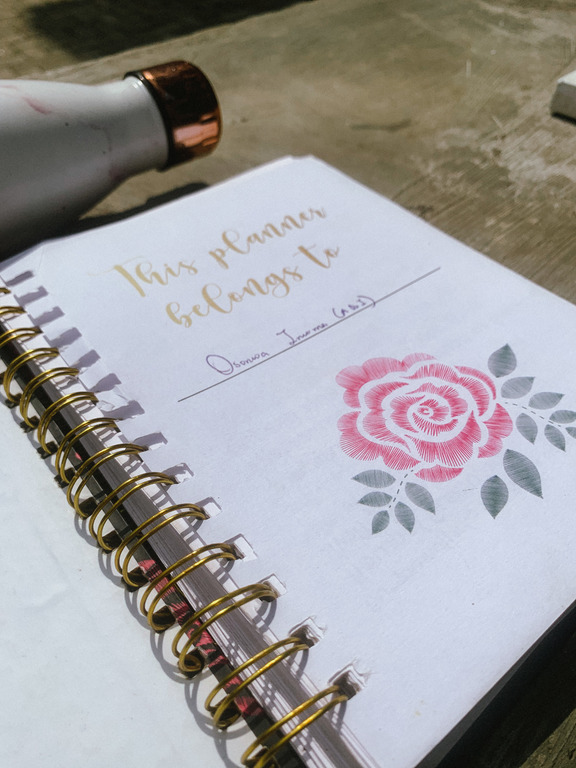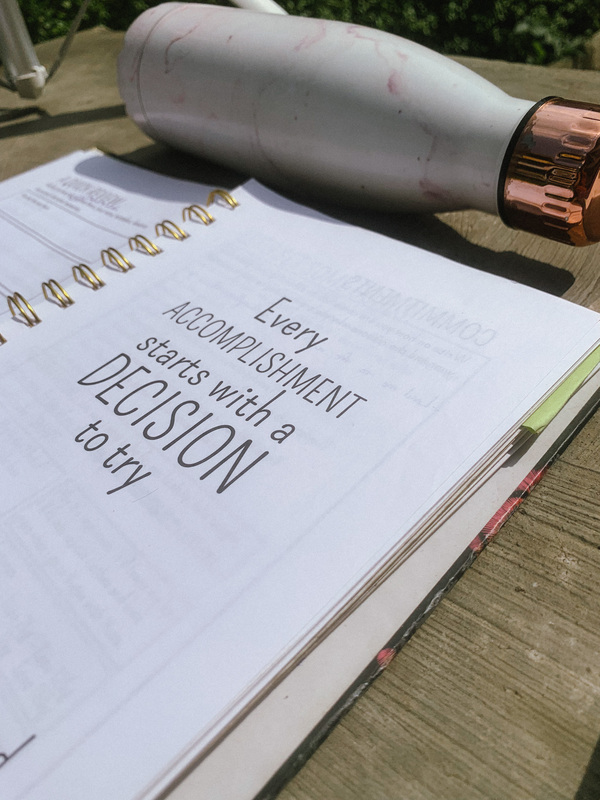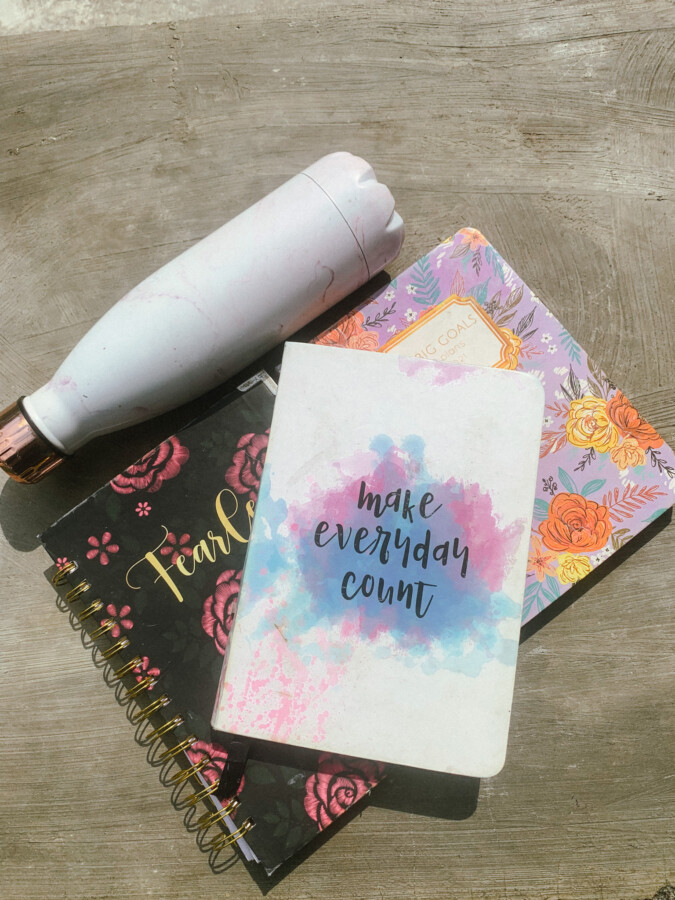 Are planners worth it?
While I'm biased toward saying planners are worth it, evidence trumps my bias. I found some reasons investing in a paper planner compared to a digital one is worth your try in 2023:
Planners keep you healthy and reduce stress 
Research has proven that planning and organizing have notable good health benefits like improved sleep and mood, less anxiety, and even a reduction of stress.
Writing down your daily to-do lists improves your engagement with your task. 
Writing ticks a spot in your mind that makes you feel like your work has started.  
Planners help you stay motivated. 
There is something about using a daily planner that keeps you looking forward to accomplishing a task. Please tell me I'm not the only one who looks forward to crossing off things I've done for the day as a reward!
Just Journal Review- The Best Daily Planner To Help You Stay Organized In 2023
Click To Tweet
Planners  keep you accountable 
Most planners like the one from Just Journal provide reminders for healthy habits. If one of your goals is to excercise regularly or read more books or gift loved ones, there are reminders and allotted spaces in the planners. 
This builds habits and holds you accountable. 
Some Things To Note Before Buying a Daily Planner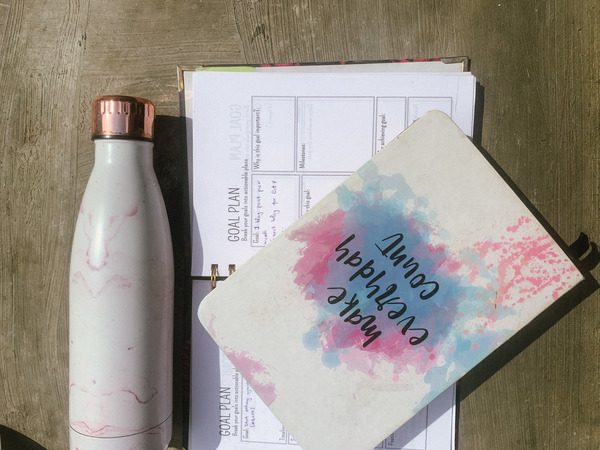 Before purchasing the best daily planner for you, there are a few things I want you to have in mind.
The world of planners can be overwhelming as there are different styles and designs to choose from. If you're like me, and aesthetics plays a major role in your decision, you need something pretty AND functional.
Let's look at them together: 
Know your preference 
Do you like pretty stuff or you don't mind plain covers?
Would you prefer a big-sized planner or something portable for your bag?
Will you leave your planner at your desk or prefer to take it out with you?
This gives you an idea of the type of planner that would be suitable for you.
How busy do you get? 
Do you have a set daily routine or structure? 
This is important because some planners are undated and have a flexible layout compared to dated planners which may not be suitable for someone with a more relaxed routine.
I don't do well with hourly timelines in my planners as my routine varies depending on the clinical rotation I find myself in. 
The planners I've used from Just Journal are un-dated and I don't have to worry about any hour with a missed activity. 
Different planners or one?
When considering getting a planner, one thing that is helpful is deciding if you want different planners for different priorities. For example, if you're an entrepreneur and need a planner to help with your goals for your business, one that comes to mind is the Just Journal Ladypreneur planner. One planner is sufficient if you prefer to combine personal and work activities! 
Blank space or one with prompts 
Some people prefer having blank planners which they feel up with the ideas they have while others prefer planners with prompts.
I love both and one reason I've enjoyed my planners is that they had spaces for ideas and prompts that guided my thoughts.
What's your budget?
This is the most important factor for me! 
How much can you comfortably spend on a planner?
Seeing as this would be a recurrent purchase, it's worth considering. There are times you would want to splurge and just invest because honestly, everything has become expensive. 
Nonetheless, go for something you would enjoy for the price you're comfortable with. 
A daily planner is one way to stay organised In 2023. Here's a review from the best plug.
Click To Tweet
My Experience with Just Journal Daily Planners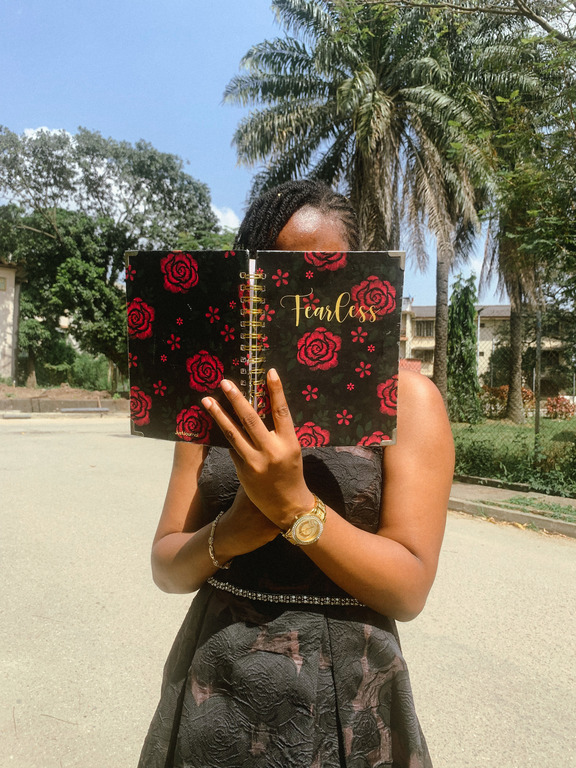 Now that you're acquainted with daily planners, let me share my experience and why I believe they offer the best daily planner you can get for 2023.
I started using a planner from this brand in 2020. That was the year the world was going through it and I needed something to hold on to.
Scrolling through IG one day, I found a post on the available planners and went with it. The first thing that caught my attention about this brand was its aesthetics.
I was so pleased that I repurchased more!
Thus began my journey! Prior to that time, I had jotters where I scribbled ideas and my to-do lists. It wasn't sufficient for me and I would get bored looking at blank pages trying to figure out what to write.
Getting the first planner was love at first sight!
I loved that it had a quote on the cover that reminded me to "Make Everyday Count".
The other one I got last year was titled "My Big Goals & Plans for 2021" and afterward, "Fearless".
It was quite easy to use because of the prompts and I loved the feel of reviewing my day, week, and month as best as I could. 
You know how you look back at a period of time and wonder what you have achieved? 
Looking back at my 2020 planner while preparing this post, my eyes rested on the goal of creating my own blog. Time has flown by, but seeing that there was a time that this dream was merely an idea that I write down was just beautiful.
That's the thing with planners. They become time capsules that tell the story of how your ideas came to pass. Even if all your ideas/ plans don't come to pass, the mere fact that you dared to dream is remarkable.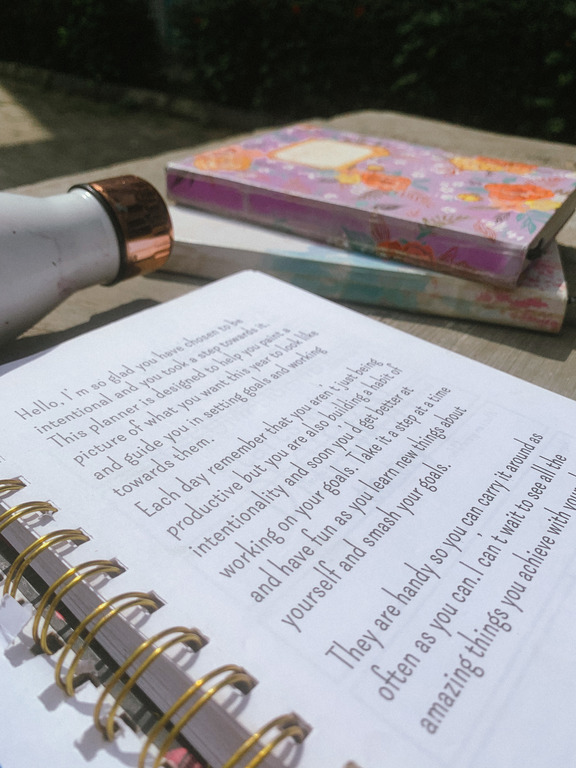 Pros
The planners from Just Journal are:
Portable.
Last for 3 months.
Help you break down big goals into smaller chunks like daily and weekly tasks with the goal of arriving at your destination.
Designed with pages that track expenses, habits, and things to be thankful for.
Different designs with a hardcover that lasts.
Con
I wish the duration of a planner were more than 3 months. It's always heartbreaking when I get to the end. Other than that, I have no complaints!
FAQs
How do I use the daily planner from Just Journal? 
It's pretty simple as the planners have prompts on each page so all you need do is follow the prompts.
What is the difference between a daily planner and a journal?
A journal is used to document your day or experience while a planner is used for to-do lists and tasks. 
Some people can use a planner to journal in bullet points because journaling is basically an account and the same thing goes for using a journal to plan your to-do lists.
I prefer separating them for ease but that is totally up to you!
How do I stay consistent with daily planning?
First, don't beat yourself up for missing days. It happens. Secondly, planning doesn't have to look the same every day. 
One way to stay consistent is by having your planner where you can easily reach. My desk is close to my bed in school and at home, I always sit there to write. That way I can see my planner and go through any pending tasks.
Another helpful thing is to prayerfully write your plans ahead of the next day depending on your schedule. 
---
Find The JUST JOURNAL shop here.
I hope you grow and bloom in the coming year and join the planner babes😉
Have you used a planner from Just journal?
Would you like to try it?
Share with me in the comments and share this post with someone you love!

1