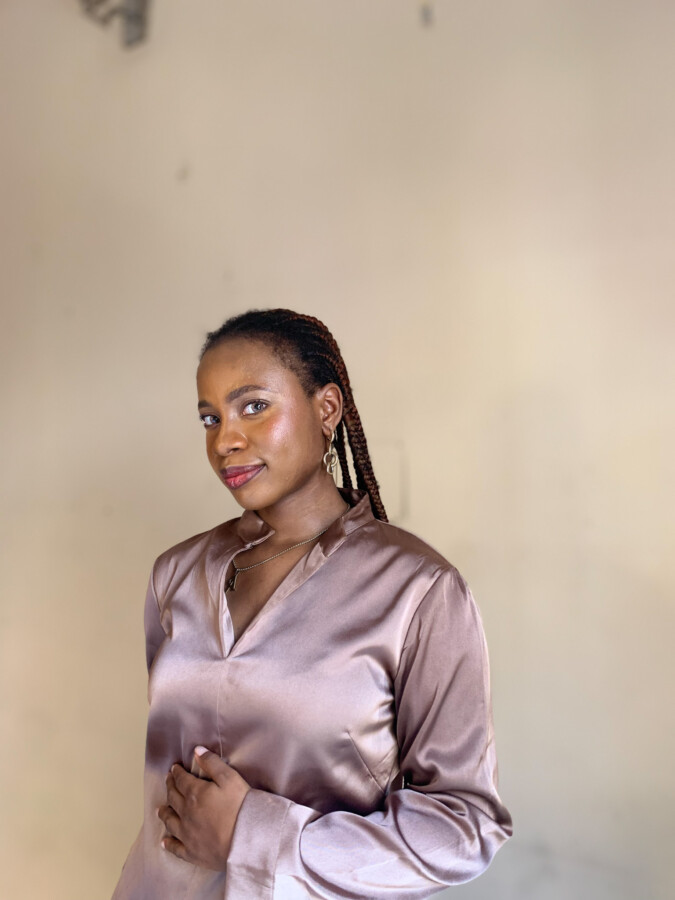 Some of my favorite things to share are highlights from the week or month. That's how the monthly favorites posts were born on the blog. It makes me look back on some of the little things that have happened in my life and share them with you so you can be inspired to enjoy your moments too. 
How is it September already? 
Happy new month!
Here are 5 favorites things I enjoyed in August;
Blog Wins
August was the month I got a lot of feedback on the blog. Do you know what I find funny? I had looked forward to replying more human comments and seeing my blog posts rank higher on google, but I didn't know how happy I would be when these moments finally arrived. 
This past month, a few people also shared their skincare journey that was influenced by me. It may not be a big deal to others but knowing that someone trusts my words enough to spend their money on the products I recommend means so much to me. 
It's tempting to hide your work from others, but you'll be robbing them of the good work God has given you the grace to do. Please share what you do with others.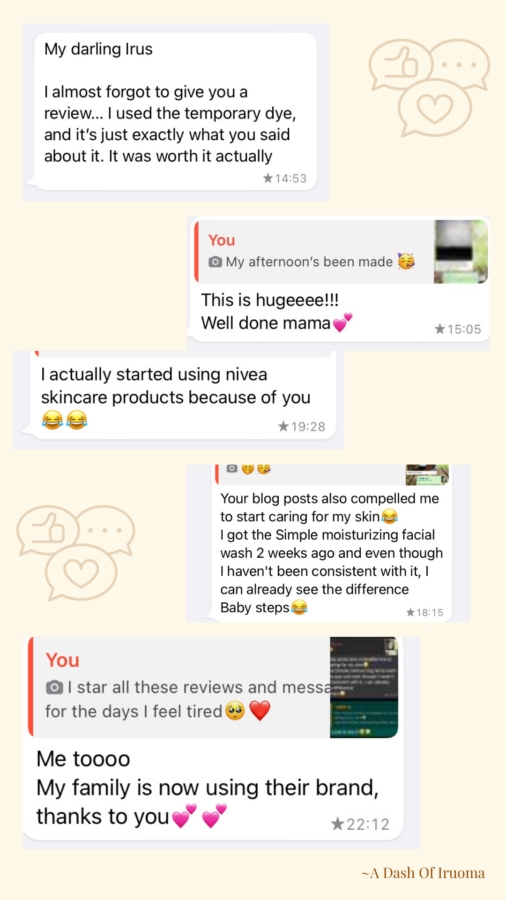 Coming back on Twitter
Social media and I are in a love-hate relationship. I love the impact you can have, the bridges you can set up, and even the experiences you get by interacting with people all over the world. 
That said, social media sometimes overwhelms me. If there was any app I would point to that topped the list of apps that stressed me, it was Twitter. 
Coming back on Twitter was one of my month's favorites because I was going in "afraid". I'm less anxious now that I have some clarity on what I want to share there, but it's one step at a time so it deserves a special mention.
Find me here and let me know you're from the blog!
A few things made August memorable and I share them on the blog. Read to see what inspires you from them!
Click To Tweet
Skin
It's safe to say that skin would be a constant factor in these posts because I can't help it.
I've noticed my facial skin breaks out a week or two before my period and now I'm less agitated anytime I see those pimples. Perfect skin is an illusion, but healthy skin is the goal!
I'm now left with some dark spots where the breakouts were and while that is annoying, I have to wait till I can afford products targeted at hyperpigmentation. Some of my products ran out and I already have some replacements to try out so currently, your girl is broke!
PS-  I've tried the good molecules discolouration correcting serum and eyeing their toner, but let me know in the comments if you have tried any products targeted at dark spots! 
Watched
There was some normalcy this past month as I resumed watching movies. All is well with the world again, lol. I barely saw a movie last month due to the deadlines of my writing internship but things are a bit calmer now and I'm back to relaxing with Netflix.
I saw Purple hearts, Look Both Ways,  Day Shift, Persuasion, and Lockdown. It's hard to pick the best between Lockdown and Day Shift. 
Day Shift was hilarious and action-filled. It shows how much a man is willing to fight for the ones he loves (how much more God). The main character is a vampire slayer and before you roll your eyes at yet another vampire movie, this one had some good vibes. Imagine classifying vampires and knowing their age based on their fangs or having a whole union assigned to fighting vampires. It was a cool take on an over-flogged theme that and I enjoyed it.
Lockdown is a Nollywood movie that made me proud. I had some issues with the way the doctor relayed important information, but other than that, they did a good job of paying attention to details! I laughed so much that balanced the serious themes the movie shared.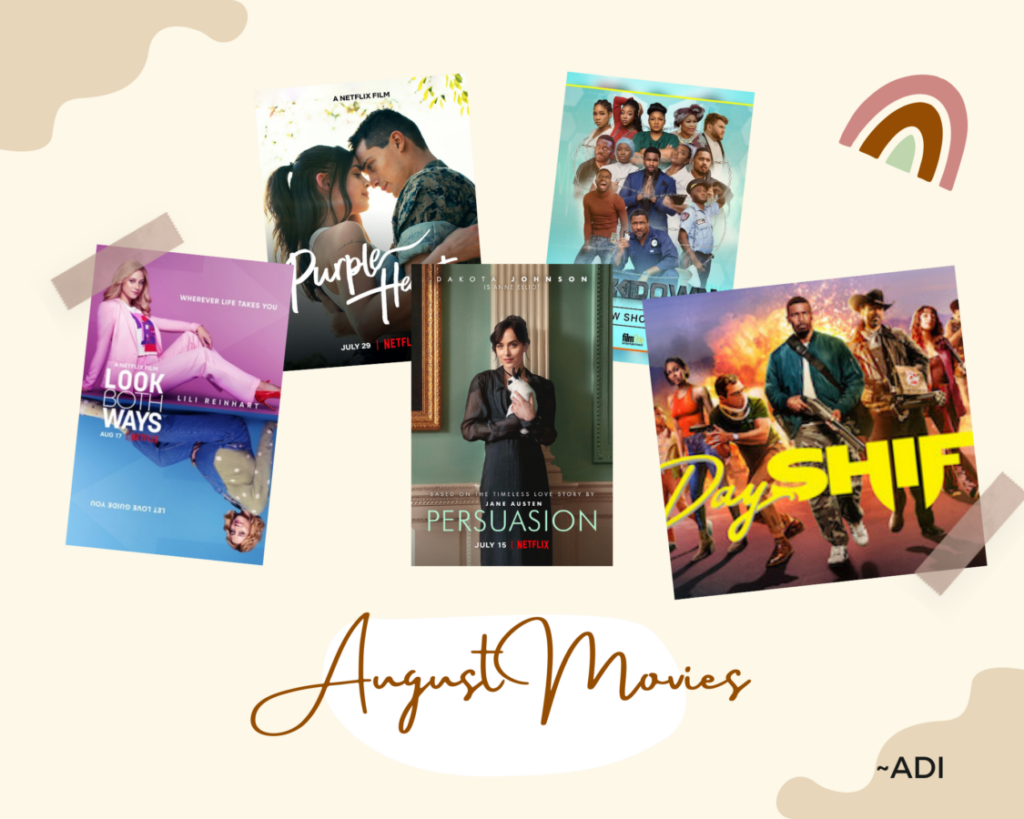 This is turning into movie reviews so I'll end by saying these movies made me happy and I recommend them for a good laugh and stress relief!
Listened
My top podcast listens for August were on sexuality and bible study.
For sexuality: Does God forgive sexual sin? by Verity & What we wish we knew about sex by Thirty Minutes With the Perrys.
Anything that involves Christians talking about biblical sexuality, count me in! I love the candid discussions lately in Christian communities and I can't wait for more people to be unashamed in talking about these real topics.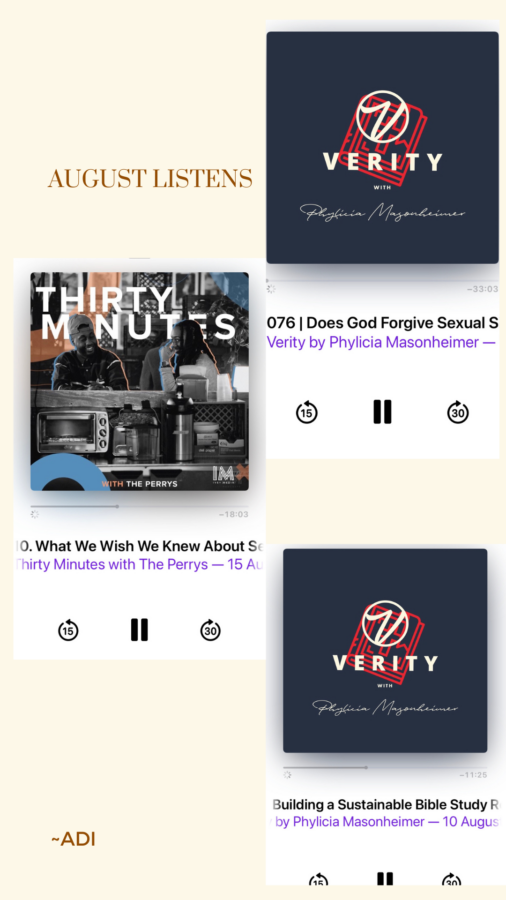 For Bible study: Building a sustainable bible routine by Verity was what I needed on the day I listened. She talked about how different seasons of our lives can impact our study of the Bible , the origin of "quiet time" and what intimacy with God looks like.
As usual, I won't tell you that August was perfect because there were moments I hated. Overall it was a good month and that's because I got to see some of the things I've been praying for happening. I look forward to the rest of the year and more highlights.
I just want to know- Is it okay if I start singing Christmas songs? We're officially in the -ember months and I've been humming them.
Please share your favorite thing from last month with me in the comments. I want to read them all!
Follow the blog for more updates:
TIKTOK // BLOGLOVIN' // PINTEREST// TWITTER
5