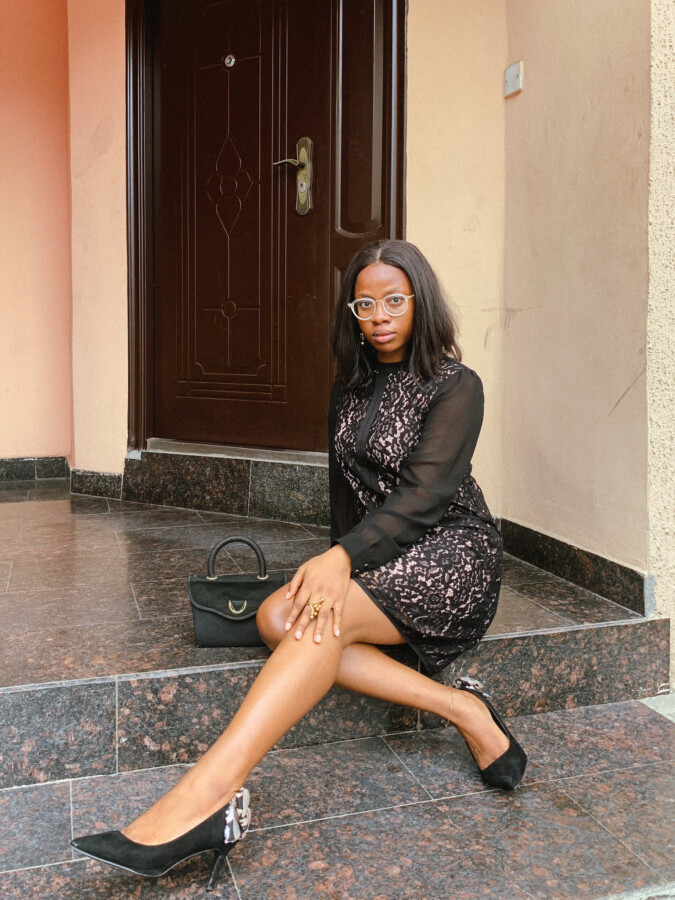 Can we talk about how much effort we put into our face skincare routine and forget that of our body? Granted, a body skincare routine sounds like more work, but the skin below your neck is not immune to dullness and other skin concerns. 
Skincare for the face is usually the first thing that pops up in our minds when we think of skincare. My journey with being intentional about my body skincare led me to create a stress-free routine because this body needs to glow too, okay? Plus what shall it profit you to have a glowy healthy face and dry neglected body skin?
Let's get into my current body care routine and hopefully you're inspired to take yours seriously too.
My Simple Body Skincare Routine
Cleanse
This is similar to your face skincare routine and is very crucial. You do not want to work on a dirty canvas. Good body care begins from the shower.
I use the St Ives Oat meal & shea butter body wash, and it's been enjoyable.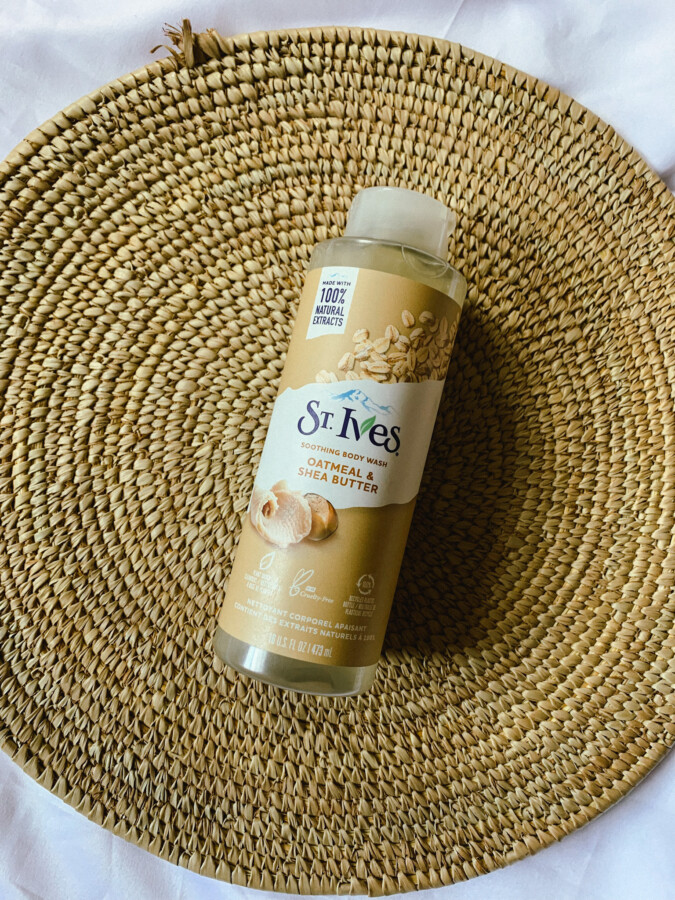 While it is tempting to go for the cheapest bar soap since it's just the "body", please look out for moisturizing soaps/ washes.
Ingredients like ceramides, olive, shea butter, etc, are some of the stuff to look out for in your body wash according to  a board-certified dermatologist and author Debra Jaliman.
Watch out for ingredients like alcohol as they dry out the skin and remember you don't want to dry out your body skin. 
Skincare doesn't stop at your face! Here's my current affordable body care routine that leaves your body skin moisturised and glowing.
Click To Tweet
While I would always be the girl to buy body washes for their smell, I'm learning to look for those that can help solve body issues. I battle with back-acne and body washes containing ingredients like benzoyl peroxide or salicylic acid, would be a good fit.  If you're dry skin, then look out for words like "hydrating" on the body cleanser.
Ps- Feel free to use bar soaps like the ones from Dove for instance. I'm writing this as someone who is currently using a liquid body cleanser, so that's not the only option
Exfoliate
This is one step that has changed how my body skin feels and looks lately.
Our body skin can tolerate exfoliation a bit more than the facial skin because it's tougher. You still have to be wary of over-doing it anyways so as to not damage the outermost layer of your skin hence, exfoliate moderately.
You have two options for exfoliating your body- using a tool or scrubs. 
I use a tool which is the exfoliating gloves. My exfoliation is 1-2 times a week and also don't apply a lot of friction. After doing so, my body feels softer and it helps give a smooth appearance.
If you prefer a scrub, massage it gently on your body and focus on problem areas like the heels, knees and elbows that tend to look rougher than the rest of your skin. 
NB- Exfoliating means sloughing off dead skin. This helps your skin feel soft and maintains your skin barrier.
Moisturize
The next step in my body routine is to moisturize. This is where you use body lotion. For as long as I can remember, my mum consciously instilled moisturizing our bodies as a habit for my siblings and me. 
The difference now is I'm learning to not just moisturize, but to do it better. For my body lotions, I tend to go for hydrating or moisturizing tags. 
Currently, the dove body glow lotion is my body moisturizer. A tip I learned from Tiktok is to apply the lotion on damp skin.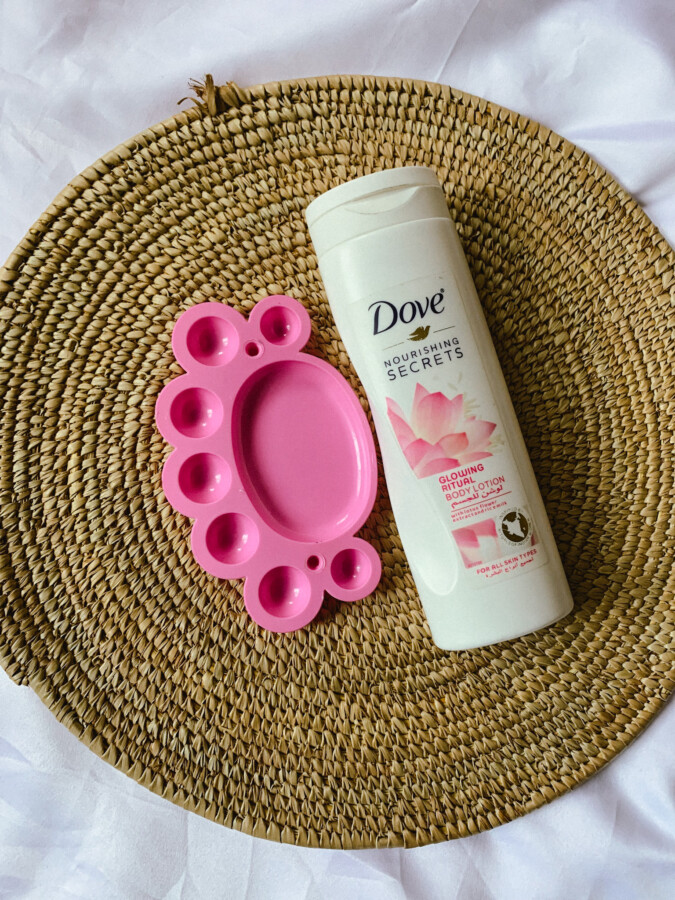 Why? Because moisturizing immediately after a shower helps lock in some of the moisture on the skin thus keeping your body feeling hydrated. Apply the lotion over your whole body from below your neck to your toes and wait for a while to let it absorb before putting on your clothes.
***Grab the FREE Skincare guide for Beginners when you sign up on the mailing list.
Seal
After moisturizing, I like to seal it with body butter or body oil. Feel free to use the og Vaseline.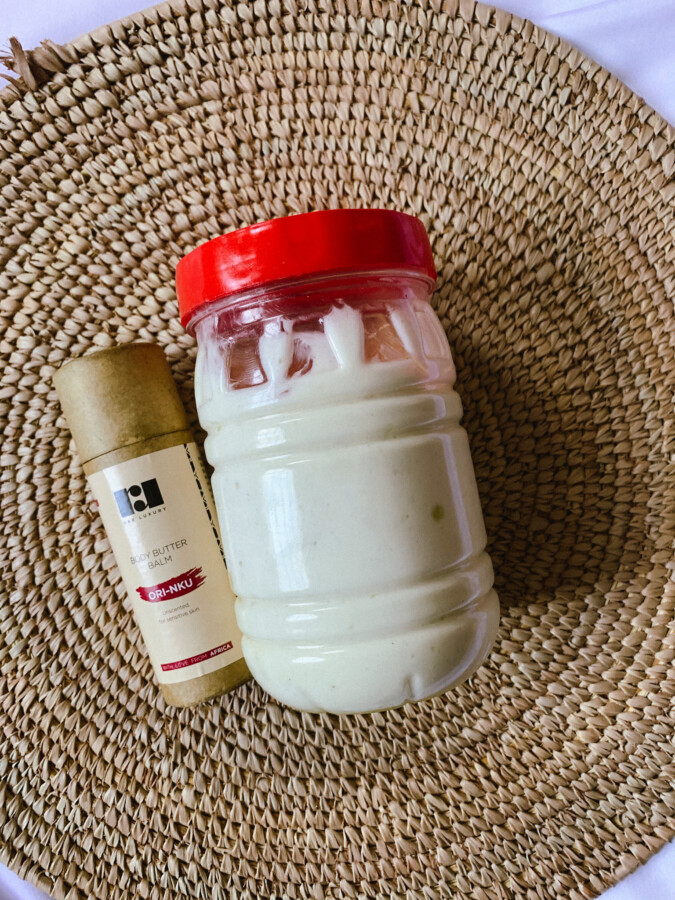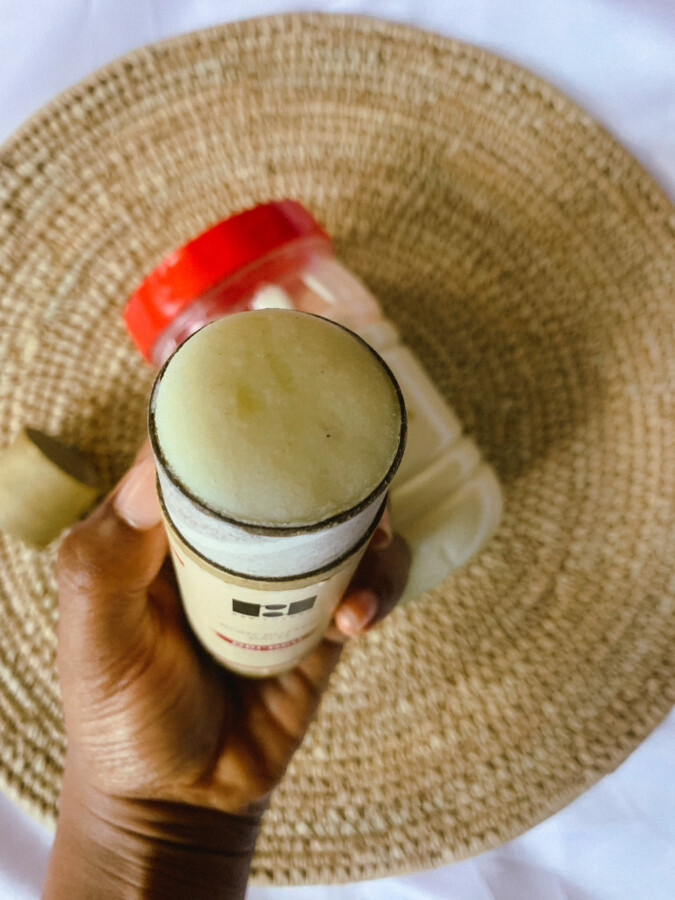 When I was younger, I used olive oil as my body "cream" for a long time. From about 14 years to my 2nd year in med school. I remember vividly because it was the only thing that didn't irritate my skin after I had chicken pox. 
Thankfully my mom let me explore it so far as I wasn't looking "ashy". That was how I discovered that body oils were a thing. 
Currently, my sealant is a DIY body butter from Torera George, which helps me seal in the moisture from my body lotion. If I'm rushing somewhere and can't apply the butter on my whole body, I use the R&R luxury body butter balm especially on my feet and elbows.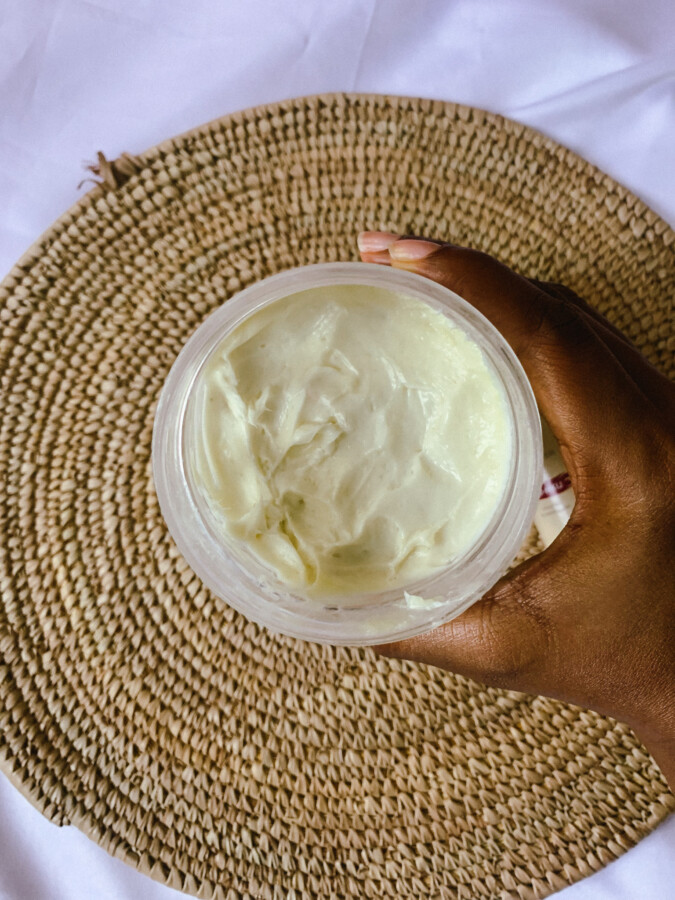 Skincare should be flexible, so don't beat yourself up.
When the weather is hot, I just use the lotion and move about my day. Other than that, using a body butter or body oil after the lotion gives an extra layer of glow and protection your body needs. 
Fragrance
My body routine is not complete without smelling good. While my perfumes change and I'm not crazy about names, so far as they smell great, a deodorant is non-negotiable!
Currently, I've been enjoying the Dove go fresh orange variant. This deodorant spray keeps my underarms dry and I can still smell it by evening long after spraying it. 
It's worth the hype.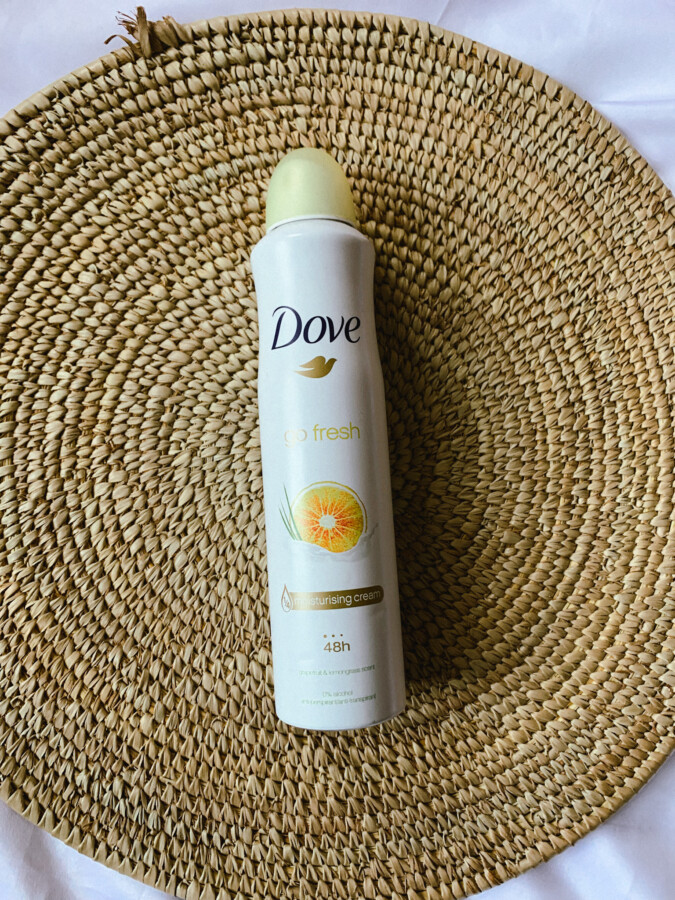 Body Spf 
Last but not the least is applying SPF on exposed parts of my body. It's tempting to think that SPF is only for the face. Plus the cost of sunscreen can be discouraging.
One thing I do is convert the mineral sunscreen that leaves a white cast on my face to a body SPF. You just have to blend a bit more. 
If I'm wearing shorts, I focus on the exposed part of my legs and even my feet. Don't forget the hands too.
When at home, I don't bother applying SPF on my body, until I need to leave the house. This is one way to prevent the different shades of skin you may notice on exposed parts of your body if you're constantly out. 
Summary of my routine
Cleanse ~ Exfoliate (1-2 times a week) ~ Moisturize ~ Seal ~ SPF
Extra Body Care Tips
Please don't walk barefooted except you have rugs covering your floor. If you don't like the feel of slippers, I recommend comfortable cotton socks to protect your feet. 
Skip the scorching water. 
Make sure that your shower water is cold or lukewarm- not hot. This one's hard especially in cold seasons, but hot water can be damaging to your skin. Some of the benefits of using cold water on your skin are:
It improves retention of your natural oils to avoid drying out of your skin.
It tightens your pores so your skin feels firmer. 
If you found this post helpful, check out these related posts:
A Review of The Nivea Nourishing Cocoa Body Lotion
Your Best 5-minute Daily Skincare Routine
What is your body routine like?  What products are you currently using on your body? Share with me in the comments
7