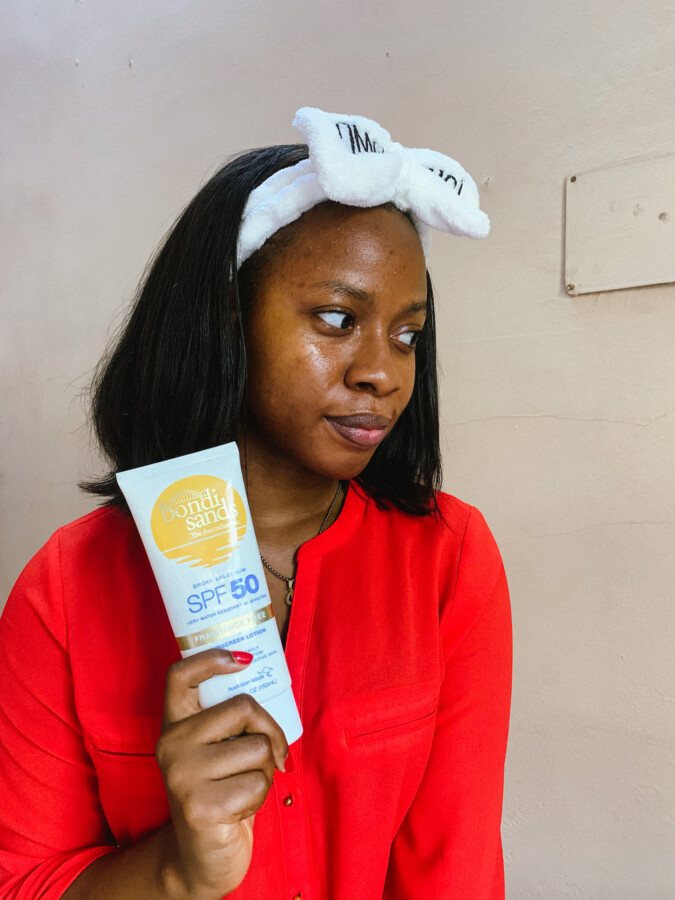 Hey beauty,
My Bondi Sands SPF 50 review is long overdue and you know I hate to gatekeep reviews!
The first time I saw the Bondi sands fragrance-free daily sunscreen lotion SPF 50 was on TikTok by another skincare blogger and I made a mental note to try it. 
What caught my attention was the positive review and the size. I believe I'm at the stage of getting sunscreens that are bigger than 50 ml except if it was a PR package. My reason is that sunscreens are expensive, especially in Nigeria. If I'm buying a big size at a certain cost, then it's actually affordable over a long period of time since I don't have to restock often compared to a small size. 
Bondi sands SPF 50 Review 
Background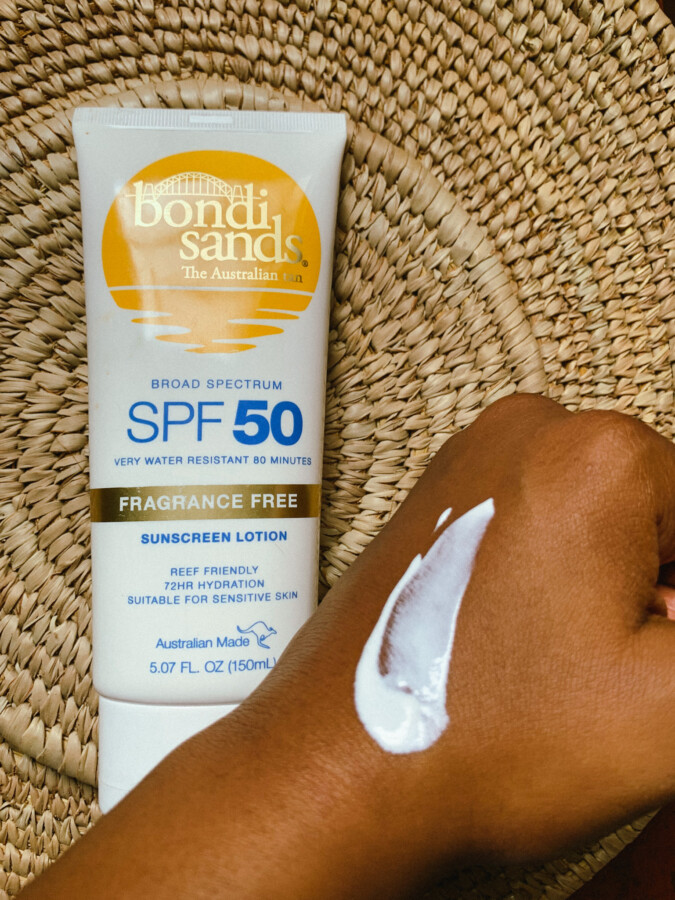 When I was doing my research for this product, I found out that Bondi sands is an Australian brand that not only has skincare products but suncare and self-tan products.
Australian sunscreen has great regulations because of the intense sunshine, so it's a good option for sun protection.
Packaging
The sunscreen comes in a white tube with gold details. I love the simple yet effective look. It has a cap that is flipped and seals tightly to that prevent spillage. The fact that this product pack is opaque but I can still see where the product line is under the light, is amazing!
Size
150 ml or 5.07 fl. oz.
Protection capacity
The Bondi sands SPF 50+ is a broad-spectrum sunscreen meaning 8utv takes care of UVA and UVB rays.
Type of sunscreen
It is an organic/ chemical sunscreen as it contains chemical filters: Homosalate, Avobenzone, Octocrylene, and Octyl salicylate. among others.
HELPFUL POST>>> MINERAL VS CHEMICAL SUNSCREEN: WHICH ARE THEY & WHICH IS BEST FOR YOU?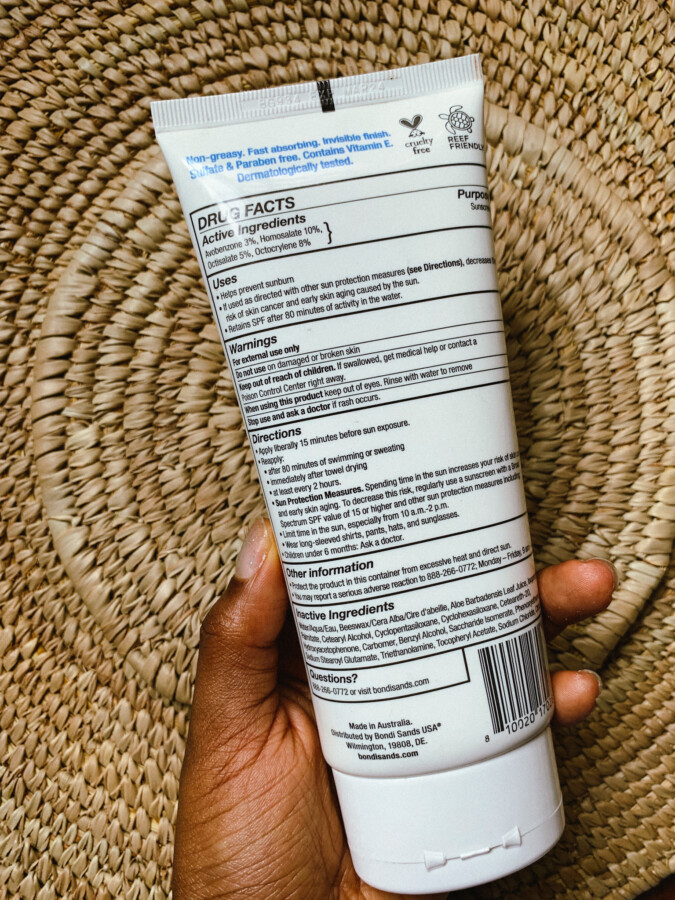 Texture, smell, and color
It has a creamy lotion consistency and is white in color. The texture is interesting because it appears lightweight but you may feel it's too thick when you apply it on your face. Once you work it in, it absorbs easily and doesn't require up to 5 minutes to blend in well. That's usually the same experience for most chemical sunscreens. 
Claims/ ingredients
Bondi sands has some tried and tested claims. According to their website:
"It provides UVA and UVB protection with a water-resistant formula which is fast-absorbing and dries to an invisible finish".
It also claims to "deliver up to 72 hours of hydration with added aloe vera and vitamin E which leaves the skin deeply moisturized and can be worn under makeup."
It's paraben and sulfate free so reef-friendly. It's also widely claimed that it is suited for dry skin. 
Did it deliver on all fronts? Let's see from my experience. 
Reef-friendly / reef-safe describes sunscreens that do not contain octinoxate and oxybenzone which cause coral bleaching.
My experience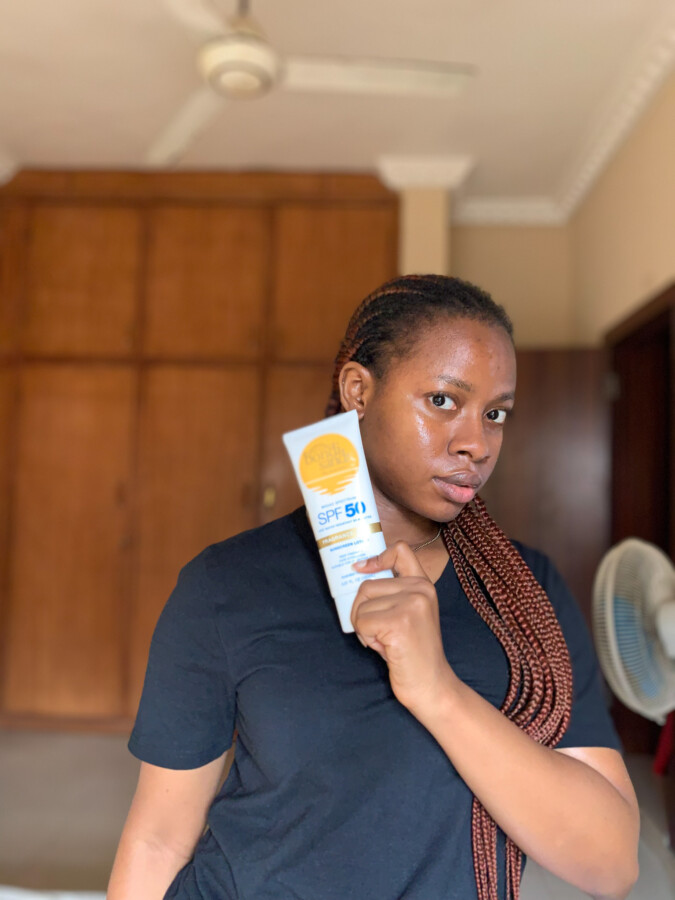 My skin type is oily, although I noticed during the rainy season that it was acting like combination skin. Nonetheless, according to the claims I probably shouldn't have gotten this sunscreen but I went on with it.
HELPFUL POST>>> AN EASY GUIDE TO FINDING YOUR SKIN TYPE
In summary, I have a love-hate relationship with this sunscreen because of my skin type. One of the reasons is the finish. The first week I applied it, it felt like something heavy was on my skin. After a while, my skin gradually got used to the layer and it was the only sunscreen I had that didn't leave a white cast so I kept using it.
Even on days, I didn't reapply, at night, I would look like someone with face oil. 
Does the Bondi Sands SPF 50 live up to its claims? Does it leave a white cast? Read this detailed review to find out more!
Click To Tweet
I noticed it has a chemical sunscreen scent that I can't quite describe although it has no fragrance. One thing I love about this sunscreen is how non-sticky it is, In addition to that, Bondi sands sunscreen does not leave a white cast. 
I did notice that with my face facts hyaluronic cream, my finish was less greasy, but that's my experience. I have also tried without using a moisturizer and noticed the greasiness was not as pronounced. Nonetheless, it still finds a way to appear.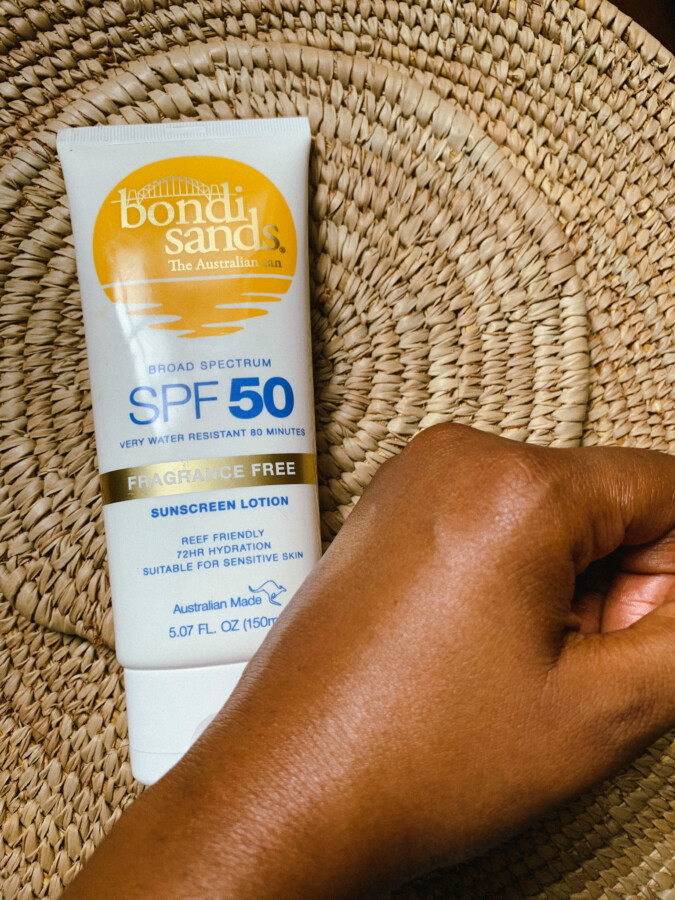 The Bondi sands spf 50 didn't cause me to break out and that's worth mentioning. Another favorite thing about it is the texture which I explained above.
Here's something else you need to note. My eyes would sting occasionally if I sweat or just randomly after using this sunscreen. It doesn't happen all the time, but I've noticed it a couple of times after use for it to be a coincidence.
It always left my skin feeling moisturized and glowy, but that greasy feeling is hard to shake off for me. Bondi sands SPF 50 actually delivered on its claims of moisturizing even though I never went 72 hours of using it at a stretch (no one should do that actually).
How I used it
I used it AFTER moisturizer during the day. I also used it under makeup i.e sunscreen BEFORE makeup. It was lightweight enough to be used for my makeup routine and I had no problems with that Caroline mentioned in her review.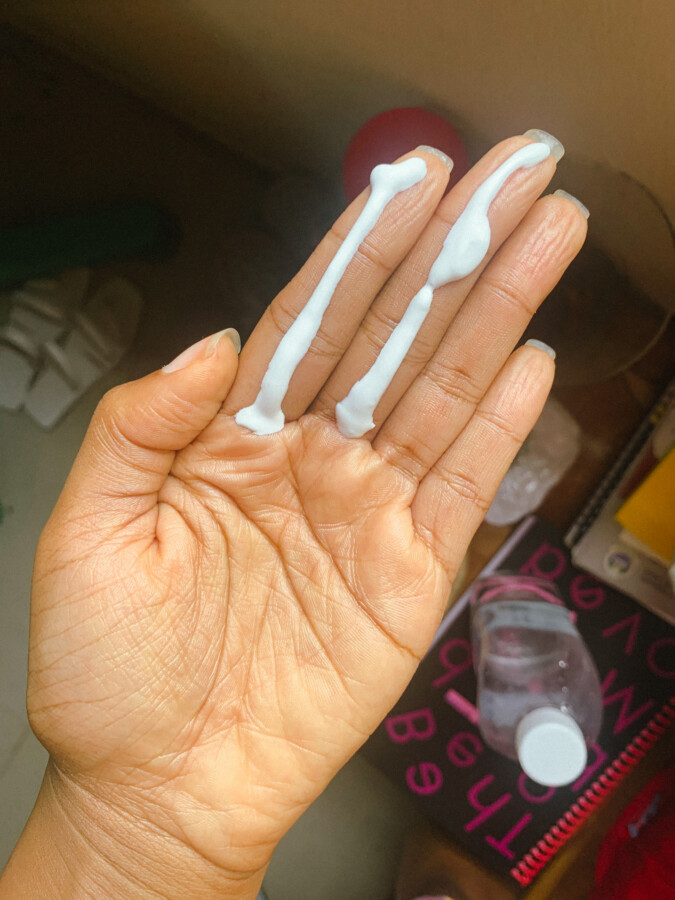 Pros
Big size and affordable
Leaves a dewy glowy look
Best for the cold season if you live in humid areas
No white cast
Sits well under makeup 
Can see the product line and when it is about to be exhausted
Cons
Too greasy for oily skin
Occasionally stings my eyes after application
Where to buy
I got mine from Beautybydaz for #7,650 but it's currently out of stock. Other online stores are Shop with Teeka, @24eleven on Instagram, and any in the list I have here.
You can also check on Amazon below:
Verdict
I would rate this a 7/10 because of how it was for my skin type. I stuck to it for some reasons. One was I couldn't afford to buy another sunscreen then. Another reason was it didn't leave a white cast and was protecting me nonetheless.
Overall, the Bondi sands daily moisturizing face SPF 50 is a good sunscreen that is best for dry skin. If you do not have dry skin, but would like to give it a go-ahead, by all means, be prepared for a possible greasy outcome.
I may buy this again for the harmattan period. A lot of emphasis on "may".


Have you tried this sunscreen?

Would you like to try it? Let me know in the comments.
Before leaving, do subscribe to my newsletter to get all the updates from the blog and weekly skincare tips.
Thank you and see you soon!
8